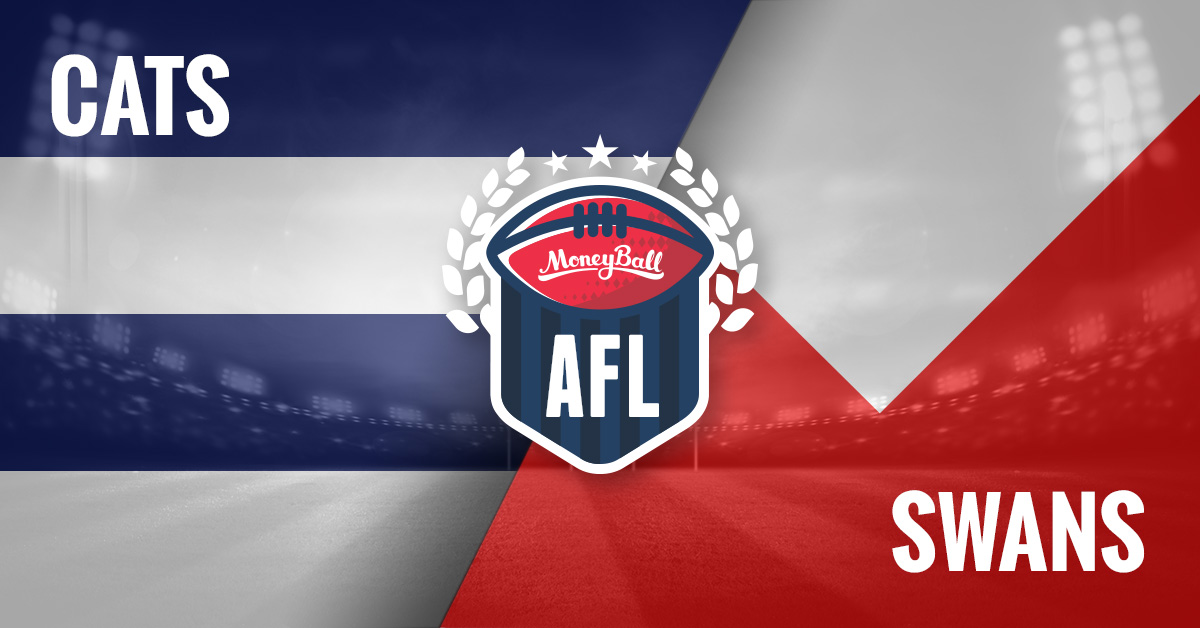 Tbetta here, and welcome to the self-proclaimed top resource for keen Aussie Rules Moneyball punters! DFS (Daily Fantasy Sports) is taking off around the world and Moneyball have the perfect platform for you to turn your AFL Fantasy prowess into cold hard cash. Signing up is easy – head to moneyball.com.au and you could be ballin' within minutes.
If you're unsure how DFS works, be sure to head to the 'Help' section for all the info you need to start cashing in on your AFL Fantasy knowledge!
Let's start Ballin' by checking out the excellent Match Committee Podcast below, starring your favourite DT Talk lads and brought to you by the legends at Moneyball:
Click here to subscribe on iTunes.
AVOID:
Kane Mitchell ($4,900 MID) successfully tagged the rampant Cotchin last week, keeping him to just 14 possessions and 58 MB points. He played very well offensively too, collecting 24 touches in his 108 MB – although the 50% Disposal Efficiency was an issue for Port, and one that he's had over his entire career. Basically, tagging Kane's meal ticket into the side if he can't hit targets .
Sam Mitchell ($8,700 MID) has proven to be susceptible to tags so far this year, dishing up scores of 88 (Robbo), 66 (Coniglio) and 49 (Titchell). I expect we'll see a pair of Mitchells cutting the angles alongside one another this week, and Kane will be the only one in my Moneyball plans.
SMOKEY:
Jackson Trengove ($5,200 DEF) was solid once again in the absence of a strong hit-out foundation (just swatting the 13), but added 20 touches and a handful of bonus mark/tackle stats to eke out 96 MB points. Trengove is averaging a fine 100 MB in his past three in this role and there's no reason to think that won't continue again this week.
Join the $8,000 guaranteed Power vs Hawks Special here!
Port Adelaide is the best match-up for ruckmen over the course of the year, which means it's time to look closer at the nominal first ruck at Hawthorn, Jonathon Ceglar ($6,400 RU). This is especially true this week as Trengove, Port's only ruckman, can't be selected in that position in Moneyball.
While Ceglar's ceiling is capped for as long as McEvoy soaks up his share of ruck minutes, he's still managed to surpass the 80-point threshold on 4 occasions this year. Either way, Ceglar's cheap, a shoo-in for a 70, and has upside that will see him threatening three-digits this week.
TOP PICK:
It's amazing how much the Bye can benefit sore stars, and how clearly we can see the transformation in fantasyland. Travis Boak ($7,300 MID) pumped out a massive 137 MB last week, and it's no coincidence that his 86% TOG was easily his greatest on-field presence all season. Boak was noticeably back in the midfield again, and shapes as a bargain pick after a poor 6-week stretch (where he failed to ton-up at all) lowered his price significantly. Onwards and upwards for Boaky from here!
AVOID:
The Callum Sinclair ($6,100 RU) experiment is over; he's utter crap. Jumping on injury replacements is a DFS strategy as old as time itself, but it doesn't work if your target is a hack. Sinclair's on;y managed totals of 54 and 48 since Tippett went down (after back-to-back 94's before it), totally flipping the logic on us that running around as the first ruck equals more fantasy points. Avoid like the plague.
We knew the day would come, and Patrick Dangerfield ($10,700 MID) was finally tagged in his last game, held to 93by Seb Ross. While it doesn't sound horrible, by Danger's lofty standards, that's a giant win for the Saints. Do Sydney follow suit? For the obscene price of $10.7k, I won't be taking the risk on Danger by simply hoping that Tom Mitchell begs his way out of a tagging gig this week.
SMOKEY:
Tom Ruggles ($5,100 DEF) has slowly evolved into this friendly outlet role for the Cats as he's grown into his AFL footy adolescence. S.T. has plucked 19 marks in the last fortnight, which have correlated to scores of 89 & 102. Definitely consider on a value basis while his price is under wraps.
Check out the $10,000 guaranteed Cats vs Swans Special here.
Dissatisfied with the Nankervis/Sinclair synergy, Sydney have opted to bring in Sam Naismith ($3,500 RU) and the expense of the former. You'll obviously need a ruckman this week and we've ruled a line through Sinclair, while Zac Smith's ceiling is too shallow for his price in my opinion. If you don't want to spend $8k on Blicavs, consider Naismith – he's more of a classic ruckman type than the versatile Nankervis, so maybe they're sliding Sinkers back into sidekick mode and deploying Naismith as the nominal lead ruckman. Could be a bargain.
TOP PICK:
Jarrad McVeigh ($7,200 MID) looks to be finally be hitting full fitness after struggling through the first half of the season with basically no pre-season under his belt. McVeigh's most recent scores of 105 & 102 are more typical of a player of his calibre and he should approach that mark again whilst patrolling the halfback line this week.
All of Mitchell, Kennedy and Hannebery will hit your hip pocket harder than Luke Parker ($8,500 MID), yet #26 has the hottest form line of the lot. Parker seemingly thrives in tight battles and his ceiling is to be lauded, surpassing the magical 130-point threshold on 5 occasions so far this season.
AVOID:
Now that Water Boy Robbo is well and truly over his concussion, things aren't looking great for Gary Ablett ($8,800 MID) suitors this week. Ablett is Ablett though so he'll always be effective; but will he collect enough stats to be the Moneyball stud that we need him to be at that price? Robbo's recent targets include Sam Mitchell (88), Gibbs (58), Neale (52) and Priddis (81), so you'd have to be a brave man to tip that trend bucking.
Enter your team at Moneyball.com.au here!
Speaking of tags, that's three weeks of attention in a row for Lachie Neale ($9,100 MID), dropping his three-week average to 90 MB – well below his season-long output. The Demons haven't assigned shut-down jobs since way back in Round 2 which is encouraging… but on the other hand, if it's affecting Neale so badly, there's always the chance that Roos opts to kick him while he's down. I'm calling it – too expensive to risk.
SMOKEY:
Back in the midfield! That's the key for Aaron Hall ($8,100 MID), who found plenty of the pill (27 touches) while still hitting the scoreboard (2.2) for his 116 MB last week. A disappointing month of fantasy form has lowered his price back into the affordable range, so jump on if you think he's impressed Rocket enough to remain in the guts against the Lions. Rosa's injury can only help, and there's no doubt that he'll bring home the bacon if he's allowed to attend the butchers.
Jason Johannisen ($7,200 DEF) enjoyed a successful return with 90 MB in Round 15, including bagging the winning goal. JJ should keep building over the next few weeks, and is worth considering based on his ceiling alone – he posted scores of 127 & 118 MB earlier this year, which is obviously elite for a defender.
TOP PICK:
As I've covered in excruciating detail over the past 12 or so Moneyballin' articles, Brisbane absolutely bleed points to opposition key forwards. Tom J Lynch ($7,100 FWD) is already ticking along at 2.7 goals, 11 marks and 110 MB points over the past three weeks, so what will he do against a Lion cub backline?! Ticks all the boxes this week and would have to be one of my hottest tips of the past month. Lock.
Tom Rockliff ($9,200 MID) is gun who deserves selection every week, but did you know that he's a Qclash specialist? Removing the game where serial sniper Steven May KO'ed him, Rocky has posted insane scores of 131, 203 and 173 MB in his past three games outings against the Suns! That is simply insane, and Rocky will be fresh and ready to fire after a much-deserved bye. Take this one all the way to the piggy bank and cash in.
And last but not least is Max Gawn ($9,100 RU), who will destroy absolutely destroy Griffin's will to live in a ruck domination that has never been seen before. Maximus is chugging along at a nifty 125 points per game in his last 5, including a low of 90 – an absolute no-brainer selection if you can rustle up the moolah.
AVOID:
You don't hit such a silly price-tag without earning it, and Rory Sloane's ($9,500 MID) recent scores of 142, 109, 136, and 124 MB are certainly worthy of that sort of coin. However, with blistering form comes certain attention, and you can count on Curnow will be right there beside him on Sunday afternoon. Curnow has plenty of scalps so far this year (Selwood 86, Rich 76, Treloar 75), so don't be surprised if Sloane fails to reach Everest-esque heights this weekend.
SMOKEY:
Jack Silvagni ($3,500 FWD) surprised me a bit last week, as I assumed he'd be another fresh forward who starts off slow in the AFL. SOSOS managed 79 without kicking a goal, and boy, didn't his teammates look for him at every occasion! As one of the few basement-priced rookies still in the game, he's certainly worth considering… But I still have my reservations.
Young Roo Brad McKenzie ($4,600 MID) was deployed in a brand new HBF role in last match and slotted in nicely with a 22:2 kick-to-handball ratio that culminated in 87 MB. They actually named him back there in the Teamsheets, essentially as McDonald's (hamstring) direct replacement. Sur enough, he's been named back there once again, so you can snap him up with some level of confidence.
St Kilda bleeds points to opposition defenders and if you don't believe the season-long stats, how about the fact the Gold Coast supplied with these studs last week: Malceski 122, Kolodjashnij 100, Martin 100 and Harbrow 99! And that's not all; even the modern-day Dawson in Rory Thompson had 92 MB of his own! Courtenay Dempsey ($5,300 DEF) is a perfect beneficiary of the Saints' offerings – he's a backline mainstay at the Bombers, has a healthy ceiling (3 scores of 90+ this year) and he's bloody cheap.
TOP PICK:
The Eagles focussed hard on getting Andrew Gaff ($7,300 MID) the footy last week, literally going out of the way to help him accumulate touché; particularly early on. Hopefully you followed the advice from last week's Moneyballin' article, because he ended up with a game-high 138 MB points. Expect West Coast to continue trying to feed him the pigskin this week, which would solidify Gaff as a bargain once again.
Scott Lycett ($7,700 RU) junked his way to 99 MB last week and while I like his prospects in a vacuum, he's coming up against an angry Todd Goldstein ($9,100 RU), fresh off a much-needed week's break. I'm scared as to what he'll do to these Eagles this week, particularly if they opt to send in Mitch Brown to slaughter as a chop out (as they did last week) while Lycett recoups on the pine. Spend the extra $1.4k here and enjoy life in the fast lane with Goldy.
Kade Simpson ($8,800 DEF) might be a vanilla pick, but damn, doesn't his milkshake taste good?! Simmo has been incredibly and consistently exceptional in Moneyball this season, never once dropping below 99 in his past 11 games. Pick with a confidence that's unparalleled in the backline.