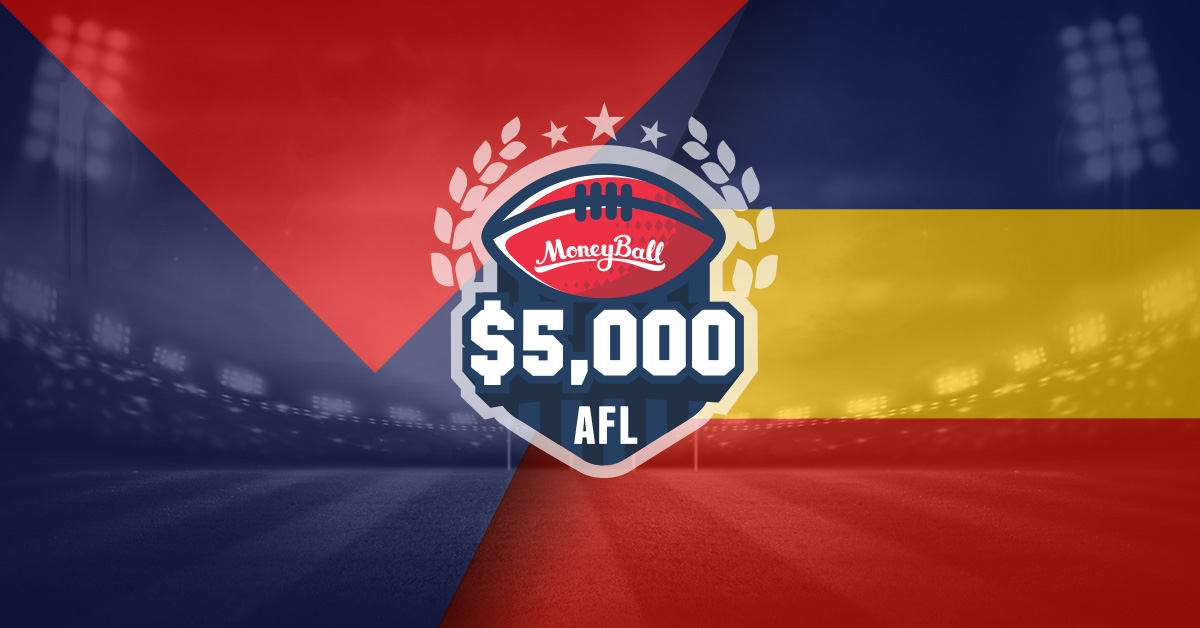 Tbetta here, and welcome to the self-proclaimed top resource for keen Aussie Rules Moneyball punters! DFS (Daily Fantasy Sports) is taking off around the world and Moneyball have the perfect platform for you to turn your AFL Fantasy prowess into cold hard cash. Signing up is easy – head to moneyball.com.au and you could be ballin' within minutes.
If you're unsure how DFS works, be sure to head to the 'Help' section for all the info you need to start cashing in on your AFL Fantasy knowledge!
Let's start Ballin' by checking out the excellent Match Committee Podcast below, starring your favourite DT Talk lads and brought to you by the legends at Moneyball:
Click here to subscribe on iTunes.
AVOID:
Orazio Fantasia's ($5,700 DEF) last two scores may have been 91 and 93 MB, but don't expect that kind of silly output to continue. The 91 was due to relocation to the backline (where he was an early-season fantasy stud), but it was straight back to a FWD-anchored role the week after. In fact, Fantasia only reached a modest 93 thanks to the huge 4.4 to his name. Obviously this won't happen every week, so scroll right past that name before you convince yourself otherwise.
SMOKEY:
We have a few smokey options for you this week, starting with West Coast wingman Andrew Gaff ($7,300 MID). He's the perfect example of a player we're hoping comes back refreshed for the break, given that his scoring copped a noticeable hit thanks to a cheap shot from Jonas:
Rounds 1-8 (before Jonas hit):  24 disposals, 73 MB.
Rounds 11-13 (after Jonas hit): 32 disposals, 98 MB.
As you can see, there's a huge difference in output after suffering that giant concussion. Thankfully, Gaff's price has dropped off with his decline in fantasy scoring, giving us a potential bargain in the coming weeks.
Matthew Leuenberger ($6,300 RU) is actually one of the more consistent options in the ruck this week, never straying too far from his month-long  88-point average. His upcoming direct opponent Scott Lycett ($7,700 RU) is strictly the better scorer, but there are questions marks over his scoring potential without NicNat there as foil.
Join the $5,000 guaranteed Eagles vs Bombers Special here!
Meanwhile, flanker Courtenay Dempsey ($5,300 DEF) has shown this year that he can be a useful Moneyballer in the past, so don't a lean stretch heading into the bye cloud your judgement of him. Hopefully Dempsey's refreshed and ready to pump out 90's again for us, as he did off a back flank against GWS in his most recent outing.
And lastly we have Adam Cooney ($7,500 FWD), who's been rolling through the midfield in 2015 but available to us as a FWD. Coons has been consistently out-performing his price-tag this year, ticking over at 103 MB per game in his past six. He has that unique factor too, which can be extremely helpful if you want to sit upon the leaderboard come Friday morning.
TOP PICK:
Josh J Kennedy ($8,100 FWD) famously destroys poor teams at home and guess what? We have the 18th ranked side served up to him on a platter at Domain Restaurant. Check out his previous meals:
Round 1 vs Bris: 8.2 for 198 MB
Round 6 vs Coll: 3.6 for 118 MB
Round 8 vs St K: 5.1 for 101 MB
Round 10 vs GC: 5.2 for 125 MB
Overall, JJK averages a monstrous 119 MB at home, compared to just 84 MB away from Subiaco. He has to be one of your primary targets this week against a Bombers defence that can't keep up with someone of his quality.
Despite moderate success this year, the Eagles have given up the 3rd most MB points to opposition MIDs in the past 5 weeks, while Zach Merrett ($9,300 MID) has a low score of 108 MB in the past month. It's a match made in heaven; Zach will accumulate the pill all day against a spineless West Coast on-ball division.

AVOID:
With Shaun Hampson out with a knee ailment, Ivan Maric ($6,900 RU) makes his way back into the side for his third game of the year. The mulleted man is a far cry from the behemoth that averaged 98 AFL Fantasy points for the Tigers just a few years ago, struggling to make his mark thus far in 2016 with scores of 78 and 35. Given the unavailability of Hammer, we can't even fall back on a VFL-form based excuse for picking him – he's literally there just because he's over 6'4. Look past Maric this week and settle for the ever-solid Justin Westhoff ($7,400 RU) instead.
SMOKEY:
Named as a DEF but scoring well as a RUC, Jackson Trengove ($5,200 RU) should be towards the top of your watchlist this week. Trenners is back in vogue with scores of 100 & 104 MB in his last two, but be wary that he needs a lot of bonus stats to make that happen. Since becoming Port's #1 ruck, whenever Trengove collects 6 tackles or more, he averages 94 MB. On the flip side, if he fails to reach that mark, he averages just 52. It feast or famine for Trengove at times, but you can soothe your stresses in the knowledge that he'll only have to contend with an out-of-sorts Maric around the ground.
Brandon Ellis ($8,200 MID) shapes as an astute unique pick while that cancerous 21-point score stays fresh in the mind of punters. In reality, he's actually been solid in recent times and if you remove that outlier, his weakest effort is a hefty 91 MB over the past 6 weeks. Ellis managed to collect 26 touches and 9 marks for 118 MB against the Power earlier this season.
TOP PICK:
After a subdued start to the year, Dustin Martin ($8,800 MID) has been tearing it up lately with a 113-point average in his past 6, which have included 5 scores of 110+ in Moneyball. It's hard to build a case against Martin given his on-field heroics, and I can only foresee a Port Adelaide creaming as the only factor that could stem the avalanche of points filling his stat sheet. In their other meeting in Round 6 this year, Martin collected 31 touches and kicked a goal for 114 MB and notably, Port didn't bother to send out a tag.
Jasper Pittard ($7,600 DEF) is the prime DEF option on offer to us, which feels ridiculous to say given the much-maligned reputation of the skinny backman. His last five scores say it all though: 90, 81, 91, 119, and 95. Pittard needs to be taken seriously, particularly while he's pumping out scores like that from under $8k.
FIXTURE:
With so many viable options this Saturday, we're taking a brief break for the negatives of an 'Avoid' section and sticking with the positives.
Brodie Grundy ($7,800 RU) is the perfect example of a low-risk purchase if you want to play it safe in the ruck and take your gambles elsewhere. He's incredibly consistent, lowering his colours below 83 MB just once all season. Carlton sit in the top 3 for points conceded to opposition rucks lately, so Grundy will have a golden opportunity to push 110 and beyond as he did last weekend.
It's hardly breaking news, but it's still worth reminding ourselves that Gold Coast leak like crazy. This is especially true at the top end, where they average 5.6 MB tons conceded per game this year! Leigh Montagana ($8,700 MID) is normally perceived as an Etihad specialist, yet 3 of his 4 biggest scores this year have been away from the safety of The Roof. 3 of Jack Steven's ($9,700 MID)  past 5 scores have blasted Moneyballers into the 135-point stratosphere, while a cheaper option in Seb Ross ($7,800 MID) has back-to-back 33-disposals games and should be considered.
Despite success, the Bulldogs have been bleeding more points to MIDs than any other side in the past 5 weeks. Tom Mitchell ($9,500 MID) is your first port of call, having strung together 4 consecutive centuries. His teammate Luke Parker ($8,500 MID) is more hot and cold than Katy Perry, but we're catching him at a peak now, following last week's  17 tackles for 136 gumnuts. On the flipside, Dan Hannebery ($9,400 MID) is caught in a trough after scores of 74 & 78 – but the last time he played the Bulldogs, he had 143 fantasy points and earned 3 Brownlow votes in a losing team. In true Sydney fashion, at least two of these guys will go huge; you just need to make sure you don't ride home the donkey.
SMOKEY:
Question: Is there a bigger confidence player in the league than Tom J Lynch ($ 7,100 FWD)?
Rounds 1-5:     4.4 goals,   8 marks,  110 MB
Rounds 6-11:   2.2 goals,   4 marks,    65 MB
Rounds 12-14: 3.5 goals, 10 marks,  109 MB
Whatever the reason, a switch has flicked back 'ON' for Lynch and his price is down due to that horrible lean patch. Definitely worth considering against a weak STK backline.
It's assumed Callum Sinclair's ($6,100 RU) the main ruck with Tippett out and he got absolutely smashed by Gawn in his first effort. I'm ignoring that (let's use rain as an excuse) and focusing on his dual 94's immediately before that disaster. Minson is an unknown while Roughead won't mount much of a challenge for Sinkers in the air, so I like him on a potential basis. Whether he can remain fantasy relevant as he attempts to mould himself into the archetypical 1st-string ruckman is yet to be seen.
TOP PICK:
We have a couple of bargain for you again this week, kicking off with Swan youngster James Rose ($4,100 FWD). He's simply too cheap to ignore, averaging 93 MB over 3 matches – and you can even stash him in the forward line. Ticks all round.
Like-wise, Brayden Maynard ($5,900 DEF) is approaching must-have status this week, averaging 109 MB over the past four weeks for less than $6k. A structural role change is evident, averaging 9.5 marks per game in that span and which culminated in a career-high 132 MB last weekend.
Looking further up the price list gives us Bryce Gibbs ($8,700 MID), who's probably sneaking past the keeper this week. It's worth mentioning that nobody has more 110+ MB games in the past 9 week than Gibbs, who has 7. The only thing keeping his price down was a two-week hiccup where he scored 68 & 57, but Bryce is clearly back to his best – 29 touches, 9 tackles, 120 MB last week.