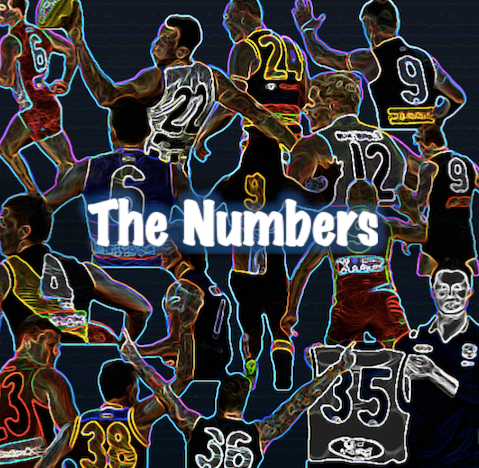 After a horror round 2, most of us returned to the right side of 2000 and are ready to begin the slow but satisfying journey of upgrades and downgrades towards the best team possible. We are starting to have a little more data to look at, and that means more accurate, reliable numbers to assist you with your dream team. Let's get into it.
---
1– Point separating Kerridge and Wells through three rounds. Thanks to DTtalk user Tbd for pointing this out. All preseason they were touted as value, and for once in the history of fantasy NAB cup form has carried through the real season. Starting at 299K and 293K respectively, both players are averaging a more than reasonable 86 through three rounds. Despite being a little bit off on the weekend, if you started with both you would still be pleased, and they both still have a bit of cash to make.
3– Teams undefeated through 3 rounds. Sydney, Gold Coast and North Melbourne have all survived the opening rounds without loss. The first time any of these three teams meet will be in round 5 when the suns host the Roos, and we'll have to wait to round 11 to be certain that only one side is undefeated.
This time last year the undefeated teams were Adelaide, Sydney and Fremantle, with all three of those teams playing finals.
6– Average points separating the two highest averaging forwards, Aaron Hall and Zach Merrett. Aaron Hall started the season as a midpricer, and Zach Merrett an awkwardly priced overachiever, however both have quickly overcome those classifications to be ranked 1st and 3rd across all positions through the opening few weeks. Here's a look at the DT spread for the two players, remembering that Aaron has scored 19 more points in total.
13– Goals kicked this year by Gold Coast key forward Tom Lynch, placing him first in the race for the Coleman, just a goal ahead of Franklin and Waite.
15– Just out of interest, how many of the fifteen players in "The Numbers" logo can you name? Some are partly hidden but the numbers on the back should help.
16-Kicks for Marcus Adams from 15 marks, on his way to 107 fantasy points. He has embraced the bulldog's style of football and at one point recorded 4 mark-kick combos in a 3 minute period. His incredible 15 marks place him second in the yearly mark rankings, behind only west coast spearhead JJK. Not to be outdone, fellow defensive rookie Jacob Weitering (almost) matched him, racking up 106 (far less junk style) points of his own. Having two (key) defender rookies ton up in the same week is something we should not take for granted.
21– Minute mark of the third quarter. Aaron Hall and Gary Ablett on the wing with all the time in the world. The next few seconds was the most beautiful thing to watch as a fantasy coach. There may have been higher scoring plays, but never have I seen
two players (let alone two from my fantasy team) stand a few meters apart and simply handball the ball forwards and backwards a total of 6 times, with no intention other than to rack up stats. Forget Swan and Pendlebury, Hall and Ablett are the new dynamic fantasy duo (closely followed by Zaha and Merret…)
26– Tackles for Jack Zieball through 3 games, giving an average of 8.7 per game, on track to exceed Scott Selwood's record of 202 in a season. The majority of these occurred on Sunday afternoon when he equaled Jude Bolton's AFL record of 19 tackles in a game. His 137 fantasy points pushes his average to 100, however he will need to show more before he challenges Zaharakis in the same price range.
44– Disposals Aaron Hall should collect next week, assuming he is following a linear growth. After collecting 32, then 36 and finally 40 on the weekend, it is almost guaranteed that he should rack up 44 this weekend. Coincidences aside, it's actually not unlikely considering they are up against the lions. This guy is a dead set pig, although I think I've talked enough about him already in this article…
63– Hitouts for Max Gawn on his way to 116 fantasy point. The big beard dueled Goldstein all day and amazingly dominated him in the ruck department, collecting the equal 4th most Hitouts in a single game.
76– As Terlob pointed out, this score might look familiar to a few coaches. 12 players barely scraped a ¾ ton this week, making it the mode of all scores this round. Fantasy relevant players included Kerridge, Laird, Sheridan, Kent, Tippa and Ruggles.
92-Matthew Boyd's in all three of the games this season. Thanks to mbrucie and John Freed for pointing this out. A few players got off their bogey scors (Leunberger managed to escape 57, Menadue got off 67, Dahlhaus didn't score 86, Burgoyne left 87 behind etc…) but Boyd continued his success, with a third straight score of 92. That's the kind of consistency we like. Lock him in for another 90+ score this week against carlton.
104– Combined score from the 3 cygnets Mills (31), Papley (50) and Hewett (23). If, like me, you fielded all three then you probably would have been hoping for a little lot more than that. Although they can't all be traded, these especially low scores will annoyingly halt cash generation for the short term.
128– Clangers occurred in the Geelong vs Brisbane game on Sunday afternoon, ranking it 5th all time for that stat category. Whilst this obviously doesn't affect our fantasy teams, I did find it interesting that 4 of the top 5 g
ames for clangers contained the Geelong team of the 2007-present era. Maybe this has something to do with the stat-keeper in Geelong…
131– Average of the number 1 key forward for each team when they play Brisbane. Kennedy (180), Waite (127) and Hawkins (87) have all scored above their average against the Lions, who unfortunately have a spine equivalent to that of a worm. Brisbane just don't seem to have any KPP that can defend opposition bigs, which looks good for Tom Lynch (GC) and Jake Stringer (WB).
*Note, don't trade these players in. Every second week is likely to be a 50.
760– Percentage increase Dean Kent had from his round 2 (10) score to his output this week (76). Thanks to Lachie Neale for reminding us. He did need 4 goals to get this score, so I think it is safe to say he should not be on your field anytime soon.
2372– Highest score for round 3, produced by Descendants. This beast of a score pushes him to 231 overall, and judging by his team he could be only on the way up. His team had an impressive 13 tons, lead by Goldstein (14), Hall (151), Houli (140) and uniques Mumford (114), Buddy (106) and Kolo (108). In a week like this it was more about avoiding carnage, and he managed that well, with his lowest scores being M.McGovern (60) and Graham (69).
8779–
Career disposals for veteran roo Brent Harvey. His 22 agasint the Dees (which included 6 goals) was enough to push past Craig Bradley (8776) and into the third most disposals all time. This says a lot, not only about his longevity but also his consistency, averaging over 21 touches throughout his career. The next highest ranked current player is Sam Mitchell with 7545 touches, placing him in 9th on the all time list.
1014656– Total attendance of AFL games through 3 rounds, the shortest time ever to eclipse a million. The highest attendance so far the year was the Carlton v Richmond season opener with 75,706. The highest attendance not at the MCG was the round 2 Showdown, with 51585 fans watching the crows demolish the power. Unfortunately only 12607 Tasmanians were able to get down to Bellerive for the thrilling last-second victory that the Roos had over Melbourne, making it the lowest attendance of the year.
---
MARE OF THE WEEK
If you missed last Tuesday's article, each week I'll be giving you the opportunity to vote for who you believe had the biggest (night)mare in the past weekend. Last week's clear winner was Tom Rockliff, taking in 62% of all votes, way ahead of next best (worst?) Ryan Harwood (25%). Here are this week's nominations
George Hewett 23- He was nowhere to be seen on saturday afternoon, and I reckon he won't be seen anywhere near Adelaide Oval this Saturday night. 3 disposals in a game of footy would make Zac Dawson proud. Out of the swans lineup, and out of mine.
Callum Mills 31- Surely the favourite to take MOTW. If it wasn't for a solid 20 point 2nd quarter, who knows what he would have scored. Makes it worse seeing all the big scores sitting, unused, on the bench.
Michael Hartley 46- If you went Harwood-> Hartley last week, and proceeded to field him, then he has to be your Mare of the Week. To be fair, he is a key defender and was never going to keep up his round 2 performance. But being outscored by Harwood..
Kade Simpson 57- Just not enough. It is always going to happen with the cherry-pick type backmen, but you'd hope he would at least muster up a 76 like Laird did on his off day. If he is sitting in your backline, then he got to be considered for MOTW.
Toby Greene 52- Similar to Simpson, you just want more from a premium priced player. If you stuck with him past round 1, you may have been lured into a false sense of security following a nice 100 last week. Don't be. He's not DT relevant in my opinion.
Thanks again for reading, and many thanks to all those who contributed their own numbers from the weekend. Please leave a comment with any suggestions, numbers, or questions regarding your team, and I'll do my best to help out. See you again in 168 hours!