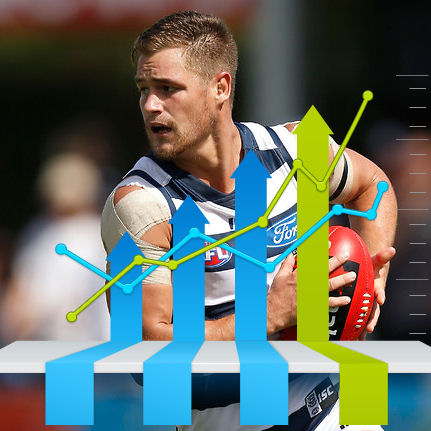 Welcome to the first edition of the AFL Fantasy Stock Market for 2016! For those of you who have been around the DT Talk traps for a while, you may remember Aki (and TeeTee) pumping out similar articles a few years back. While I am not even worthy to be mentioned in the same sentence as these blokes, I do believe that, with the recent changes we have observed to AFL Fantasy, playing the stock market is now more important than ever before. Despite the changes, the cash still makes the world go around, with the Fantasy universe continuing to be governed by the primary principle of "buy low, sell high". As it is the most popular format around here, the prices, breakevens and strategy involved in these articles will be directly related to AFL Fantasy, although I am sure there are some bits and pieces which are relevant across the formats. Anyway, let's get cracking!
Stocks Rising
These guys are the backbone to every Fantasy team. Getting the right ones at the right time is vital to success.
Marcus Adams (DEF/FWD) $274 000 – BE: -31 | AVG: 92
Wowee, have the Bulldogs found one in the form of Marcus Adams! Coming off consecutive tons, Adams rose $59k last week and has risen $119k so far this season, ranked #1 in both areas. Despite his price now approaching the mid-price bracket, Adams still boasts the lowest BE in the comp, and it is for this reason that I still believe he is a viable option this week for those that don't own him. Averaging 9 marks a game so far this season, Adams now faces Carlton and Brisbane in his next two, while not leaving Etihad for another month. Not sure you can afford to go without him.
Next 3 Opponents: Carlton (ES), Brisbane (ES), North Melbourne (ES)
Tom Ruggles (DEF) $148 000 – BE: -11 | AVG: 76
Ruggles looked at home in his debut game against the Lions at the weekend, racking up 76 Fantasy points, a score many of us would take from our faltering "premiums" at the minute. Some favourable matchups across the next month make him my preferred downgrade target this week. Ruggles picked up 9 marks, (8 of which were uncontested) which is a stat that I love as a rookie, with his more experienced team mates seemingly confident with the ball in his hands, and he very rarely let them down, going at 88% efficiency from his 17 touches.
Next 3 Opponents: Essendon (MCG), Port Adelaide (AO), Gold Coast (SS)
Ciaran Byrne (DEF) $145 000 – BE: -7 | AVG: 69
The speedy Irishman demonstrated that he is more than just an x-factor player, collecting 20 disposals and 5 marks on his way to a very respectable 69 points against the Suns. JS seems solid for the short term, and even has me considering a double downgrade this week, due to the rare combination of immediate cash generating potential and reasonable job security being available for under $150k.
Next 3 Opponents: Western Bulldogs (ES), Fremantle (DS), Essendon (MCG)
Clay Cameron, Anthony McDonald-Tipungwuti, Lincoln McCarthy, Ryan Davis, Jayden Short, Mitch McGovern, Michael Hartley, Matt Dea, Kyle Langford, Tom Papley and Connor Menadue all have negative break-evens and provided they can hold their spot in their respective lineups, appear to be decent options of immediate cash generation, but as always, Jeppa is your man when it comes to rookies.
Topping Out
Getting the right rookies in is crucial; getting them out at the right time might just be even more important. The old adage states that a player should be traded out when a) their BE approaches their seasonal average or b) they are dropped from their side's best 22.
Callum Mills (MID) $253 000 – BE: 40 | AVG: 53
Make no mistake about it, this kid is a star and will only get better! However, he probably hasn't lived up to our expectations (albeit somewhat unrealistic), averaging just 53 across the first three weeks. With the dearth of genuine midfield rookie options, most would have much bigger issues than Mills, with his BE still very achievable, his spot in the Swans' 22 all but cemented and his seemingly imminent DPP more than enough reason to hold for the time being. One more poor score though, and we may have to reconsider.
Next 3 Opponents: Adelaide (AO), West Coast (SCG), Brisbane (G)
George Hewett (MID) $218 000 – BE: 15 | AVG: 62
Despite a 95 against Collingwood in R1, Hewett's long term job security was always a major question mark. Coming off just three disposals and 19 points on the weekend, many expect Hewett to be dropped tonight. With other popular rookies, Jade Gresham and Josh Dunkley also falling victim to the selection table axe, there is simply no way we can hold these guys on our bench, with cash generation so critical. Take the $93k profit to the bank and cash him in!
Next 3 Opponents: Adelaide (AO), West Coast (SCG), Brisbane (G)
The Watch List
"The Watch List" monitors premiums who are under-priced for a variety of reasons and could prove to be valuable options when their price bottoms out.
Jimmy Bartel (DEF/MID) $445 000 – BE: 91 | AVG: 74
After a frustrating few weeks of Jimmy wandering around aimlessly and to be honest, looking a little lost on the footy field, he somewhat bounced back with a 99 against the Lions on the weekend. The main difference between Bartel's performance in R3 to the first two rounds were his "extra stats" (marks and tackles). In the first two rounds, Bartel averaged just 15 Fantasy points from these two stat columns, but boosted that to 41 at Simmonds Stadium on the weekend, off the back of three marks and eight tackles, epitomising just how important these stats are to a player's Fantasy performance.
Next 3 Opponents: Essendon (MCG), Port Adelaide (AO), Gold Coast (SS)
Mitch Robinson (FWD/MID) $474 000 – BE: 103 AVG: 75
Three rounds in to the season and Mitch Robinson has been reported twice and missed a week with a calf injury, so I don't blame you for thinking I'm crazy for suggesting him as a potential option in the coming weeks. Despite only averaging 75 over the first two weeks (R1 score affected by injury), Robbo's role has been great, accumulating 23 disposals from 66% TOG in R1 and 31 disposals on the weekend. If he maintains this role and begins to rack up the tackles as he did at the back end of last year, I still think that he can be in the top handful of forwards at the end of the season, and is priced very reasonably.
Next 3 Opponents: Gold Coast (G), Western Bulldogs (ES), Sydney (G)
Dan Hannebery (MID) $554 000 – BE: 118 | AVG: 91
Going in to season, many saw Hannebery as a "safe" midfield premium, potentially even offering upside despite his 2015 average of 110. An errant shoulder from Steele Sidebottom put that dream on hold, but only temporarily, and could be a blessing in disguise for non-owners. Now priced $59k below his initial price and averaging 30 touches in the last fortnight, Hanners looks to be primed for the picking in the next week or so. Although his BE is still 118, Hannebery averages 123 (Adelaide), 111 (West Coast) and 116 (Brisbane) in his last three against upcoming opponents, meaning this may just be the lowest we see him priced all year.
Next 3 Opponents: Adelaide (AO), West Coast (SCG), Brisbane (G)
Matthew Boyd (DEF) $540 000 – BE: 113 | AVG: 92
With many overlooking him at the start of the year due to his lofty price and almost certain rests throughout the year, Boyd is owned by less than 10% of the AFL Fantasy competition, and I suspect that a lot of his owners are "casual players", making him a point of difference among the more serious faction of the community. A trio of 92s has seen his price drop by $38k and with a BE of 113, he could be ripe for the picking next week. As devastating as the news surrounding Bob Murphy is, I see his absence benefiting Boyd on a number of levels. Firstly, I think he gains a more pronounced role in the Bulldogs backline, and secondly, reduces the likelihood of a visit from the general, due to his now invaluable leadership and experience, relative to his younger team mates.
Next 3 Opponents: Carlton (ES), Brisbane (ES), North Melbourne (ES)
The Ca$h Grab
"The Cash Grab" looks at those priced in the $300-400k range and although may not become keepers, can be relied upon to produce "premium like scores" for a short period of time, before being offloaded to an under-priced gem, a strategy enabled by the two trades per week approach in Fantasy.
Orazio Fantasia (DEF) $337 000 – BE: 26 | AVG: 86
This one is more a gut feel than anything. I really like this kid, so much so that in the preseason I dubbed him this year's Rory Laird, which after being overlooked for R1 selection, made me look rather silly. However, after coming in to the side in R2, Fantasia has accumulated 23 disposals in both games for scores of 71 and 100, spending time in Fantasy conducive roles on the half back flank and even pushing up to the wing, which saw him produce a monster second half against the Power. Do I think he will be a top 10 defender? Probably not. Do I think that a $337k defender capable of scoring 76 points in a half of football needs to be considered? Most definitely.
Next 3 Opponents: Geelong (MCG), Collingwood (MCG), Carlton (MCG)
Aaron Young (MID) $301 000 – BE: 9 | AVG: 90
In the best form of his stop-start career, Young has proven to be a valuable member of the Power side in the past fortnight, collecting 39 disposals and registering 10 scoring shots in that period. Priced at a tick over $300k and sporting a single figure breakeven, Young could be a great stepping stone to a fallen premium in a few weeks' time, especially given his potential to pick up FWD eligibility prior to Round 6. After being crippled by injury, indifferent form and the dreaded green vest over the past few years, Young now looks ready to cement his spot in the Power's best 22. My main concern here is what impact the return of Hamish Hartlett and to a lesser extent, Chad Wingard has on his output.
Next 3 Opponents: Giants (MO), Geelong (AO), Richmond (MCG)
Caleb Daniel (FWD) $365 000 – BE: 4 | AVG: 98
An early season bolter from nowhere! There always seems to be one, and I don't think anyone would have seen this coming. This kid is an absolute magnet! I'm usually very wary about jumping on players who have already risen a significant amount, but with an unbelievably low breakeven, I think it could be now or never to jump on the Helmet. With a favourable upcoming draw, another ton this week is by no means out of the question, a score which would see him rise by a further ~$50k. Daniel just does it all, averaging 23 touches, 7 marks, 3 tackles and a goal a game in 2016, which for a bloke of only 12 games experience on the big stage, is pretty unbelievable.
Next 3 Opponents: Carlton (ES), Brisbane (ES), North Melbourne (ES)
POD Radar
The "POD Radar" looks at a couple of blokes who you would be laughed at for even considering, for example, maybe a Shane Biggs in the preseason. By no means am I suggesting that these players should be brought in now, but instead closely monitored in the coming weeks.
Jack Redden (MID) $478 000 – BE: 129 | AVG: 70
Again this is a big gut feel and maybe a little man love, after all who can forget his breakout season of 2011, where he averaged 109, laying the foundations of what many thought would become a bona fide Fantasy superstar for the next decade. Despite remaining a solid scorer over the past few years, Redden was never able to recapture his 2011 form, eventually culminating in a rather strange move to the Eagles. In the first three rounds, Redden has looked a little underdone and to be honest, just hasn't looked himself, which has resulted in him dropping $59k from his initial price. If this trend continues, he could be around the $420k mark in a few weeks' time, I just can't help but feel that he is only one midfield injury away from exploding. Would take a fair set, but definitely one to monitor over the next month or so.
Next 3 Opponents: Richmond (DS), Sydney (SCG), Collingwood (DS)
Allen Christensen (FWD) $428 000 – BE: 121 | AVG: 64
After bursting out of the blocks with a 99 against West Coast in R1, courtesy of seven free kicks and three goals, Christensen has struggled to have the same impact in the past fortnight, limping to scores of 67 and 27. With a BE of over 120, another sub-par showing from Christensen could see him drop under the $400k mark. Bear in mind, that Christensen has averaged 84.45 in the past three years and could almost be a straight swap, when his price bottoms out, for a topped out rookie, with the potential to eventually become an F6/F7 for the year. Another to keep a sneaky eye on.
Next 3 Opponents: Next 3 Opponents: Gold Coast (G), Western Bulldogs (ES), Sydney (G)
Jarryd Lyons (FWD) $261 000 – BE: 20 | AVG: 80
Ok, I'll be honest, I haven't seen a heap of this kid play, but wow, have I been impressed with the bits and pieces I have seen of him. Probably should have come under the "cash grab" heading, but at under 2% ownership, I guess he ticks both boxes. Coming in for Brad Crouch on the weekend, Lyons picked up 21 touches and 2 goals on his way to an 80 point game (at 0.94 PPM) against Richmond. This performance backed up a very solid NAB Challenge, which saw Lyons go at 0.92 PPM. Despite dominating the SANFL for the best part of the last three years, Lyons is still fringe best 22 at the Crows, and I just can't shake the feeling that he will always be one poor game away from being dropped.
Weekly Wrap
The first two weeks of head to head fixtures in the DT Talk Regular Posters League has witnessed an incredibly even distribution of points, with 4th placed Powerade and 13th placed, FevsBingles being separated solely by percentage. Off the back of a league-high 2211 in Round 3, coach of CR's Heroes, Callum, now sits on top the table alongside the two other undefeated sides, coached by AAFWPODNDF and some other flog. Led by the inspired captaincy selection of Aaron Hall, CR's Heroes boasted eight scores over 110, making him comfortably the league's top scorer this week. After a lean couple of weeks, The Chosen Won is beginning to justify his preseason hype with a 2176 in Round 3, just edging out Powerade (2167) in their weekly matchup, both rounding out the leading three scorers of the round.
Well there we go! Thanks for reading and I hope you got a little bit out of it. When making trades at this stage of the year, remember that cash generation for the long term is just as important, if not more important than immediate points return in the short term. Good luck to all for the upcoming round and as always, if you have any queries or questions, I'll do my best to get around to them!