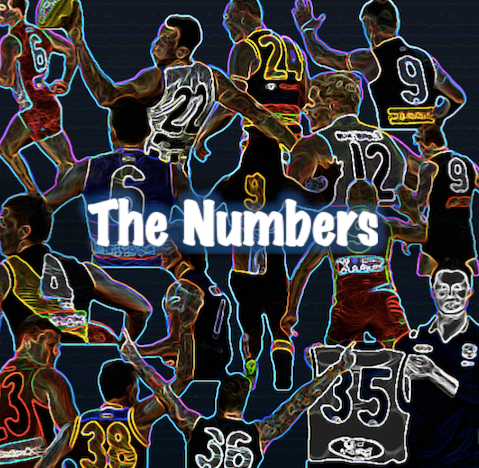 Once or twice every year a round comes along where nothing seems to go right. Round-2 2016 was one of those weeks. While it may have made football hard to watch, we were rewarded with several cracking games that have resulted in plenty of interesting numbers. Let's get into it.
---
0.4-Percentage ownership of Essendon veteran James Kelly. He's averaging a solid 104.5 over the first two weeks and it's clear
that the dons like the ball in his hands. The Sherrin will spend a lot of time in the bombers backline, and more often or not Kelly will be there too.
1.51– Highest Points Per Minute for any player this season. It's not Josh Kennedy, not Tom or Sam Mitchell, not even Aaron Hall. Essendon are going through the toughest times any AFL club has faced, and boy is Zach Merret stepping up. Averaging a nice 127.5 through two, and as Cam points out, is owned by less than 3 percent of the competition. It's only early, but he is making a strong case to be a top 6 forward this year.
2-Mitchells are the two highest averaging midfielders after two rounds. As requested by "Another Arctic Flying wombat Panda of Doom named Drowning fish", here is the DT score spread for Sitch and Titch, ignoring free kicks for and against.
10– As DTtalk user Dyn@mike rightly pointed out, for owners of Dean Kent this number needs no explaining. Many would have trusted him on the field this week after a more than respectable 68 in round 1, and knowing he was playing the depleted dons. As he spent more of the game with a negative score than a positive one, it quickly became apparent that his owners would not be
climbing up the rankings this week. More Free kicks against than kicks for himself.
16– Ryan Harwood. 4 Quarters of Football. 16 Fantasy Points. Tom Mitchell outscored you in a block of just 2 minutes and 30 seconds during the end of the third quarter. Nick Kommer, a VFL player at best outscored you: Despite having 6 Free's Against! While he should never score this poorly again, I think it will be due to him never playing again. Trade him out, he never should have been hyped up.
24– This hurts. He may have had a niggle, but it just doesn't cut it from a dream team pig. However weak the lion's forward line is Rockliff should not be their Full Forward. Especially without Robinson and Beams he should be in the guts winning the contested ball and running on the outside moving it forward.
39– Players who have scored 200+ points this season and are hence averaging 100+ after two rounds. (Note 4 others are averaging 100+, but have only played 1 game) Led by Tom Mitchell and Josh Kennedy, who both are averaging an impressive 137.5 after two. 14 of these have tonned up in both rounds, including midpricers Johannisen, Hunter and Zaharakis.
48– This hurts twice as much. If your captain scored 48 once doubled, your weekend, like mine, has been single handedly ruined by Tom Rockliff. Ouch.
99.5– Average of Darcy Parish after two rounds. Although now costing a small fortune, he could become the fantasy rookie of the year if he keeps dominating for the dons. You have to decide this week whether he's becoming part of your team or not, the boat is about to set sail. Low score of 97 is
nice as well…
111– Combined score of Fantasy bar legends of old, Michael Barlow (59) and Jimmy Bartel (52). Although it may be only two weeks in, neither looks fantasy relevant this season. The moment you trade them out they will score 100, but it doesn't matter. They won't be top 6 in
their respective position so if you've got a free trade, move them on NOW!
641– The overall ranking you could have had if you begun the season with an All western bulldogs fantasy team, and made the right captain selection each week. An all doggies lineup would have scored 2071 in round 1, and 2015 in the most recent week of carnage. The squad has a non-bulldog Leunberger in the ruck, this is due to the dogs having 7 backmen and only 1 player available as a ruck. Leunberger has scored the same amount of total points as the dogs 7th defender, Dale Morris, and is therefore a fair reflection of their overall output as a team. While I am not suggesting trading in only bulldogs, it is very interesting to see how much of a fantasy friendly game they are playing to start the year.
868-Poins you could have potentially scored this week if you had unfortunately selected the Round 2 "horror team". On paper the team has an OK balance of guns and midpricers, with a healthy amount of rookies for cash generation. Whilst the on-field players only cost $7,410,000, it is not
unreasonable. Nearly every one of these players would have at least been considered over the preseason (I think at one point during the preseason that actually was my backline), and many might have even been traded into your side this week.

1070.5– Amount of money you would have received for a successful $1 multi bet of the nine AFL
games over the weekend, compared to just $31.30 for 9/9 in Round 1. Six of the games were upsets according the odds, led by Essendon ($5.76), GCS ($4.14) and GWS ($2.66). The upsets were great from a footy-watchers perspective, not so good for punters and tippers.
2230– Round point's scored by Zac Vaughn's team "Mooka's Lads", enough to give him the weekly win and an overall ranking of 292. Big scores from uniques Gibson (157), Zaharakis (126), S.Mitchell (C, 292), Tippett (114), J.Riewoldt (105) and Betts (100) help him achieve what will become a par score over the coming weeks. He avoided most of the carnage, how Jarman Impey (38), Dal Santo (67) and Leunberger (57) prevented him from having a flawless week. Can't see him repeating this effort too often, however congratulations on the good start to the season and you never know, maybe it's the year of the uniques.
---
MARE OF THE WEEK
Inspired by a trend on a certain live fantasy scores website, each week I will give you the opportunity to vote for your "(night)Mare of the week", similar thing to the Golden Stubby, but a little bit more satisfying. Which of this weeks nominations let you down the most, or just had the biggest mare? Rich, Rockliff, Duncan, Harwood or Kent?
Once Again, thanks for reading and I hope that it's third time lucky for you this weekend. Please leave a comment if you enjoyed the read or if you have any suggestions for future articles, including a number of your own.