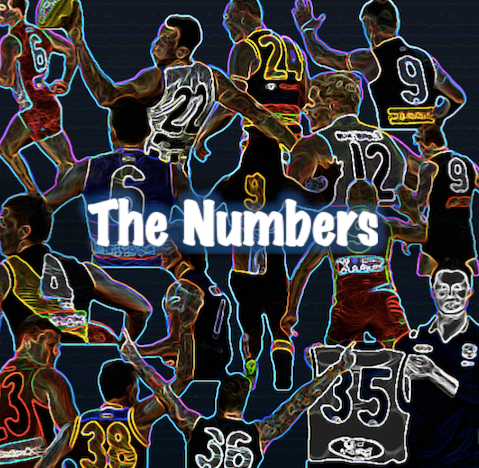 Welcome back to another season of AFL fantasy and another edition of The Numbers. Each week I'll be bringing you a light read containing lost of interesting and often trivial facts  from the previous weekend of footy. Hopefully along the way you might pick up some useful bits of information that helps you improve your team, climb up the rankings and dominate your league. Let's get into it.
1.22– Points per minute for Calvin's #1 Captain option, Daniel Hannebery. This is comparable with other popular captain picks; Ablett went at 1.30PPM and Dangerfield 1.26.
2– Weeks offered to Steele Sidebottom for a high bump on Hannebery that caused him to effectively be subbed out for 76. He now becomes a must trade for Fantasy owners, although probably should be benched in RDT.
5– Points separating the two Crouch brothers after round 1. Brad (87) and Matt (82) hardly dominated in round 1, however both showed signs of fantasy potential. You would have to say despite costing a touch more, Brad looks to be the better choice, costing you $4770 per point, whereas Matt's dollars per point is $4829. A battle to watch over the coming weeks.
7-Number of free kicks awarded to Allen Christensen, surprisingly not even a career high. He was ducking and weaving underneath taller players and drawing plenty of high's inside the forward 50. However annoying, it is a skill to draw frees and one that can easily bump a players fantasy average up a few points. His career high came in Round 18 last year, when he racked up 8 free kicks on his way to 72 fantasy points.
43– Number of disposals recorded by round leaders Patrick Dangerfield and Matt Priddis. This was a career best for Dangerfield, and he no doubt started the season with 3 Brownlow votes. Priddis had 33 by the 5th minute mark of the 3rd quarter, but slowed down in junk time once the game was won.
44-Trades left to turn the current scrap-heap that is your round 1 team into a well-oiled machine that can pump out 2300 at ease. Every trade counts, but remember not to trade away your preseason research based on one bad performance. Fixtures can have a massive impact on individual scores. Sam Jacobs' 78 looks a lot better when you consider his worst score of the year should come against Goldstein. Similarly, don't jump on someone like Josh Kennedy just because of one big score against a weaker opposition. You picked each player in your team for a reason, and unless something on the weekend disproved this, chances are they'll come good.
46– Minutes Fremantle fans had to wait before Walters kicked their first goal of the season. Western Bulldogs absolutely dominated Fremantle in all parts of the game, on the way to a 65 point win and a 1950-1413 Fantasy point massacre.
56– Number of Hitouts from 309K Ruckman Tom Hickey in St. Kilda's tense battle with Port. Although it appears from this stat that he dominated the ruck, Lobbe managed a solid 42 taps himself, indicating there were plenty of stoppages for the two ruckmen to compete at. This is due to the game having a round-high 174 tackles between the two teams.
58– Percentage time on ground for Clayton Oliver, giving him a respectable PPM of 0.88. The tank was always the worry for Oliver, and after being on 54 at the half; a final score of 61 is just not good enough.
61– Players scored 100+ points in round 1, significantly higher than the 50 that began the season with a ton last year. The cheapest of these was $277K Western bulldogs forward Toby McLean. The free-flowing football and lack of rotations seems to be generally increasing fantasy scores. Although the sample size of data isn't great, hopefully this trend continues.
72– Percentage of Essendon defenders Matt Dea's score of 72 that occurred in the second half. After being on just 20 at half time, owners were already contemplating a trade. However he strung together some kick-mark combos and managed to produce a very solid score considering his price.
92– Hours between the first bounce of 2016 and the final game on Easter Monday. This weekend has been a marathon for fantasy, but I think it would have been even more enjoyable if we had a Good-Friday game to join it all together.
180– Fantasy points scored by round leader Josh Kennedy in West Coast's comfortable shoot-out victory over the Lions. Beating his previous high score of 177, Josh's 180 came off the back of 16 marks, 25 touches (of which 21 were kicks!) and of course 8 goals. Had he been selfish he could have easily cracked 200 and had 10 goals, as he passed off a number of easy opportunities to teammates. It could be a while before this score in broken in 2016.
960– Days since Stefan Martin last scored under 80. His weekend score of 79 is he lowest since August 10th 2013. On that he played back-up ruckmen to Leunberger in Brisbane's 23-point loss to Richmond, and scored a mere 41 fantasy points. While his performance against west coast on Sunday night wasn't quite that bad, 79 points from the second most expensive player in the game is not the start to the season we were looking for. You could argue he won't face Nic Nat every week, however short term It's not going to get any easier, as he faces #1 Ruckman Todd Goldstein this Saturday.
1051– Combined points scored by 9 of the most popular mid-pricers in round 1. Nearly all "risky" picks awkwardly priced between 300-450K performed on the weekend, with the only obvious exception being the giant's pair Steele (47) and Greene (56). The nine popular mid-pricers who tonned up were Gibbs (127), Hall (125), Rich (123), Johannisen (121), S.Gray (118), Sheridan (116), Rosa (108), Hunter (108) and Yeo (105).  Personally, I managed to crack 2000 with just one of these players, so I can imagine how anyone feeling extra "hyped" about NAB cup performance would have had a very good week.
2367- The total points scored by shared round leaders "Wet Toast Eagles" and "POLEMAN". Although the score is obviously very impressive, the teams have quite a few surprisingly disappointing picks. "POLEMAN" played Jack Steele for 47 and "Wet Toast Eagles" had both Cooney (58) and Greene (56) in his forward line. Look for these two to be overtaken this weekend.
11322– The Number of coaches who persisted with Daniel Howe, despite him being named on an extended bench for the Monday game. Unfortunately for them, he missed the cut. What makes it worse is that popular DEF emergency A.McDonald-Tipungwuti scored only 36. Personally I think it was an unjustified risk to take in round 1, especially when there were so many other options down back.
Well thats it for Round 1! Please leave a comment if you enjoyed the read, or if you have any interesting numbers of your own. It may just feature in next weeks article!