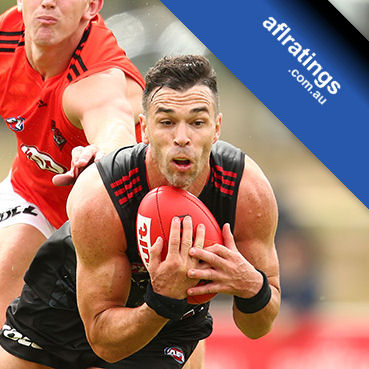 Essendon have become a very relevant team in AFL Fantasy this year due to suspensions and recruitment of top-up players, additionally the opportunity amongst further listed players could provide Fantasy coaches with an added advantage to at least begin with a few solid options at Round 1.
Conditions at the True Value Solar Centre were perfect for football, there were to be no excuses in what was a full scale match apart from the 10 minute last Qtr. As the match began a handful of players were training on the No.2 oval; Nathan Grima, Mark Jamar, Matthew Leuenberger to name a few continued to run laps as the Intra club match progressed.
Click here for more AFL Fantasy insight at aflratings.com.au.
Player that were AFL Fantasy noteworthy today:
Mitch Brown FWD/DEF $194K
Played mostly in defence but importantly was part of a link chain clearing the ball away that included several extra Disposals, Brown will most certainly line-up for the Bombers and be a pivotal part  of their backline set-up.
Michael Hartley DEF $125K
Hartley also played in defence but more in a key tall role, although he does provide a cheap option when filling your team there are no huge expectations right now for any type of break-out for Hartley.
Brendon Goddard MID $552K
We know Goddard can be a very good accumulator and in 2016 this should be no different, he played anywhere from midfield attending centre bounces through to being part of a sweeping defensive role plus kicking in with the cheap self-kick to gain an extra Disposal which Fantasy Coaches love. Of all the players from a fantasy perspective Goddard must a be consideration in a premium slot, from what was witnessed today he appears to be very much under-priced and with his sweeping backline positioning could be a potential DPP candidate if that stands true in the Home & Away season.
Click here for more training insight from aflratings.com.au.
Follow @aflratings on Twitter.
Aaron Francis DEF/MID $221K
Was looking forward to seeing Francis play today with high expectations, following the game felt somewhat disappointed from a Fantasy perspective as he played a key defensive role early without accumulating too many Disposals with just a sprinkling of clangers. As a rookie defender with DPP capabilities he does look appealing, but after today expectations have been considerably lowered for his output in 2016.
Darcy Parish MID $260K
In 12 months to 2 years' time it is likely that the No.3 on the back of Essendon jumpers will be quite common because he is going to become an instant favourite amongst fans, Parish has elite skills that will set him apart from other rookies and provide him with plenty of game time in 2016. Although he is just a little undersized there should be a good ceiling for what he can produce in Fantasy, he attended centres bounces and accumulated enough Disposals to warrant consideration in many Round 1 teams.
James Kelly MID $450K
Apart from the awkward pricing of Kelly he will be a unique option with not many coaches willing to take the plunge, he used his football smarts to position himself correctly throughout the game and accumulate enough of the ball to warrant consideration at this stage of the pre-season.
Matthew Stokes  FWD/MID $394K
Stokes does provide a DPP positive in 2016 but from a fantasy prospective there doesn't seem to be much value in him after the game today, apart from gaining the odd head high shrug tackle he did not appeal to the eye as an accumulator for Fantasy – Pass.
Zach Merrett FWD/MID $501K
Merrett was quite impressive today attending quite a few centre bounces if not starting on a wing and eventually moving forward, keep an eye on him especially if his price drops early in the season. Merrett appears to be correctly priced to begin the 2016 season, just not sure he has a big ceiling of points if he plays more forward and the Bombers struggle this year.
David Zaharakis MID $415K
Zaharakis attended quite a few centre bounces which does look eye opening considering his starting price, he did move forward when provided an opportunity but again like Zack Merrett could struggle to accumulate big points if played forward in a team that is well behind on the scoreboard -A potential DPP candidate.
Wanted to see more from him today, moved to a wing late in game. Hopefully NAB Challenge games he is a standout @BJ_Lad

— aflratings.com.au (@aflratings) February 19, 2016
Adam Cooney FWD $369K
If Cooney was a midfielder he would be an instant pass but he starts the 2016 AFL Fantasy season as a straight Forward that could provide a unique option, he attended a healthy amount of centre bounces today along with assuming a half back role breaking lines. Cooney averaged just over 90pts 2 years ago at the Bulldogs, given his experience and ability to find the ball there may be an opportunity for him to prosper as one of the first line midfielders at the Bombers in 2016. A must watch in NAB Challenge games now for Cooney – A potential DPP candidate.
Shaun Edwards FWD $255K
Another player that appears ready to elevate his game is Edwards, he was excellent today mostly starting on the wing using his acceleration to hit contests and handled the ball extremely well. Another to add for a NAB Challenge watch, he might just be a very good value pick in 2016 given the opportunity that he will get and by the way he is starting his 4th year in the AFL.
Craig Bird MID/FWD $321K
If there was another player at the Bombers that was more of an AFL Fantasy lock after today it would be scary, do yourself a favour and log in to AFL Fantasy to put Bird in your team now. Bird was attending multiple centre bounces and roamed throughout the midfield in a stand out performance, at his price and DPP status he is highly valuable to start in Round 1 for any coach.
Nick Kommer FWD $125K
If you are looking for forward No.8 then look no further than Nick Kommer, he did more than enough today to warrant a consideration for the Bombers at Round 1. If Kommer is named  to start the season then lock him in instantly.
Ryan Crowley MID $226K
Worsfold was true to his word setting Crowley up forward, he drifted up to the wing to provide an early target and was pretty solid throughout the match. Would have to imagine the days for Crowley tagging are likely behind him with his lack of speed, his endurance running is elite and he is going to need that all season long to provide a target for when the Bombers move the ball forward. Even though Crowley is cheap as a midfielder in AFL Fantasy there are likely better options to provide a cash boost than him, especially if the Bombers struggle to score in 2016.
Crowley just hooked set shot, but natural up fwd. Times leads + has strong hands. Daniher dominant early with 1.1. pic.twitter.com/kwTZrPemuo

— Travis King (@TravisKing) February 18, 2016
Sam Grimley RUCK/FWD $226k
Grimley provided a big target up forward and was solid when the ball was in his hands, he could be a liability when opposition players run off him which could threaten his game security.
Anthony McDonald-Tipungwuti DEF/FWD $162K
If McDonald-Tipungwuti is named in Round 1 then he could be a good cash generating No.7 or No.8 in a Defender slot, his body is AFL ready but he is such a raw AFL talent. McDonald-Tipungwuti could drift in and out of games which could be a deterrent for AFL Fantasy coaches, put him on your NAB Challenge watch list.
Gach Nyuon RUCK $125K & Shaun McKernan RUCK $441K
Both Nyoun and McKernan rucked for the majority of the game with Nyoun leaving the ground with an injury late, it would appear that McKernan will provide the same type of numbers as 2015.