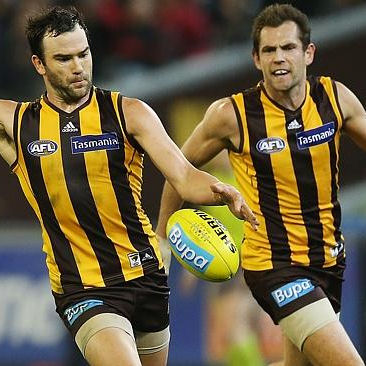 PRESTIA $496,000 VS RISCHITELLI $528,000
Ignoring Ablett for a second, (mostly because his price tag compared to Prestia and Rischitelli is way higher and therefore quite incomparable) let's look at Prestia and Rischitelli. Frankly I haven't seen either of these two guys in many of the teams posted on this site, and to be perfectly honest, neither have found their way into my initial team. There is still a long ways to go before round one lockout and plenty of time for one of these two to sneak into my team. Realistically, both would be considered PODs (Point of Difference) due to their apparent unpopularity, and both could see you win a head to head matchup. In the real world these two gents are wildly incomparable.
Rischitelli is 30 years old and debuted in 2004. He played for the Brisbane lions from 2004 to 2010 and then joined the Gold Coast Suns at its inception in 2011. In his first season with the Sun's, Rischitelli averaged a cool 96 points per game. What followed 2011 was a string of bad years, whereby Rischitelli was hampered by multiple injuries including elbow, ankle and hamstring tendinitis problems. In 2012 he averaged just 63 points per game followed by 70 and 73 in 2013 and 2014 respectively. You'd be forgiven if you'd have said his Fantasy days were over at the beginning of 2015. His age and the stats were largely against him and he was surrounded by superstars like Ablett and soon to be superstars like O'Meara. Alas, 2015 beckoned and the injury list at the Suns grew like the proverbial beanstalk. One player after another fell, Ablett, Swallow, O'Meara and later Prestia all suffered relatively season long injuries. The time was now for Rischitelli to step up and boy did he do just that. Stats wise, Rischitelli played in all but one of the home and away fixtures, and increased his average PPG to a very respectable 95.4 come seasons end. That figure alone should impress you considering he only averaged 73 in 2014! In 2015, he managed a career high 21 kicks in round 3 against the Cats and recorded a personal best tackle count of 12 in round 7. He reached the ton 7 times, 4 of which were 120 or above and only dropped below 80 twice (round 10 against Sydney and round 19 against his old team Brisbane). If one was to remove those two rounds it would take his yearly average to 99.3. Not bad for a bloke entering his 30's. Truthfully, I don't see him averaging as high this year compared to last year. I believe this due to a number of reasons, chief among which is the fact that baring any unforseen circumstance, most, if not all of the Sun's midfield power should be back at some point in 2016.
Now, I'm not a Suns supporter, nor do I confess to know all about them but from a purely Fantasy mindset, having guys like Ablett, Swallow and O'Meara (when he's fit) back from injury can only mean less midfield time and less possessions. Who knows, I may be barking mad to think that let alone write it but personally, at his current price I'd avoid for now. For some reason, I'm inclined to believe that having all those aforementioned blokes back will only serve to strengthen Prestia's output. But how can that be Leighroy? You just said..? I know, I know, hear me out. Again, I must stress that I'm no expert but I'd wager that a fit Prestia is higher up in the Suns midfield pecking order and when guys like Ablett and Swallow are back, that extra support will assist the youngster rather than serve to push him out like I'd imagine what would happen to Rischitelli. Let's face it, a fit Rischitelli isn't much chop to a fit Dion, and the stats speak for themselves. Unlike Rischitelli, Prestia's form had been high leading up to the start of the 2015 season. In 2013 and 2014, Dion averaged 97 and 100 points respectively. He ended 2014 with a total of 2208 Fantasy points and was set to light the world on fire in 2015. Unfortunately, even the best of plans can go awry and we were left to wonder what could have been when in round 8 on a Saturday night against Collingwood, Prestia went and injured his left knee. Later, scans revealed a torn lateral meniscus, sidelining the kid for the remainder of the home and away season. If we forget about the injury for a moment and look at what he managed pre-injury, the stats are impressive. In the 8 games he did play he averaged 95.4 PPG with three of the eight games exceeding the ton. He averaged more disposals that Rischitelli as well as more uncontested and contested possessions and came away with roughly a 1:1 ratio handballs to kicks. Personally, had he played a full season I believe he'd have accumulated more total points than his teammate in Rischitelli and at a sub 500k price tag, markets himself as a very viable, albeit mid-priced midfield option. Big call, but if fully fit come round one, I'd argue he is the best midfield pick under $500,000 (cue debate).
If I had to choose one: I've currently got Prestia in my team as M4. Shhhh.
ZIEBELL $500,000 VS SWALLOW $487,000
In comparison to a team such as Melbourne, North Melbourne's list is quite 'experienced' in that they have a lot of old warriors running around the park (Harvey, Petrie, Wells, and Waite etc). Having a look at the stats of Ziebell and Swallow was interesting. First let's look at Ziebell. In 2015 he played 24 games including finals and returned a 90.8 PPG average. In the entire season Ziebell only handballed 112 times which equates to an average of 4.7 per game. For those following along at home, that is low. I mean really low. This is good of course because it resulted in him kicking the ball 354 times at an average of 14.8 per game. Compare that to Swallow (219 kicks at an average of 10 per game) and you're looking at a massive difference in how either player disposed of the ball. On average, Ziebell marks more, scores more goals and points, gets more hitouts and gives away less free kicks than his teammate. 2015 was Swallow's worst year in terms of Fantasy numbers in 5 years. Since 2010 he had never averaged less than 90 points and last year he came at us with an 88.4 managing to only reach 100+ on 5 occasions.  He also never broke any career bests and missed three games during the year. At a price of $487,000 I don't imagine him being a very popular starting player, especially considering he's more expensive than our underperforming proven premiums (sort of) in Gibbs, Libba and potentially Crouch. Ziebell on the other hand looks mildly appealing. He enters his eight season and turned 25 this year. He increased his yearly average by as near as makes no difference 6 points and looms to become one of, if not the main man in North's engine room. North Melbourne have everything to play for after just missing out on the big game last year and I believe the north boys will have a bitter taste in their mouths from that loss that will propel them into another successful home and away campaign. Another reason I'd potentially consider Ziebell is that fact he has arguably a top 3 ruckman feeding him centre clearances left right and centre, however at $500,000 I'm still not tempted.
If I had to choose one: Personally I don't believe either will a top 8 MID. If I had to pick though it would be Ziebell any day of the week.

HODGE $615,000 VS LEWIS $613,000
Everyone who plays AFL Fantasy knows that generally Hawthorn players are points GOLD. Even their more understated player like Gibson and Duryea can go big in defence. The talent in the Hawks list is so deep, there's little wonder they won the three-peat. I've chosen to compare Hodge and Lewis because of the miniscule 2k difference in price. Admittedly they are on the expensive side, but when you pay for an Aston Martin you're likely getting the best in the business. Remarkably, Hodge missed (predominately due to suspension, silly lad) 5 games in the whole 2015 season and still scored a whopping 2364 points. Lewis also missed some games due to suspension but he as well managed to notch up 2489 points. When comparing the two it becomes very easy to see why Hodge had a career best fantasy year and was able to beat Lewis when it came to average points per game (112.6 Hodge vs 108.2 Lewis) put simply, the Hawks as a team dominate the ground most of the time. Couple that with a player like Hodge who must know all about Fantasy Football and does everything he can to get a kick away (17.4 per game!) and you've got yourself a man who will rake in serious points. Hodge is one of those rare midfielders that prefer to use the boot rather than their hands and this shows when comparing him to Lewis. Lewis played more games than Hodge but still managed less kicks (3 points), less tackles (4 points) and less goals (6 points) in total. Hodge was going at a goal a game whereas Lewis averaged 0.4. Unlike Hodge, this wasn't Lewis' best year and he dropped 1.8 PPG when comparing to his 2014 year. Regardless, he still reached the ton 13 times and reached 150+ on two separate occasions. Hodge also did well in the ton department, converting 12 of his appearances into 100+ efforts and managing to hit a staggering 159 points in round 3 against the Doggies. Presently I don't have either in my starting squad. Why? You're crazy! (I am actually, funny story) shouts the masses. Personally I don't like forking out over $600,000k at the start of the season (unless that person is Rocky), and even if it is Rocky I still usually feel a bit uneasy. I like to look for value, for players who will still get me that ton but are cheap enough I can afford a decent R2 or D4 (or R2D2.. sorry). I'm gambling on both Hodge and Lewis having slow starts to the season and dropping a bit before I get one or the other. Another thing that's making Hodge harder to get is his lack of DPP that we all took for granted last year. I guarantee if he was a DEF/MID we'd be all over him like a baked ham. Both can also get a bit fiery and do something silly which then necessitates usually using a free trade to swap them out. Another thing to look at briefly is that if you were dead set on having a Hawthorn mid, you can get Mitchell at $574,000 who averaged 104.9 in 2015 or Shiels at $549,000 who averaged 96.8 in 2015. Again Mitchell gets a bit hot under the old collar too sometimes so buyer beware. All in all if you can afford to get either one of these two go for it, but don't sacrifice your team structure just to accommodate one or the other. Make no mistake I guarantee at least one of these guys will be in the top 8 MIDs this year, for me it's all about when to pounce.
If I had to choose one: Money being no issue I felt safer with Hodge last year than I did with Lewis. I feel the same this year.
Thank you for taking the time to read my three articles, there's a few teams without any real close MID options such as Melbourne and Western Bulldogs so I've kept them all to the teams and players that I thought people might be line ball with. I hope that in some way I've helped you choose, or avoid certain players and I hope to be back soon. Follow me on @leighroyDT where I'm happy to answer any player comparison questions you may have. Cheers.