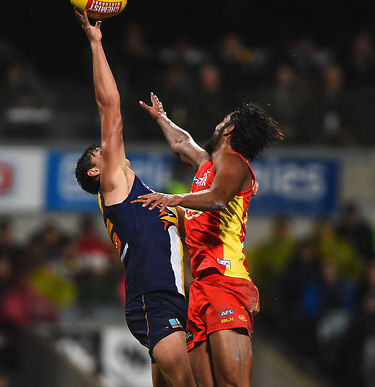 Thanks to Tom for sending in his thoughts on some players he has been pondering between.
Bachar Houli ($481,000) v Kade Simpson ($474,000)
Houli has been a solid Fantasy performer for many years now. Not since his debut season in 2007 has he averaged under 70, highlighting his reliability. 2015 was Houli's best Fantasy year, averaging 86.8 and flourishing across the Tigers half-back line. He also managed 6 tons including a massive 146 against the Cats where he collected 33 disposals, 7 marks and 9 tackles. However Houli has been prone to the odd bad game. He recorded under-par scores of 68, 56, 45, 64, 60 and 57 last year but apart from those frustrating hiccups, consistently scored above 80. Houli is the type of player who has the ability, in my opinion, to reach the likes of McVeigh, Boyd and Shaw. A tad risky but could pay off, big time.
A very similar player to Houli, Carlton's Kade Simpson is a key figure in a team which has had little success of recent years. Simpson has long been amongst the better Fantasy defenders and last year was no different. Despite not reaching the heights of past seasons, Simpson still proved a firm option. Although he only tallied 3 tons, he was still able to average 85.6 in a team which only won a mere four games. Simpson posted 8 scores between 80 and 100 and maintained this form throughout the season. Unlike Houli, the Carlton defender notched up just two scores under 70 all season.
Verdict: Both Houli and Simpson have the ability to give you scores of 80+ on a regular basis. Simpson has more runs on the board but Houli is younger and is playing in a team which will most likely win more games. Touch and go decision but I'd be backing Simpson.
Loading ...
Bryce Gibbs ($449,000) v Tom Liberatore ($443,000)
Over the duration of his career, Carlton midfielder Bryce Gibbs has proven he can be a good option for AFL Fantasy. 2015 was Gibbs' second-worse Fantasy season, with his debut season in 2007, understandably, being the lowest scoring. Although injuries proved a hurdle, Gibbs averaged 81.1 in 10 games with just the two tons (125 & 103) in 2015. However, he did post decent scores of 96, 86, 81, 92 and 85, proving he has the capability to become that mid-priced option who can average 85-90 before being traded to an out-and-out premium later in the year. In 2014, Gibbs was one of the top midfielder's, averaging 101.4 Fantasy points (including 12 tons), 24.8 disposals, 4 marks and 5 tackles. If Gibbs can return to the glory of past seasons, he'll provide a nice stepping-stone option.
The Bulldogs 2015 season was excellent. However it didn't start all that well when son-of-a-gun midfielder Tom Liberatore succumbed to a nasty knee injury which sidelined him for the entire season. But after a successful rehab and pre-season, 'Libba' is back! Before the unexpected injury, Liberatore had posted two solid seasons in which he averaged 97.2 and 98.6. Despite not quite being able to crack the 100+ average, 'Libba' no doubt has the potential to reach out-and-out premium status. With a midfield consisting of Wallis, Picken, Macrae, Bontempelli and at times Dahlhaus playing around him, there is no doubt Liberatore can launch in 2016.
Verdict: It's certainly a tough decision but I slightly prefer Liberatore at this stage. Both are similarly priced but in my opinion, 'Libba' is the more likely of the two to return to premium status again and although he is coming off a serious injury, I expect him to lead the 'Dogs midfield this year. Let's just hope they both stay injury free.
Loading ...
Callum Sinclair ($414,000) v Tom Nicholls ($409,000)
Sinclair made the switch from the Eagles to the Swans in the trade period. During his time at West Coast, he endured an up and down few years and never really cemented his place in the side until last season. Despite missing five games through injury, the big man managed to post some reasonable Fantasy scores, although he never starred. Sinclair was forced to play second fiddle to Nic Naitanui. Coming in at $414,000 this season, Sinclair is the type of player you would look to pair up with a premium ruckman such as Martin, Goldstein, Jacobs, Mumford or Blicavs, to fill the R2 position. With Sinclair almost certain to be the Swans number 1 ruckman, 2016 could be his year. He also has a forward DPP ability which could prove handy come Fantasy finals time.
Gold Coast ruckman Tom Nicholls's time is now. He has the chance to be the number 1 ruck and will really benefit from the Suns midfield at full strength. Gold Coast only really have Keegan Brooksby as a back up ruck option and will be forced to rely heavily on Nicholls. With the likes of Ablett, Prestia, Rischitelli and Swallow looking to feed off Nicholls ruck work, he has the opportunity to be a solid mid-priced option for the majority of the season.
Verdict: Again, similar type players who will look to increase their output when given the number 1 ruck role. Both are decent mid-priced options in my book but I'd go with Nicholls purely on scoring potential.
Loading ...
Dom Sheed ($389,000) v Craig Bird ($321,000)
Sheed had a solid 2015 season and ended the year with an average of 70, even though he only recorded 1 ton. He comes in as a forward/midfielder and is priced at $389,000. This could, perhaps, be a little expensive for the 20 year-old. In a midfield already containing the likes of Priddis, Gaff, Shuey, Redden, Mastern, Jetta and Yeo, Sheed may be forced to spend the bulk of the year up forward. There's no doubt Sheed has talent and could end up being a reasonable, mid-priced POD.
Craig Bird made the switch from the Swans to the Bombers in the off-season and will be looking to replicate his 2014 form which saw him average 19.8 disposals, 2.8 marks, 5 tackles and 83.3 Fantasy points. His 2014 season came out of the blue somewhat, as he had averaged 60-65 since 2009. Bird is already a very popular choice in Fantasy this year and for good reason. He's now 27 years old and will immediately be looked upon as a leader in an Essendon team missing a large chunk of their core group. It'll be interesting to see what role Bird is given. The addition of Ryan Crowley to the squad should allow him to play a more free-roaming role across the half-forward line and occasionally pushing up into the midfield.
Verdict: I'd personally go with Bird here. He is cheaper, has the experience and if he can return to his 2014 form, will prove a more than handy selection.
Loading ...