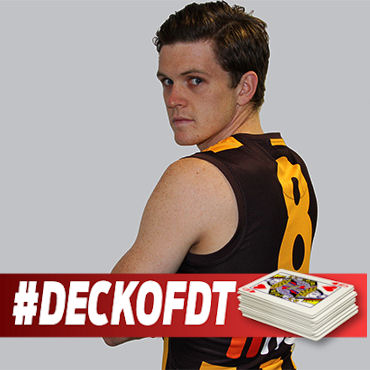 Name: Taylor Duryea
Club: Hawthorn
Position:  Defender
AFL Fantasy: $436,000
AFL Dream Team: $456,700
Bye Round: Round 15
2015 Average:  78.8
2015 Games Played:  18
Predicted Average: 85 (+!)
Click here for DT Live profile.
For my final instalment of the 2016 Deck of Dream Team, I actually couldn't decide who to write about; Grant Birchall or Taylor Duryea. In fact, I completed my article on Grant Birchall before changing my mind, and writing about Taylor Duryea. Side note: I like Taylor Duryea. He goes to the same dog park that my dad takes his dogs. He's a good dude. Relevant? No. Interesting? Not really. Let's move on.
Why should I pick him?
So, I was genuinely torn between writing about Taylor (Doc) Duryea and Birch, but let's face it – you know what you'll get with Birch. An average between 80 and 85 (since 2011, he has averaged 89.6, 88.6, 80.5, 81.8 and 82.1 points per game.), a couple of 100's, but also a couple of stinkers (2015 Scores of 48, 55, 58, 61 and 62 are not what we want from our "premium" players).
Taylor Duryea, Is actually nearly 25 years old. He was drafted in 2009, but only made his debut in 2013. Doc was forced to earn his stripes at Box Hill, but make no mistake, is now firmly entrenched in the best 22 at the hawks. He has similar traits to Brent Guerra and Matt Suckling, who obviously are both no longer at the club.
Doc played 18 games in his 'debut' season of 2013, however no finals. He averaged a respectable 57 DT points, with a high of 82. Not much more to report here… Doc played in 20 games in 2014, averaged 62 points, with a high score of 87. Still finding his stripes.
Now, we all love the old "3rd year breakout". Taylor Duryea played 18 games in 2015, averaged 78.8, which included some monster scores of 122, 118, 111 and 109 (not to mention the 110 against Freo in the prelim when he was probably best on ground – and that goal in the last quarter… fair to say I was off the couch at that stage). His (nearly) 79 average included 3 sub vests (2 red, 1 green) and 12 of 18 scores greater than 70.
But what makes me really quite bullish is Doc's coming of age in the 2015 finals series. Following a low of 30 in the qualifying final against the eagles (where he donned the green vest), his next 3 finals were outstanding. 22 touches and 92 points in the semi against the crows, 26 touches and 110 points in the prelim against the dockers and 26 touches and 98 point against the eagles in the grand final. But it's not only his possessions and his scoring that impressed. He exerted himself on the contest. He was tough, uncompromising and polished. All traits which Clarko lauds. That is why I'm certain he is now entrenched in the best 22 at the hawks.
Doc had a kick to handball ratio of 2.5:1 in 2015. I'm not sure he knows how to handball. He loves an uncontested mark. He took 127 marks in 2015, at an average of just over 7 a game, including 5 games where he took more than 10 (with a high of 14). Cheap +6's everywhere in the hawks backline.
Whilst he is a typical back pocket/half back flanker, he can push up the ground onto the wing to provide a target for the short kicking, uncontested brand of footy the hawks are renowned for. Lot's of juicy +6's there as well.
With such a relatively small dataset, it's hard to find the statistical reasons why you should pick him. The biggest reason why I think you should pick him? I have a hunch. A feeling in my waters.
Why shouldn't I pick him?
It's probably a bit of a risky selection. While we can crunch the numbers, look at his trends, visit him up the dog park to see how he's tracking this offseason – he's not a proven, consistent fantasy performer.
He's awkwardly priced. Priced around other defenders like Brodie Smith, Matt Suckling, Grant Birchall, Tom Langdon, Mark Baguley etc. If you are like me, and might ignore the top priced defenders to begin 2016, then he's not a bad pick.  But if you are selecting guys like Boyd, McVeigh, Shaw, Bartel, then it's hard to squeeze a guy like Duryea in.
He's still a relatively young player, at least experience wise. A couple of subpar scores might be on the cards. His low, un-vest affected scores in 2015 were a 38, 57 and 59.
And finally, his role. Whilst I don't doubt that he will fill the Matt Suckling void, generally playing as a link up player between forward and defence, Clarko loves to add a string to the bow of all players on the list. Potential tagger, ala Shiels in 2012/2013? I'm not sure he has the fitness or nous to play that role, but he is a scrappy kid. He may also be used to play on the dangerous small forwards from time to time, the Eddie Betts, Chad Wingard, even Mark LeCras types.
Deck of DT Rating.
QUEEN – The difference in productivity between Doc and Birch could be minimal – but it's the trend that has me excited about Doc. I think his best is just around the corner, while Birch has probably peaked, at least from an AFL Fantasy perspective. There is still a bit more growth for Taylor Duryea, and I expect that come to the fore in 2016.
Loading ...
FOLLOW ME ON TWITTER: @cruttonhutton for all thing AFL Fantasy (and more). Got something to say about the deck? Use the hashtag… #DeckofDT.