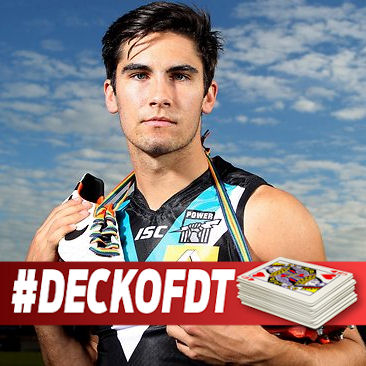 Name: Chad Wingard
Club: Port Adelaide
Position:  Forward
AFL Fantasy: $495,000
AFL Dream Team: $518,800
Bye Round: 14
2015 Average: 89.5
2015 Games Played: 22
Predicted Average: 95
Click here for DT Live profile.
Why should I pick him?
Firstly, we all watch games of teams we don't support to watch our players, and if you aren't a Power fan, you would still love watching them just to see what Chad will do next.  He is an excitement machine.  Is that enough to pick him though, not quite.  But let's look at the stats.
One of the big things about this year's DT is that we don't have the vast array of Mid/Fwd's that we would normally select, so we now need to look to more of our traditional forwards.  Chad Wingard is one of those guys.  The key with him is that he does go into the midfield during the game and he is a goal kicker.
Last season he kicked 53 goals 27 behinds.  This was his biggest goal tally, eclipsing the 43 goals in each of the two previous seasons.  He also increased his disposal count last year from the previous one, however was still short of his best season in 509.  With the Power midfield back together (Wines and Polec returning) and if they stay injury free, then he will spend more time up forward where I expect to see another season similar to 2015.  The difference will be that with a full midfield the delivery will be better and if the Power are winning he is going to kick more goals which will mean more points.
Chad can get you over the line, he had 9 games over 100 last year with 4 of those over 110.  He can be quiet in a game and then pop up in the last quarter with 3 or 4 goals.  So if you have him, don't panic if he is a bit slow through half a game.
Why shouldn't I pick him?
Whilst Wingard had 9 games over 100 he also had 8 games under 80.  When he has a quiet game he can be very quiet.  His lowest of the year was 54, however that was in the blowout vs the Fremantle reserves side in round 23 so I am happy to discard that one.  But there are too many low scores to ignore.  As the 13th most expensive forward in AFL Fantasy we can't afford to have him scoring under 80 at all.
Wingard has spent time in the midfield over the past two years, however, if the Power midfield unit stays fit (much like they were in 2014) he may find himself seeing numbers like he did back in 2014 where he averaged 77.5 and had 109 fewer disposals than he did in 2013 and 32 less than last year.  He will then have to rely on goal kicking for his points.  Not impossible, but it does make it harder.
Deck of DT Rating.
KING – Wingard has made the All Australian side and won a best and fairest in his first 4 seasons.  He has the makings of a superstar scorer, particularly if he spends some time in the midfield.  However, I see his role as being more a permanent forward this year.  Is he a bad pick?  Certainly not.  I think that with the delivery that he can expect this year, he should be able to lift his return of goals.  Also, with the addition of Dixon up forward (don't read much into that knee op he had, he will be fine) it will mean that more focus will be on Schulz and Dixon and the ball should be hitting the bottom of the packs for Wingard to pick it up and snap a goal.  Something he loves doing!
Given the lack of dual position forwards, Wingard should be high on your priority list for this season.
FOLLOW ME ON TWITTER: @pkd73 for all thing AFL Fantasy (and more). Got something to say about the deck? Use the hashtag… #DeckofDT.