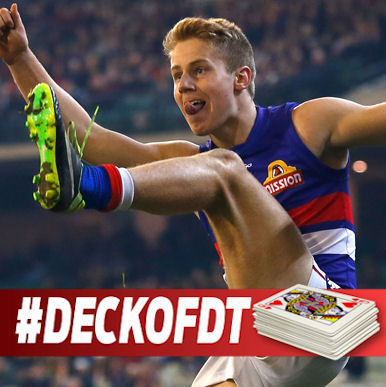 Name: Lachie Hunter
Club: Western Bulldogs
Position:  MID
AFL Fantasy: $433,000
AFL Dream Team: $453,600
Bye Round: 14
2015 Average: 78.2
2015 Games Played: 12
Predicted Average: 96
Click here for DT Live profile.
Why should I pick him?
We're all relieved to see the back of the 'vests' this season, but I bet Lachie Hunter is especially pleased. He wore green 4 times in his first 5 games, limiting Hunter's scoring potential and leaving him hugely underpriced coming into 2016. After escaping the vest in Round 17, Hunter averaged a massive 101 points roaming up and down the wing. He proved that was no fluke by scoring 104 in the Dog's elimination final as well. Averaging 29 disposals per game, he knows how to find the footy.
We all love to blood youth in our squads, and Hunter can only get better. Lachie Neale is a perfect example. In 2014 he took the first step, averaging 82 thanks to a few vests. Last season he was clearly my best pick, averaging over 100. The similarities here are hard to ignore. Hunter is ready to go to premium.
Word on the track is that Hunter is on fire. I could hear you all groaning while I wrote that sentence, but think of it this way. No bad news is good news. I'm guessing everyone has one of the mids priced $400-450k, and I don't reckon many of them have had a full pre-season. If you trust the players, that makes a huge difference.
Best of all, he has an awesome DT role! Owning him at the end of last season was a treat, he just roamed up and down the wings and won the ball for fun. I'll repeat, he averaged 29 disposals in his last 8 games!!! From what we can tell he's in peak condition, has a great role and there's very little uncertainties heading into 2016. I couldn't say that about most midpricers, they're all priced cheaply for a reason. I happen to like the fact that Hunter's excuse is no longer a concern.
If things do go wrong, you're not short on replacements either!
Why shouldn't I pick him?
There's not too many downsides to selecting Hunter. The obvious reason to not pick him is the abundance of alternatives in his price range that have proven themselves as premiums before. Liberatore, Crouch and O'Meara just to name a few. Hunter will have to live up to his potential of averaging 95+ now that he's solely a mid!
Being young can be seen as a positive, but it does mean you will likely have to put up with a shocker or two. I mentioned Neale's fantastic season, but he was capable of the odd howler. Buyer beware, you're not getting a bloke who will consistently stay above 80!
The last note of concern is the fact we're relying on a small sample of games. Playing off half forward, Hunter had never been a great scorer. It was only after his move onto the wing that he thrived. All the indicators point to him continuing his ball finding ways, but we're only going off 8 games!
Deck of DT Rating.
QUEEN – You know Hunter is underpriced, and he's basically guaranteed to lift his average. It's easy to pick a template team, but you'll need a few differentials to separate yourself from the pack. Why go the injury prone midfielders when you have a perfectly fit ball winner available? He's in my side currently and he's there to stay.
FOLLOW ME ON TWITTER: @mattcraigDT for all thing AFL Fantasy (and more). Got something to say about the deck? Use the hashtag… #DeckofDT.