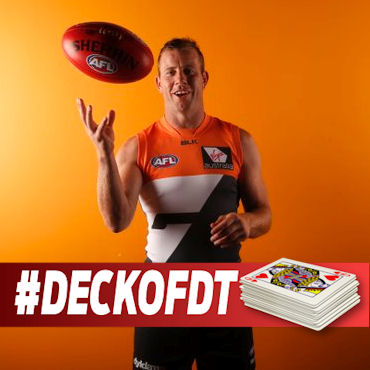 Name: Steve Johnson

Club: GWS Giants
Position:  Forward
AFL Fantasy: $479,000
AFL Dream Team: $502,000
Bye Round: 15
2015 Average: 86.4
2015 Games Played: 20
Predicted Average: 91
Click here for DT Live profile.
Why should I pick him?
The man known as Stevie J will be the first to admit his 2015 season was below par. He wasn't fit going into the preseason, and then struggled throughout the season for consistency.
In his first five games, Johnson scored an average of 69.4. That's a great score if he's your last placed forward rookie selected purely to generate some cash, but for his starting price of $490,000 (last season), most coaches were hitting the trade button faster than Kanye hits 'tweet'.
Luckily he found some rhythm (without full fitness) and for the rest of the year, he averaged a toasty 98.7 points per game, including a hot run home average of 104.4 in five games. As a  midfielder this is decent. As a pure forward, this is pushing him towards a must have.
Having switched from the Cattery to Homebush, Johnson will be used by the Giants as their forward-line master and commander. In their four seasons so far, their most experienced mature forward has been Setanta o'hAilpin. Where all other lines have added experience, the forward line has been left to languish without an on-field experienced leader. With Johnson in the side, expect him to play a very active role, and as such, find the ball often.
Now I know what the counter argument is: (1) Johnson got his points in the midfield at the Cats, and (2) the Giants forward-line doesn't see the ball as much as the Cats when Johnson did play forward. Let's break this down.
1 – Last year Stevie J started most games almost exclusively forward. In fact, he scored the first goal of the match on several occasions. To manage his injuries, he did not go as far us the ground as previous years. Despite this, Johnson showed he could still score big, with scores over 90 in 50% of his games (including his poor start) and that massive run home. To say he can't score playing forward is wrong.
2 – The Giants matched the Cats for inside 50s last season, with both clubs having an average of 49. With a further developed midfield, the return of Shane Mumford, and the return of leading players Jon Patton and Adam Tomlinson, we should expect Stevie J to be delivering, or at the feet of more inside 50s than he would have seen last season at the Cats.
Because of his slow start, Johnson is under-priced by about $66,000 to start the 2016 year. He can average 80+ in his sleep, and should see himself get back up above 90 in 2016.
Why shouldn't I pick him?
He's old. To be fair, this is the biggest concern and all reasons for not picking him pretty much boil down to him turning 33 years old this season. Will his body hold up to another year? The Cats weren't sure; however they were also looking to bring in their youth. If his body holds up, the Giants see him as an important lynchpin to making a debut final, so will play him at every opportunity. Ryan Griffen got games last year despite being slightly under where the club wanted him to be, and I don't see this changing for Johnson.
Injury. If you watched his last game last season, it was amazing the bloke could still walk at the end; he could barely kick. The Giants won't risk a player if they aren't fit, and Johnson will need to actively manage himself better than last season. He may miss the odd week later in the year through injury, however this is a risk just about every player carries; it may just be a bit higher for Stevie.
His role. So I'm writing this purely to get it out of the way. Some people are saying his role isn't known, but it's very clear if you listen to the Giants coaches and players this off-season – he's expected to be inside the 50, leading the charge towards finals. This means getting his hands on the ball and influencing the game as much as he can.
He won't be able to roam up the ground as much as in 2013 and 2014, where he really scored big – this opportunity is more likely to go to Devon Smith, but he won't be chained to the point post in the forward pocket either.  His role will be on par with 2015 at the Cats.
Deck of DT Rating.
KING – Johnson has scored 90+ each season since 2007, except for last year. He was scoring 90s before he started to see Geelong midfield minutes, and he should do it in his life afterwards. He's unlikely to pick up DPP status, given the pure numbers of quality midfielders the Giants can rotate through the centre square, but it doesn't mean he won't be thrown up the ground when needed. There may be better forward premium options around, but Johnson should seriously be considered, especially if you're after a unique, high scoring pick in 2016.
Loading ...
FOLLOW ME ON TWITTER: @RLGriffinGWS for all thing AFL Fantasy (and more). Got something to say about the deck? Use the hashtag… #DeckofDT.