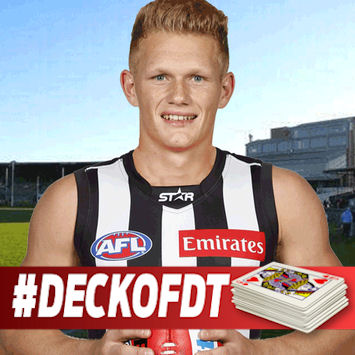 Name: Adam Treloar
Club: Collingwood
Position:  Midfielder
AFL Fantasy: $576,000
AFL Dream Team: $603,400
Bye Round: Round 13
2015 Average: 103.7
2015 Games Played: 21
Predicted Average: 100-105
Click here for DT Live profile.
Why should I pick him?
Because he is a gun. What, you want more?
Alright, here goes. Adam Treloar is a jet. And that word is thrown around far too much lately. But Adam Treloar. Is. A. JET.
Since his debut for the giants in 2012, he has played a total of 79 (out of a possible 88) games. Which in itself is quite simply remarkable, given the young talent at the giant's disposal, looking at getting games into their kids. But games played is one thing. It's what he did in those games that counts.
In 2012, Adam Treloar averaged an amazing 81.6 points, which he followed up with 88.9 in 2013. Third year blues? Not Adam Treloar. He averaged an astonishing 103.4 in 2014, stamping himself as one of, if not the best young midfielder in the competition. As our very own RL Griffin pointed out in his 2015 Deck of Dream Team article on Adam Treloar, the only player in recent times to surpass Treloar's first 3-yearr average (of 91.63) was a young Joel Selwood (93.74). For comparison – Judd averaged 74.79, GAJ averaged 60.93 and the Fantasy Pig himself, Dane Swan, only averaged 56.22 in their first 3 years. It's an incredible stat. And to just show he wasn't some three year wonder kid, he averaged 103.7 in 2015.
In 2015, Treloar had only 2 games where he scored less than 80; a 63 against the eagles (when the giants were absolutely spanked) and a 78 against the Gold Coast Suns. On top of that, he had an amazing 13 games over 100 (i.e. 62% of games). While he started the season relatively slowly (first 5 scores of 119, 86, 87, 103 and 63), he came home like a house on fire, averaging 109.5 over his last 6.
While we probably won't know what affect the constant speculation regarding his future had on him, he handled himself incredibly well throughout the year, and his footy didn't suffer from it in any way. He had at least 19 touches in every game, and whilst is kick to handball ratio isn't what we wanted to see (264 kicks to 312 handballs, 0.84:1) out of our premium midfielders, he makes up for it with tackles (averages 5 per game) and he also kicked a very handy 14 goals!
Following the 2015 season, he (oh, you didn't know?) headed south to join everyone's second favourite team, Collingwood. Treloar joins his ex-partner in crime Taylor Adams, as well as other star midfielders Scott Pendlebury, Dane Swan, Steele Sidebottom, Levi Greenwood and young stars, James Aish, Jordan de Goey, Jack Crisp etc (gee, the pies have done well at the trade table of late).
Why shouldn't I pick him?
As mentioned above, the Magpies have some serious midfield talent. Whilst I don't doubt that Treloar will slot in very nicely, his role remains to be seen, and how he gels within the midfield group. There is enough uncertainty to at least make you wonder if he will still see the numbers he was getting at the giants.
Given Pendles is just about a walk-up-start in most teams (I'm not sure there is anyone in the competition as consistent as he), plus the likes of Taylor Adams, Dane Swan, Steele Sidebottom are available as midfielders only, how many magpies do you start with? I personally think that 2 is the maximum number, and narrowing it down will not be easy.
He also shares the round 13 bye along with other premium midfielders such as Ablett, Sloane, Cotchin, Deledio, Ellis, Steven, Armitage… which couple are you going to select?
I'm possibly (in fact, I am) clutching at straws, but given he hasn't been able to push his average any higher than 103 (at this stage) makes me hesitant to select him as a premium midfielder, given the quality midfielders we are choosing from.
Deck of DT Rating.
KING – Adam Treloar is as close to an ACE as there is – he certainly will be in the not to distant future. But I just couldn't do it, given the quality of the Collingwood midfield and not knowing exactly what Treloar's role will be. I think there is enough uncertainty to at least make you question selecting him, although I'm sure if you do, he will not let you down.
Loading ...
FOLLOW ME ON TWITTER: @cruttonhutton for all thing AFL Fantasy (and more). Got something to say about the deck? Use the hashtag… #DeckofDT.