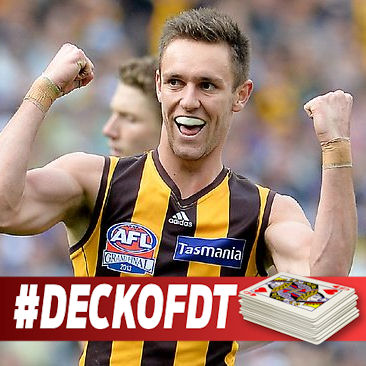 Name: Jack Gunston
Club: Hawthorn
Position:  Forward
AFL Fantasy: $510,000
AFL Dream Team: $534,600
Bye Round: Round 15
2015 Average:  92.2
2015 Games Played:  22
Predicted Average: 98.5
Click here for DT Live profile.
Why should I pick him?
With AFL Fantasy robbing us of former forward guns Dane Swan, Robbie Gray, Brendan Goddard etc), selecting forwards becomes even more critical than ever. It's not all doom and gloom, as one player who seems to have somewhat flown under the AF/RDT radar is young hawk key forward, Jack Gunston.
After crossing to Hawthorn from Adelaide prior to the 2012 season, Jack Gunston has gone on to play a total of 89 games and kick 200 goals, including hauls of 58 and 57 in 2014 and 2015 respectively. Hey, you don't inherit number 19 at the Hawks unless you know how to put the ball through the big sticks.
Since 2012, he has significantly improved his AFL fantasy average every season. In 2012, he averaged 61.1, in 2013 he averaged 76.5, in 2014 he averaged 82.7 and he increased that by another 10 points in 2015, to 92.2. Who knows where this trend will end? At only 24 years old, he is still yet to enter the prime of his career.
Let's breakdown his last 3 seasons.
* Note: his 15 in Round 12, 2015 against the crows was an absolute shocker. He injured his finger very early in the game and was barely sighted throughout the game. Ended with just 6 touches and no score – however, I think we can erase this one from the record. Interesting to note, that his 2015 season include scores of 15 (see above), 50, 51 and 54, but his next lowest was a very respectable 75.
Whatever way you look at it, the fantasy scores of Jack Gunston are trending north. He went from 9 scores below 74 in 2014 to just 4 in 2015, and he went from just 4 games over 100 in 2014 to 8 in 2015, including a monster 161!
But I think the most pleasing aspect of his 2015 season, is that 18 of his 22 home and away games were 75+. Consistency is key.
His role will never change, not while Jarryd Roughead is still going strong. We all know about how potent the hawks forward line is, which means that on any given day, Rough, Cyril, Breust, Poppy and Gunston can stand up and kick a bag. But what I like about Gunston the most is that he doesn't need to kick a bag to score well. He pushes up the ground, sometimes playing as a high half forward, allowing him to take mark and get possessions on the wing, and has even been known to work his way into the backline to help out, when required.
Why shouldn't I pick him?
Based on the arguments I've put forward, he has 100% worked his way into my starting side. But let's go through the cons as well. It can't all be rosy (can it?).
His sub-75 scores in 2015 were against solid sides; Geelong, West Coast and Fremantle (he also only scored 50 points in the qualifying finals loss to the eagles). The hawks play the eagles twice in 2016, so I wouldn't necessarily be expecting a big score in those games. Incredibly, in the hawks round 15 rout of Freo (won by 72 points), he failed to hit the scoreboard, and only ended with 11 touches. However, given the teams the hawks play some pretty good teams twice this year (eagles, swans, north, tigers and demons – ok, not the demons), perhaps he will record a few below average scores.
He is priced in the same bracket as guys like Toby Greene (my heart just skipped a beat), Brett Deledio, Harley Bennell, Michael Barlow, Steven Motlop… it's not easy to narrow that list down to 2-3 (depending on your structure). He also shares the Round 15 bye with Bennell, Barlow, Motlop, Toby… you need to keep this in mind.
I'm failing to find any real, tangible reasons to not start 2016 without Jack Gunston. There are a few "what if's" – like the hawks drafting highly touted key forward Ryan Burton and the potential star in James Sicily (who looks to be an incredibly similar player with similar size and goal kicking nous) – however it would be foolish to suggest Gunston's fantasy scores will suffer as a result of some kids getting some game time.
Deck of DT Rating.
KING – I'm expecting 2016 to be the year that Jack Gunston reaches his full potential, which is probably quite a frightening proposition for opposition teams. Given his consistency in 2015, and hoping he continues along that path, he will be a top 10 forward in 2016, one you can keep from Round 1 to Round 23 and not have to think twice about.
FOLLOW ME ON TWITTER: @cruttonhutton for all thing AFL Fantasy (and more). Got something to say about the deck? Use the hashtag… #DeckofDT.