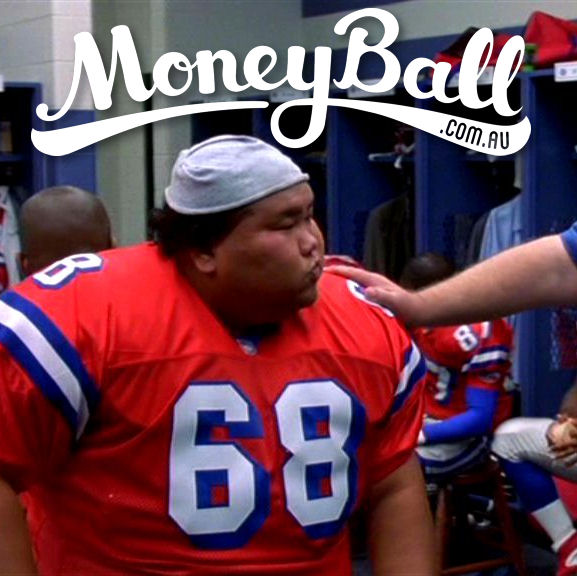 It was the week of the replacements this week in fantasy land, with some big scores from second-stringers. DeAngelo Williams gave us over 35 points, Jeremy Langford scored a little over 23 points and Karlos Williams jumped in for 23. Definite value plays this week. Let's take a minute to talk about Antonio Brown. 284 yards. 37.1 fantasy points. I played him in a double-up contest and scored high enough to take home hundreds if it were a tournament entry. Them's the breaks. Just shows how important value players are, they let you afford the Antonio Browns.
This week we have Falcons, Colts, Chargers, and 49ers on a bye.
This week's moneyball.com.au action.
Guaranteed Contests
$2.5K Hail Mary – $15, 198 spots ($2500 Guaranteed)
$2.5K

Sunday

Blitz – 
$20, 148 spots ($2500 
Guaranteed)
Other Contests
Hail Mary $10 Double Up 
Sunday

Blitz $10 Double Up 
Sunday

Spike (Early)
 $10, 112 spots
Sunday

Touchdown (Late)
 $10, 112 spots
Single Game Contests
$1K Jets vs Bills Special – $15, 79 spots ($1000 Guaranteed)
$1K Bengals vs Texans Special –  $15, 79 spots ($1000 Guaranteed)
Seahawks vs Cardinals Special $15, 75 spots
Members also have the ability to create their own contests from as little as $2.
Click here to take part in an Aussie daily NFL game.
As of today, William Hill's higher total game scores are as follows:
New York Giants v New England (54.5)
New Orleans v  Washington (50)
Jacksonville v Baltimore (48)
Detroit v Green Bay (47.5)
Going with a #Patriots stack this week in a @Moneyballcomau double-up. pic.twitter.com/Ed5MawmN6k

— Troy Hallam (@TroyHallam) November 14, 2015
Players I like this week.
Quarterback
Kirk Cousins (Washington, $7600)
The only reason to start him is New Orleans are giving up the most fantasy points to QBs over the last three weeks.
Tyrod Taylor (Buffalo, $6800)
Only had 181 yards and the lone TD last week, but if he keeps throwing it to Watkins that total is sure to rise rapidly.
Landry Jones (Pittsburgh, $5000)
Has enough fire power around him to be able to put up a decent score. Just depends on whether he poops his big-boy pants.
Running back
Darren McFadden (Dallas, $7000)
Ran for over 100 yards last week but couldn't find the end zone. Decent chance against Tampa Bay this week.
Jeremy Langford (Chicago, $6600)
Matt Forte will probably miss again. Faces the Rams which may put others off, but sits you pretty if he blows up again.
DeAngelo Williams (Pittsburgh, $6000)
Faces the worst run defence in the league this week. That's all I have to say about that.
Wide receiver
Jordan Matthews (Philadelphia, $6200)
Showed the form last week we were expecting from him since pre-season. Could be the start of a run.
Michael Crabtree (Oakland, $6200)
Touted him last week and he delivered. Has only increased $500 in price this week.
Davante Adams (Green Bay, $4900)
Looks to be over his injury and their schedule opens up nicely going forward.
Tight end
Tyler Eifert (Cincinnati, $6300)
Price only went up $100 per touchdown scored last week (3).
Jordan Reed (Washington, $5800)
Saints allow second-most points to TEs.
Kyle Rudolph (Minnesota, $4700)
The TEs versus Oakland didn't pan out last week, but he's cheap enough to take a flyer on this week.
Defence
St. Louis ($5700)
Face the Bears who have been poor.
Green Bay ($5600)
Should put plenty of pressure on Detroit and Stafford.
New England ($4800)
Facing the Giants who love to throw, so plenty of chances for interceptions.
Kicker
Connor Barth (Denver, $5400)
Often relied on when the offence can't fire.
Brandon McManus (Denver, $5300)
Can be started safely every week.
Mason Crosby (Green Bay, $5000)
Should bounce back this week against Detroit.
PLAY MONEYBALL NOW.
Click here to take part in an Aussie daily NFL game.