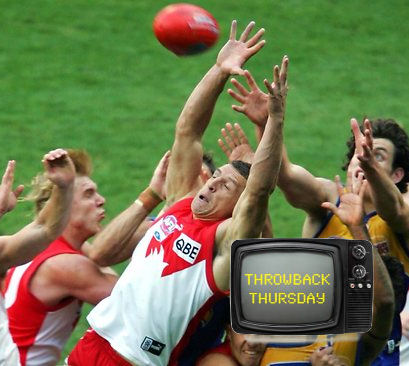 Remember a few years ago when The Swans and The Eagles were both huge premiership contenders and their contests always produced massive ballbusting nailbiters? Well, there's every chance of history repeating this weekend, or at least us spectators should hope so.
The Sydney v West Coast fixture delivered 7 straight matches of absolute epics between 2005 and 2007 for a total margin tally of only 25 points, at an average winning margin of just 3.5 points. It also included 3 x 1-point games in a row, with two of those being finals. Classic.
This weekend they meet again as powerhouse units vying for new premiership honours and potentially another thriller that could go right down to the last '3.5' points.
So, during that 7-game freaky streak a decade ago, which players kicked the most arse? Let's switch on the Dreamteam TT telly and take a look.
EPIC 1:  2005, QF – WC by 4
A Friday night game at Subiaco saw The Eagles have a big last quarter to win by 4 points. Only one man scored more than 100 DT points and with 29 possessions that man – in his prime – was Ben Cousins. "Such is life".
EPIC 2:  2005, GF – SYD by 4
Sydney maintained a slight lead all day and this time they won by 4 points and with it the "Leo Barry you star" and "here it is" premiership. Their main Fantasy scorer was Nick Fosdike with 122 DT from his 26 touches and 7 tackles. For West Coast, Ben Cousins again led their Fantasy stats department with 115 DT from 27 disposals while Dean Cox scored 105, slightly hindered by 4 frees against.
EPIC 3:  2006, R15 – WC by 2
West Coast kicked 6 goals to 1 in the second half at Subi on a Saturday night to win by 2 points. Chris Judd's 26 possessions were worth 107 DT whereas Sydney's Adam Goodes scored 127, Brett Kirk 112 and Jude Bolton 109.
EPIC 4:  2006, QF – SYD by 1
Finally The Swans exacted revenge in another Saturday night Subi game to win by 1 point thanks largely to Barry Hall's 5 goals (110 DT) and Michael O'Loughlin's 4 goals (91), plus his equally epic face-off with the Eagles cheer squad! Fan fave Chris Judd had 34 touches for 119 DT, Dean Cox 39 hitouts for 111 and Adam Selwood 8 tackles for 107.
EPIC 5:  2006, GF – WC by 1
With almost 100 more disposals The Eagles held on to win the premiership flag by a point, although none of their players scored 100 DT. However all of Waters, Stenglein, Selwood, Embley, Cox and Braun scored 90+. For Sydney it was again Kirk (27P, 9T, 118DT) and Goodes (22P, 6T, 106DT).
EPIC 6:  2007, R1 – WC by 1
Telstra Stadium and over 60000 fans, another GF replay, another Saturday night and a fast finish by Sydney but they fell short by 1 point as West Coast's Daniel Kerr collected 28 touches, 8 free kicks and laid 7 tackles for a total 110 DT. Captain Kirk again led his Swans with 118 DT and Tadgh Kennelly scored 109.
EPIC 7:  2007, R16 – WC by 12
Yet another Saturday night at Subi, again with Sydney finishing fast in the last. West Coast won again, but this was a virtual whitewash, with a comparably huge 12 point margin and therefore only a 99% exciting finish. Ben Cousins played one of his best games with 38 disposals for 140 DT, while Dean Cox and Ash Hansen kicked 7 goals between them for 102 and 101 points respectively. For The Swans you can guess who scored 111 from his 27 touches and 10 tackles – his surname rhymes with 'Work'.
So if we could give Fantasy votes to these Fantasy scorers for these fantastic games, it would go something like this: 1 vote – B. Cousins… 2 votes – D. Cox… 3 votes – B. Kirk.
Next week: muttley's Throwback Thursday will be on hiatus (until Round 21).