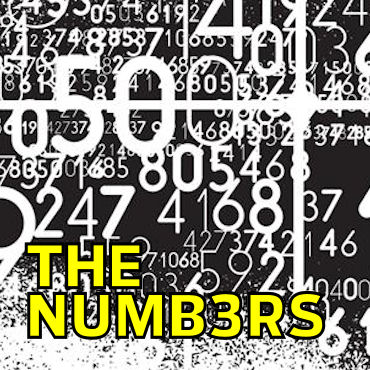 Its been a 5 week break since the last Numbers article, however this week I return for the big boy month of AFL Fantasy. Over the next few rounds, you will either be battling it out for a spot in your leagues finals, or (if you played Head to Head in the bye rounds) be competing in the finals themselves. Whilst it seems like the season just started, in reality it is very much coming to a close. And as you fill the last few slots around your field, never has there been a more important time to look at the numbers.
2- Number of players that determined how well you went this week. Gazza and Goldy.
3- Number of St Kilda midfielders in the top 4 in the league for Point Per Minute (minimum 5 games). Steven (1.22 PPM), Hodge (1.13), Armitage (1.12) and Montagna (1.10) are currently league leaders in this all important stat. Thinking back to the pre season planning, if you had to pick a teams midfield trio, three Saint Kilda midfielders would arguably be last on your mind. Can you name any other teams midfield rotation that would have sounded worse (fantasy wise) than St Kilda's at the start of Round 1?
4- Number of Marks by Nic-Nat on the weekend on his way to another 100+ score. That's got to be a record for him.
5- Number of current players who at some time in their career averaged 140+ over a stretch of five consecutive games in one season. Goldstein's massive stretch of 5 games inspired me to search across the last 10 years for players that have scored over 700 points across 5 weeks. Goldy will be welcomed into this elite club, which contains a pair of pigs, a seagull and a koala. The following shows the player, the time that they completed this marvelous feat, and the points they scored acr
oss the 5 rounds. It really puts it in perspective for any DT newbies why Swan deserved to be the original pig.
Please let me know if you are aware of any other instances where this incredible feat was recorded. I only observed the statistics for around 40 players known for having high ceilings, or for once having high ceilings.
Swan
Rounds 9-13 2009 (730)
Rounds 12-16 2010 (708)
Rounds 18-22 2011 (700)
Rounds 14-18 2012 (717)
Ablett
Rounds 11-15 2011 (706)
Stanton
Rounds 4-8 2012 (709)
Rockliff*
Rounds 18-22 2014 (799)
Goldstein
Rounds 11-16 2015 (706)
*Note that Rocky actually managed to average 140+ from Round 7 onwards last year (13 consecutive games!)
17-Number of tackles recorded this week by possibly the two best fantasy players over the last two years, Gary Ablett and Tom
Rockliff. This incredible number of tackles (only two behind the world record) gave both of these players 68 of their total points. Ablett added 30 touches and 3 goals to bump his score up to competition leading round score of 176, whilst Rockliff managed a mere 14 touches and 2 marks to total 111 points. With DT finals coming up, you've got to have both of these players in your team if you want to go all the way.
18- Heritier Lumumba, 4 Quarters of Footy, 18 Fantasy Points. Don't laugh; you had him in your team at some point this year.
18.9- Bit of a throwback here, the number of kicks for each handball recorded by Gary Ablett Snr in the entire 1995. Across 22 games, he had 246 kicks and 13 handballs, at an incredible ratio. K:H ratio is an undervalued stat in AFL fantasy, however throwing the ball on the boot instead of dishing it off can increase a player's average by 10 easily. Take Priddis as an example. Averages 20.8 Handballs & 9.1 Kicks a game. If he could flip these around, he could increase his average from 102.5 to a league third place 114.2. If only…
36- The lowest
break even for a player over $400K, this week belonging to Chris Mayne. If you are looking for an affordable player to slot into F6 this week, even temporary, then Mayne might be your man. Coming off a 128 last week and a three round average just shy of 100, he should be set to increase over the next few weeks, and will likely top out just under 500K.
69- Number of players that tonned up in round 16, in what most would agree was a relatively high scoring round. To put this in perspective, here are the totals of 100+ scores from each of the last few rounds
Rd 14- 62         Rd 15- 73             Rd 16- 69
As for players that are averaging 100+ this season, there are currently 40. Of which 4 are available as DEF, 5 as FWD, 3 as RUC and the remaining 28 as only MID. Last year only 32 averaged 100+ by the end of the season, so it will be interesting to se whether this years bunch can hold on to it's current lead.
131– In one of my earlier articles i had a crack at calvin for delivering a weak top 5 captains, when his five picks averaged 96. If i'm going to to pick up on his poor performances, its only fair if i congratulate him on his successful weeks. Like this one. It was beautiful to see the 4 captain regulars (Swan, Ablett, Rocky and Pendlebury) all feature together on his list for the fi
rst time this year. Even more beautiful, was Goldy's name at #1. Together they combined for 655 points at an average of 131 (largely influenced by this weeks two legends). Does anyone remember a more successful week of captain predicting?
2559 – Points scored by weekly winner Sean Hopkins, coach of THE MARCHIES. This monster score is good enough to put him into third place overall, an incredible effort. This score came on the back of plenty of 100+ scores from popular players. Ablett (176), Captain Goldy (350), Hodge (133), Dahlhaus (132), Shaw (125), Mundy (120), Delidio (118), Goddard (116), Oxley (110), Gray (101). He has a near completed team with Oxley at D6, Goddard at M8, Kreuzer at R2 and the Bont at F6, and three DPP players in his midfield (Hodge, Goddard and Swan). Although he is nearly 300 points behind overall leader "Kyms Klan" these DPP links and recent form could help him close this gap over the remaining rounds.
2616- Points you could have averaged over the last 5 rounds if you had the form team of AFL Fantasy (And captained Goldy each week). Whilst obviously this isn't anyone's team, it does provide an insight into which unique players have been sliding under the radar recently. Most interesting to me were Heath Shaw at D2, Montagna at M1, Macrae at M3, Vince at M8, Gawn (a ruckman!) at F4, and how the top 3 forwards are all Collingwood players. Of these players I own only 6, which gives an insight into why I haven't been performing all that well lately. How many do you have? (The overall leader has 9)
Well thats another article of the Numbers done and dusted. There are only 7 rounds remaining, so the effects of a unlucky or flukey start should be beginning to wear off, as most coaches tend towards an overall ranking they (more or less) deserve for the year. Please leave a comment if you would like any advice on your team, if you have a question or perhaps an interesting number of your own. See you next week