Fantasy TDF – We need to talk about Cobbles
Updated to include Mini Preview for Stage 7, Friday night. Good chance for Aussie winner !!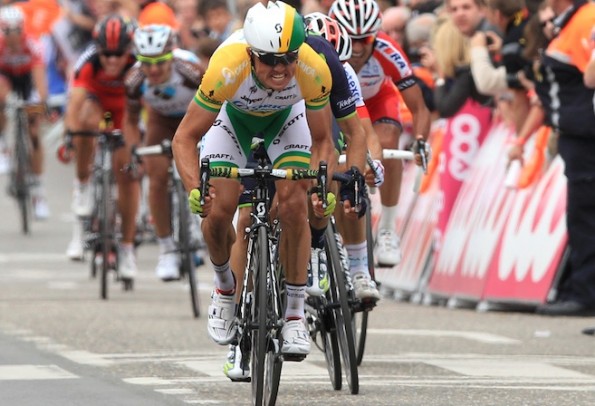 After 4 stages of the Tour de France, many things have gone according to plan, but disaster is also never far away in fantasy sports.
We've had three sprint stages, and a roller coaster through the Yorkshire moors for the all rounders.  Half of England turned out to watch, and then turned their backs on the riders and took selfies with the riders passing in the background.
German Marcel Kittel has his panzer-sized, bottom-half pumping and won all three sprint stages proving he is the fastest here, as predicted.  Fantasy owners who have him and Giant team will be happy.  His many women fans, and hair fans, will also be happy with his screen time.
The dilemma of whether to Sagan (the most expensive rider) or not to Sagan has been decided with a definite "hell yeah!"  He's been great.  Finishes in the first 4 in every stage, chases after intermediate sprints points, leads in both the green and white jerseys, second in the yellow jersey and always on the TV screen.  His owners will be happy they spent the big bucks.
However, things didn't start well when 'The Manx Missile' (Mark Cavendish) lived up to his name and barged over aussie Simon Gerrans at the finish of stage 1.  Disappointing for Cavendish as he had set himself to win this stage all year and was out of the Tour on the first day with a damaged AC joint.  Disappointing for English fans as they had pinned their hopes on Cav after their first hero Wiggins couldn't get on the Sky team bus.  Disappointing for Gerrans who continued but wasn't at his best and so his plans to win stage 2 and take the yellow jersey also went out the window.  Disappointing for fantasy managers as most had Cavendish in their starting teams and many had their eye on Gerrans for stage 2.
Stage 2 passed through the town of Haworth, home of the Bronte sisters – writers of books (you know those classic paper thingies).  This prompted Dr Yobbo, whose talents were previously unknown to me, to craft this tweet depicting the ghost of the departed Cav haunting stage 2.  It didn't get much love at the time but for me this is up there for tweet of the year.  It might take some unpicking, particularly for readers who only know MP3s and carbon frames, and were spared the trials of english lit.  But trust me, it is pure gold.
It got worse for me when another of my starting sprinters Sacha Modolo pulled a heart muscle (allegedly virus related) and did not finish stage 2, so he was out as well.  Two down in two days.  I promptly received an email from my sponsors suggesting that to lose one starting sprinter may be regarded as misfortune, but to lose two looks like carelessness.  (Sorry, someone must have spiked my porridge with literary delusions).  Anyway, I took the hint and knuckled down.
Fantasy Scores and Rankings
Last stage my team's 5 sprinters finished 1 to 5.  With rank 42 for the stage, I have a bit of swag up today.  Regular readers and commenters Gorillas and Tiltraise also did very well.
In the road.cc game I'm just outside the top 200.   The leaders of the DTTalk ProCycling league are going very well.   I'm 6th in our league, but the 5 players ahead of me are ranked in the top 165 in the world, including stevenjj who has his Stevos  Devos in number 2 position in the world – one back protected from the wind, just waiting to pounce.
In the SBS game, I'm ranked about 1,600.  But the rankings are clouded by bonus stages where some players have doubled scores.  The 2 most popular bonus stages were 1 and 3 and they have gone – so I am probably travelling a bit better than my ranking suggests as my bonus doesn't happen till week 2.  However, I still don't like the bonus stage mechanic – it brings confusion rather than making people want to play and manage their team.
Stage 5 – Ypres to Arenberg-Porte du Hainaut
We need to talk about this stage.  It is a trading stage; you should be planning to trade.  Get ready for the cliche – "you won't win the tour today, but you might lose it".
It's flat, only 155km, what's the big deal?  Well the big deal is 9 cobbled sectors towards the end.  Cobbles, or pave as the French call them (pronounced par-vay), are not your regulation garden pavers.  These are dinosaur-age, granite rocks that put the hard into the expression rock-hard. They are cut with an irregular domed surface so the water and anything else runs off the top.  And they are set straight into dirt, a few centimetres apart from each other.  There is very little bitumin, asphalt or mortar here – just rocks and dirt.  For kilometres at a time.
The weather forecast is for 4mm of rain mostly in the afternoon, with 20% chance of thunderstorms.  Wind 20km/hr from WNW with gusts to 30km/hr.  So as well as rocks and dirt we can add water which gives us rocks and water and mud.  Add 200 bikes traveling at 40km/hr.  We are going to get crashes and chaos.  If this was a horse race, the RSPCA would stop it.  No General Soreness here, this is going to be Captain Carnage.  Bones will break and carbon will shatter.  Plans and dreams will be dashed, legends will be created.
Also the roads are narrow, and the riders will be spread out a long way back in groups.  If a rider breaks down it may take quite a while for the team cars to arrive to fix the problem or give him a new bike.  In a bike race that is measured in seconds, such a delay might determine podium placings in Paris.
Here is preview from Youtube of the course.
History
Why are we doing this?  The Tour occasionally includes cobbled sections.  However, this year there are a lot more.  The organisers are commemorating 100 years since the start of World War I.  This area of northern Europe was left destroyed after the war, and bike racing on bad roads helped to rebuild the local economies and morale of the people.
Names here should be familiar to Australians and are usually mentioned on ANZAC day.  The race starts in Ypres in Belgium, close to the futile bloodbath known as Passchendaele.  Ypres is home to the Menin Gate, where the local fire brigade organise a ceremony and play the 'Last Post' every night at 8pm in memory of the Commonwealth soldiers who died to protect the region.  This has happened almost continuously since WWI (Hitler stopped it briefly in WWII).
If you tour the WWI battlefields and cemetaries in Northern Europe this is where you will be.  Unfortunately we won't see much of Ypres on the SBS telecast as there is usually saturation ads and jabber until well after the break is formed.
Who Should We Pick?
Northern European one-day classic races and Paris-Roubaix are our best guides here.  Experience is king, and the course will suit bigger bodied power riders.  Forget 55kg climbers who will be airborne when they hit the first cobble, and big-muscled, fast-twitch sprinters are going to try to just survive out the back – there are other races for them to win.
The GC riders will mark each other and will stay together.  Most teams have picked riders with cobble experience who will act as escorts for the team's GC rider.  We might even see the resurgence of the flying V with the GC rider surrounded by protective colleagues.  Froome and Contador will be happy to stay together and survive to the finish.
Of the GC riders Nibali is the most suited to the cobbles and he will want to increase his lead before we get to the mountains.  I'm not sure about his pave experience but he is a great descender which is a good sign.
Many good cobble riders such as Sky's Geraint Thomas will be on escort duty (for Froome in this case) and so will not be riding to to win themselves.  This makes our task of picking winners a bit easier.
The first name mentioned would be legendary (but aging) time-trialler and cobble rider Fabian Cancellara.  Spartacus as he is known.  However I think his power is declining and he can't ride away from the field any more, and he won't win in a sprint.  There are better options.
Peter Sagan would be on our list, but everyone should have him already.  If you don't have him, get him.  Nothing more to say.  If you have any doubts look at the video at the end of this article.
I expect the finish to be contested by a small bunch of good cobble riders – and those with the best sprint should take the highest placings.  Riders like:
Greg Van Avermaet – he wants to win here and take yellow.
John Degenkolb – gets his chance to shine after supporting Kittel all race.
Alex Kristoff – is in good form and can ride pave
Jens Jeukeleire – young sprinter/allrounder for OGE could do well, if you need a cheap rider.
Belkin should do well and have Sep Vanmarcke who should be in on the finish although he isn't as fast sprinting as the others.  The question mark for him is how much he has to support Bauke Mollema and if Mollema can make the finish.  If Belkin can get all of Mollema, Boom and Vanmarcke into the final group they should have a big say in what happens.
Arnaud Demare has some claims to being in the finish here.  I wouldn't trade him in, but if you already have him, don't dump him now.
For Movistar – Valverde and Rojas might go OK. But I think there are better options.  Plus Valverde burnt me on stage 2.  Yeah, I hold grudges.
I think the cobbled classics riders who want to solo breakaway will not be successful here because the distance is fairly short and the chasers and sprinters will work together.  So this excludes riders like Terpstra, Vanmarcke, Vansummeran, and Lageveld – I think they need a longer race to tire out the sprinters.
So who to trade out?
I'm working on a trade out / trade back approach here.  Stages 6 and 7 and both flat, so more bunch sprints are likely.
The obvious candidates to go are Kittel and Greipel, they won't be anywhere near the finish.  But don't waste trades as you will have to get your sprinters back.
So that's it.  Lockout 8:30pm AEST for road.cc, 7:00pm for SBS game.
If you have any questions or comments post below or hit me up on @NixTrader.  Follow me to keep up with the latest fantasy cycling info.
………………………………………. Stage 7 – Mini Preview ………………………………..
Stage 7 – Seemingly innocuous.  But it is tricky.  I think it will turn out to be a good one.
It's fairly flat, but the longest stage of the tour at 224 kms.  There are two Cat 4 climbs in last 20kms.  The second one is only 1.3km long at 8% average, but it is steepest at the top and only 5km from the finish.  Perfect launching pad for an attack.
The weather forecast is for more rain and north west winds at 10-13km/hr.  The wind is cross wind for first part of course and more tail wind for second half.
I think it's one for the sprinters who have endurance and can get over small climbs fast and still sprint at the end. A shorter Milan-SanRemo is what we have here (complete with rain, but not so cold).
Hold Sagan and Kristoff – think about trading in Gerrans and Kwiatkowski.  Degenkolb would be in this if he was fully fit (but has damaged glute muscle).  Hopefully Gerro is right to go after his crash in Stage1.  If you have any of Cancellara, Gallopin, Slagter or Van Avermaet in your teams hold them.  They aren't worth trading in for this stage, but should be close to the finish.  If you plan to get Rolland for the mountain stages, consider getting him for this as he may fancy a solo breakaway here.
I expect a drag race from the start with OGE, OPQS and Cannondale taking big pulls on the front.  Nibali's fluro yellow teamies might also assist as this stage suits the Shark more than the other GC riders.  Nibali could contest the finish but I suspect he will save himself and his team for the first mountain stage tomorrow.
French riders will want to be in the break but they won't get much lead from Durbridge, Martin and Tuft with the hammer down.  Expect to see Aussies on your TV screen.  Hopefully OGE and OPQS can work together and make echelons.  Good chance of wind splits in the first half of the race and I think Panzer-arsed Germans Kittel and Greipel could well be dropped before the intermediate sprint point.  The rain, speed and wind will cause more crashes unfortunately.  Today will be stressful for a lot of riders.
Sagan, Coquard and Renshaw should contest the intermediate sprint.
We are into the mountains stages tomorrow so this is probably the right time to trade out Kittel.  Greipel has a better chance of being at finish here, but it might be time to dump him as well. I don't have him so I don't have that dilemma.  (Disclaimer:  I have called the Gorilla to be dropped on hills before and been wrong).
The finish over the last kilometres has several sharp turns.  This will assist a small group to stay away from a chasing peleton.  If you want to see an Australian win a tour stage, plan to be in front of your TV tonight.  A fully fit Gerrans can take this, from Sagan, Kristoff, Kwiatkowski and Van Avermaet.
The picture above is the rider to look out for.  Gerrans wears a special jersey to indicate he is the current Australian national road champion.
However, you won't see much of him early in the race – he will be tucked away behind an escort of riders wearing the usual Orica GreenEdge jersey shown to the right.
In terms of Fantasy trading however, Gerrans is a one stage tradein/tradeout option.  The smarter trade is probably Kwiatkowski because you can hold him into the mountains for stage 8.  Kwia is also a bit more durable if it gets cold, as well as wet, and you will get points from his ranking in jersey competitions (in the road.cc game).
If you are playing the SBS game.  Make sure you use all your remaining trades for this stage.  They don't carry over to Stage 8.  Instead you get 8 new trades prior to stage 8 to last you for the next week.
Lockout 6:30 pm AEST for road.cc, 7:00 pm for SBS game.
If you have any questions or comments post below or hit me up on @NixTrader.  Follow me to keep up with the latest fantasy cycling info.
……………………………  Media uploads for Stage 5 ……………………………………. 
In about 5 hours 200 cyclists are going to race down this 'road' at 40km/hr.  Plan to be in front of your TV.  It will be worth sitting up for.
And just for fun, our main man Peter Sagan showing his bike handling skills (he's the one in the lime green) …. he'll eat up the cobbles.