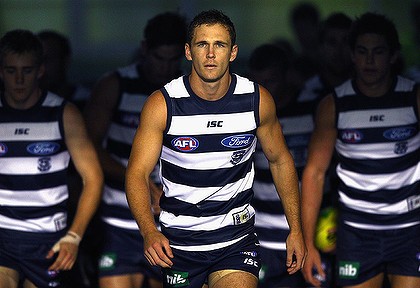 The Fantasy Analyzer Brings you Trending Trepidation
This week I have a few words which will hopefully fly you up the rankings, or smash out a much needed league 
win! AFL Fantasy & AFL DreamTeam are games full of trends, with some players showing season in, season out, that they turn up to play at different stages of the year. Picking these guys can be the difference between the best and the also rans. Think of it this way. If you were able to find a defender priced at 70 that will average 90 from here on in, not only would you save money for future moves but you'd also have a top player in his respective position. Today I'll focus on a few different names which you should consider, because they are starting to strap on their true boots in preparation for the run home!
Joel Selwood
(AF- $504,190, BE 138 & RDT- $476,000, BE 130)
Now I know what you're all thinking. He can't handle a tag. The recent stats back this up as well… 82 against some decent attention from Grigg, 73 up against Cassisi and a very low 58 up against the Langford tag. This all in the last 3 weeks! Clear signs that we should steer clear. Well I'm here to tell you that's exactly what not to do. In an earlier preseason post I outlined why not to start with him and I've been vindicated. Lets look at the table below, and see what the appropriate course of action is now.
As the table suggests, Selwood loves going big in the lead up to finals. In fact he almost exclusively sets himself for the lead in, either knowingly or subconsciously. In the 2012 season, he was injured in one of the second half of the season matches, so realistically in all of his years at the Cats he has risen in the second half of the season. Does this dispel the thinking that he can't deal with a tag. Not entirely no, although I will say he has smashed tags previously (such as his brothers last season for 135 or Jones' for 136). I'll also outline that rather than having had a really tight tag in the last few weeks leading to his lower scores, he's simply been out of form. Only the Langford was a step-for-step type tag. With that in mind, we must again consider the statistical trends ahead. They're staring everyone of you DT TALK faithful in the face. Don't fight the reality… When you are offered a guy priced at such lows on his starting, capable of 115+ averages and having proven just last year that he can do it, wouldn't you be silly to avoid?
Corey Enright
(AF- $393,679, BE 87 & RDT- $388,200, BE 96)
Corey Enright, much like his captain, is prone to rocking up for second half season onslaughts almost exclusively. Now undoubtedly it's been a difficult season for him and his owners thus far, which his seasonal average of 74 attests to. But as I suggested, he's prone to a poor start before coming home like a steam train! With that in mind, lets look at some statistical proof below.
Now this graph is a little less clear than Selwood's, but here are some further figures. 81% of Enright's 11 season career, barring injury, Corey's scoring has improved from the first half to the second half of the season. Secondly, every season that he has averaged below 80 in the first half of the year, he has on average improved 27% on those figures in the latter stages of the campaign. Now the main negative factor coaches will place on Enright is his age (32), and the likelihood for injuries when an individual is at that stage in their career. Now that's an undoubted factor, with historical evidence to back it up, but lets also consider the other side of the coin. Boyd, Murphy, Cox and even Stevie Johnson, have all hit peak numbers past the 30 barrier. If they look the same player that they have shown previously, back them in. For those doubting these types, you likely missed out on Riewoldt last season, and your fantasy sides would've been largely ruined in the long term as a byproduct. In essence, Enright isn't a be all and end all pick, but given the considerable drop in price and propensity to score strongly from here on in, it'd be a wise fantasy coach who choose to bring in the half back flanker.
Dane Swan
(AF- $559,575, BE 94 & RDT- $578,900, BE 122)
The Great Dane surely can't make this list. He's always awesome! I'll agree on that point, but Swanny is also one of the jets who manages to come home stronger than he starts. Lets take another look at the graph!
Ever since Swanny became an Über Premium (2009), he has only gone backwards in average once (by a mere 0.8 points per game). Dane loves to get going when finals footy is around the corner. For him, I think it's mainly due to his laconic attitude towards preseason training, which may delay him from reaching his peak fitness levels. Nonetheless his scoring suggests he truly whacks it out in the second half of the season, improving on average over the last 5 seasons by 11.4%. If he again improved by that rate from his current average, he'd put up a very solid 115 points per game from here till the end of the season. Now, given his current price you won't find better value even if you had a day out at Dimmeys!
Final Points
Just to fine point a few things, I'm not saying bring these guys in immediately or that they are all must have picks for the back end. The main ideologies that should be taken away from reading this is that there truly are many different ways to go about upgrading, and sometimes it's best not to pick simply the highest averaging player. Being intelligent about your trade in targets rather than generic, may just enable you to differentiate yourself away from the pack in such a way that it could change your side from pretender to contender!
Anyway hope you enjoyed the read. Follow me on twitter @B_Gogos, for a fantasy chat any day of the week. Enjoy the round of footy, I'm heading up to Sydney to watch my Hawk boys run rampant!