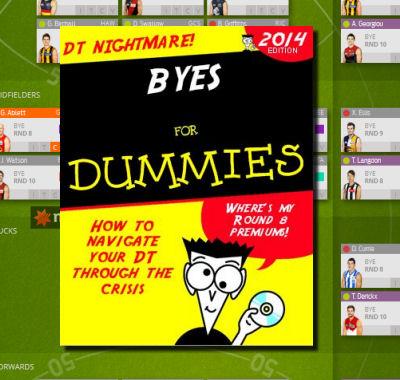 There is one thing we do more often than we should in Dream Team, and that's over complicate things. We can create excel tables, plan our exact trades and spend hours researching bye plans, only for them to fall apart. However this has caused some people to not plan for them altogether, which could end up being an unmitigated disaster. This I know for sure, if you're after a high overall rank then you need to spread your team throughout the byes as best as possible, here are a few simple tips to help navigate them, especially for first timers. I know I was a dummy!
Best 18 players
For one last time (it won't be the last time), it is the best 18 players on your field that will count towards your score. That means that if you have a player on your bench, not only won't their score count, but you will be in trouble for future bye rounds. Any points scored on the bench are a waste, so plan to have at least 2 players from each bye in all your positions (aside from the rucks).
Weight your team towards the Rd 10 bye, rather than Rd 8
I know this all sounds pretty simple, however in reality this is the only planning we should be doing. It is impossible to plan your exact trades when we don't know what kind of issues we'll encounter along the way, however what we can do is set our teams up as best we can to have success. I was Round 8 heavy last week, so started trading to reduce the numbers I had missing that round. The logic behind it is straight forward. We have another 4 trades to use after lockout next week, all of which can be used towards fixing your squad up for Round 10. This is because almost everybody is short on Round 9 players, meaning we should cruise through that round without too many issues. The key point is that prior to Round 9 and 10, we can trade out players with a bye still to come, and bring in all the gun premos who just had their Round 8 bye. This will actually gain you players during the bye, rather than just evening up your team.
Having more than 18 players is a good thing
"Well obviously" I hear you say, yet I've seen many people thinking they're going to cruise through the byes with 18 players on their field. I can basically guarantee that some kind of injury, late withdrawal or other inconvenience will occur which prevents this perfect scenario from happening. Try to have at least 19 players on your field if possible. This is what I found out the hard way last season, dropping off those rubbish scores of 30 by your rookies, or covering for a late withdrawal is where you can make your ground up during the byes.
Be honest with your bench players
What I'm saying is, don't expect Gary Rohan to miraculously pop up next week and save you from a crisis. Patrick Ambrose is another forward line option who doesn't look like he will make it back in time. Either count them as donuts or move them on, in a perfect world we all have 30 players all being selected every week. Unfortunately Dream team isn't a perfect world.
Hold your safe rookies
This is my biggest change from last year, and something I would fully recommend to anyone struggling with their byes. Now is the time that we're usually downgrading and upgrading, however there has been a severe lack of reliable rookies this season. I know it's tempting to trade out guys like Tyson and Dunstan, however they both have a perfect Round 10 bye and will most importantly get you safe points. I know as soon as the byes are completed I will be doing a rookie cull, however at this stage our M10, F8 and D8 are all being relied upon to step up, so trading to someone cheap may get you cash in the short-term, however it could cost you big time during the byes. I would be doing everything possible to hold every single rookie that has scored well and is most importantly secured in their teams best 22. The last thing you would want is your new recruit to be dropped for Round 8.
Plan early. Plan today!
Some of you may start worrying about the byes come Thursday teams next week, by that stage it will be too late. All we can do for now is have our teams as evenly spread as possible, obviously preferring to weight our squads towards Round 10. Your trades this week really should be to help your bye structure just as much as it is to improve your squad.
So there we go, I know most of it has already been covered however I just couldn't help it, we're over complicating things way too much. All we can do is to prepare for the worst. That's my current tactic. Personally I'm currently running with a 10/8/12, however I have 4 players on my bench not named for their respective teams (Rohan, Ambrose, Currie, Thurlow). I have no idea what trades I will be making next week, or the week after. The byes have to be dealt with on a week to week basis, and I fully expect injuries to come and cripple us just when we are at our weakest. Good luck to everyone, I hope this helped. I'll be more than happy to answer any of your queries in the comments below about bye structures, trades etc. otherwise I'll see you on Monday for the wash-up!