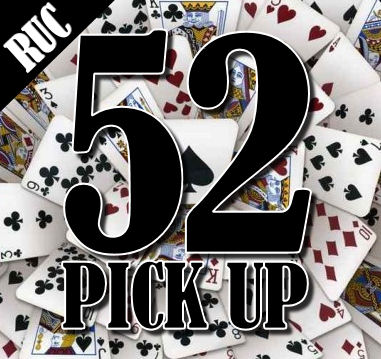 Welcome to the 2014 version of 52 Pick Up – the players who, just because they couldn't be crammed into the Deck of Dream Team, doesn't mean you should gloss over them!
52 Pick Up aims to bring you players, who may be fantasy superstars already, but may not, who might have peaked earlier in their careers, or maybe are yet to peak. These players are selected based on their potential ability for 2014 – both in standard AFL Fantasy and AFL Dream Team – and also in draft style leagues.
I write this article today, effectively having no idea about who my R1 will be in 2014. Cox and Minson are safe picks, Goldstein looks the goods, Luenberger could be anything, Sam Jacobs had a bad 2013, Brodie Grundy may come into consideration. Let's have a look at a few of the big blokes that you should be considering in 2014.
Dean Cox (WCE)
Position: Ruck
2013 Average: 97
AFL Fantasy Price – $526,000, Real Dream Team Price – $530,100
Dean Cox is the epitome of a fantasy mainstay. The greatest dream team ruck of all time, one of the greatest ruckman of all time, certainly of the last 20 years. Since 2005, big Cox has averaged at least 95 every year, with the exception of 2010, when he averaged a very un-Cox like 84.7. The year after he averaged 84.7, he bounced back, WITH A VENGEANCE, and averaged a career high 107.5. What we love about Cox (keep your head out of the gutter):
He's durable. Hasn't missed a game in the last 4 years, despite Nic Naitanui's emergence.
When he goes big, he goes big! He had a high score of 141 in 2013, 148 in 2012, 155 in 2011… Not many ruckmen have that kind of ceiling.
He rarely lets you down. Has scored less than 70 just 5 times in the last 3 years. That equates to a 93% strike rate scoring above 70 – simply an amazing stat for a ruckman.
Whilst we will question his role given the emergence of NicNat, I think the new sub rule will absolutely assist his scoring this year. He's far too valuable of a player to leave off the ground, so he and NicNat will spend much of 2014 alternating between Forward and Ruck, rather than getting rested on the bench. Let's not forget this guys' tank – his endurance for a ruckman is unheard of, his agility would rival most midfielders and his skills are sublime.
In 2014, risks will be taken, especially in your AFL Fantasy side. You will need safe picks, and Dean Cox is one of the safest picks out there.
Final Word: He may be the most expensive Ruck in both AFL Fantasy and AFL Dream Team, but there is a reason for it. Set and Forget.
Will Minson (WBD)
Position: Ruck
2013 Average: 91.9
AFL Fantasy Price – $498,100, Real Dream Team Price – $502,100
Big Will has been one of the biggest improvers in AFL Fantasy/Dream Team over the last 4 years. He averaged 63.1 in 2010, 73.8 in 2011, 86.6 in 2012 and 91.9 in 2013; a very steady incline. His first 6 or 7 years in the competition saw a highly talented, yet highly erratic forward, seemingly capable of everything – both good and bad. Rodney Eade (who didn't get his nickname 'Rocket' just because his name is Rodney) once called Will Minson "the dumbest smart bloke in the competition". Hilarious, if you ask me. He was often very public of Big Will, publically shaming him and threatening to send him back to Williamstown (despite a bulldogs victory) in 2010. 2013 saw him realise his potential, and have a sensational season which culminated in him coming 3rd in the bulldogs B&F (behind Griffen and Libba). Minson had 7 x 100 games, with a high of 122, and finished the season averaging a tick under 100 in his last 6 games (importantly as the Bulldogs finished the season strongly). He is a hitout king (averaged nearly 40 in 2013), knows how to find the footy (averaged 14.5 possessions per game in 2013, and 17.5 in his last 6 games), but is prone to give away the odd (ODD!?!?) free kick – he had 29 free kicks for, compared to 50 against. This severely affected his Fantasy scores, especially given that in 7 games he gave away more 4 or more free kicks.
Despite his inadequacies, I think we saw the birth of a dominant ruckman in 2013, one which will certainly only improve in 2014, along with the rest of the young bulldogs side.
Final Word: He'll give away free kicks, and you'll lose your hair, but there is plenty of upside still in Big Will's game.
Ben McEvoy (HAW)
Position: Ruck
2013 Average: 75.7
AFL Fantasy Price – $410,200, Real Dream Team Price – $413,400
I WILL NOT REFER TO BEN McEVOY AS ANYTHING OTHER THAN BEN McEVOY. When the hawks traded for Big Boy McEvoy (DAMN YOU BT) at the end of the 2013 season, I was ecstatic. It's not every day a 24 year old ruck, who has already proven himself as a very good player, touted a future leader, is told to pack his bags. He is one of the best readers of the play in the competition – in fact my mind wanders back to the Round 7 game last year when the Saints played the Blues, Warnie was giving me a right royal touch-up in our DT Shiva matchup, but I had Big Boy McEvoy (UP YOURS BT) on the march. AND HE WAS EVERYWHERE. The big fella nearly single-handedly won me the un-winnable (turns out it was un-winnable – but you get my drift). He had 20 touches, 10 marks, 8 tackles and 18 hitouts (the one downfall of his game). Every time the blues went forward, McEvoy was there, sitting in the hole, clunking everything that came his way. It was a performance that made you think that he could be the premier ruck in the competition, and the saints could focus their rebuild around him.
Unfortunately for those who owned him in 2013 (myself in the Shiva included), his highs in 2013 were too few and far between, however his lows were as prevalent as Aker's acne. He averaged 56 for the next 5 games after that 128 against the blues. He then averaged 51.5 between Round 18 and 21. These were extremely disappointing given his scoring potential, and also given his very good 2011 and 2012 seasons.
I chalk a lot of his disappointing scores in 2013 to him playing in a side that was seemingly in disarray, he had no backup of any note, and he must have been bloody tired (physically and mentally) carrying the rabble of the saints on his (and very few others) shoulders.
I think we will see the reinvention of Ben McEvoy in 2014, playing for a side where all he needs to do is play his role, whether that be contest in the ruck, push forward (we saw him play forward during the NAB challenge) and drop back, filling space and taking intercept marks.
Final Word: Heavily discounted due to a below standard 2013. The only way is up.
Sam Jacobs (ADE)
Position: Ruck
2013 Average: 75
AFL Fantasy Price – $406,700, Real Dream Team Price – $409,900
Big Sauce Jacobs was another Ruck, who after flourishing in 2012 (see McEvoy above and Maric below), had a disappointing 2013 campaign. In an interview with Fox Footy after the crows NAB challenge match against the blues (in which he scored 89 points from just 68% TOG), he told David King that he didn't get enough possessions in 2013, and need to increase his work rate to get himself more of the footy in 2014. The first step is acceptance. This is a great sign for his AFL Fantasy/Dream Team scores. He averaged 87 in 2011 (his first season at the crows), 87.2 in 2012, and just 75 in 2013. His first score above 100 in 2013 was in Round 22. He is a hitout machine, with a high of 50 last year against the Dockers, so if he can start finding more of the footy as well, his scores will reflect that and he again should be a top 10 ruck this year. With no clear opposition to the Number 1 ruck role at the Crows, I'm hopeful of him increasing his output back to 85-90. He's also been a real slider in many drafts this year – pick him up as a late pick as your number 1 pick or even a very good number 2/utility option.
Final Word: He doesn't have the ceiling of a Cox/Minson, or even McEvoy, but if he recaptures his 2011-2012 form, he should pump out a very consistent 85 per week.
Ivan Maric (RIC)
Position: Ruck
2013 Average: 74.4
AFL Fantasy Price – $403,400, Real Dream Team Price – $406,500
Yes, he is injured. It's considered unlikely you will see big Maric before round 5. To me, this could make him an upgrade option after his Round 8 bye. The operative word; is could. He's been sent in for ankle surgery, after having groin surgery at the end of last year. This doesn't look good for the fiery Croatian, who really struggled in 2013.
Eee-van Maric was one of the great stories in 2012, crossing over from the Adelaide Crows, after being starved of opportunities, to average 97.8 in his first season at Punt Road. Between Round 6 and Round 19, he averaged nearly 110 points per game, which is phenomenal for a player who didn't look like he was up to AFL standard at the crows. However, despite the breakout season that was 2012, 2013 was borderline disaster. He didn't score more than 100 until Round 22 (103 vs the Giants), and had 9 scores below 70, including 2 scores of 51.
Why should he be on your watch list when he returns? He will likely be managed upon his return, but the tigers will also be desperate to get him back, given it appears that Shaun Hampson will be the number 1 man in his absence. He will certainly drop in price upon his return, assuming he is managed (read: red vested), but the tigers will want him up and going at the business end of the season.
Final Word: Obviously not to be considered until he returns from injury, but he could prove a valuable pick up for the back end of the year.
Brodie Grundy (COL)
Position: Ruck
2013 Average: 70.3
AFL Fantasy Price – $335,500, Real Dream Team Price – $345,800
I'd be lying if I said that at some stage this preseason, Brodie Grundy wasn't sitting at R1 in my AFL Fantasy side. I'd be telling the truth if I said I shipped his ass out of there after that debacle of a NAB challenge game against the Tigers when all he wanted to do was give away free kicks.
Brodie Grundy was thrust into the Collingwood side in Round 18 last year, and scored a very attractive 92 points on debut. Three weeks later, he scored 91 points against the hawks. There is no doubt the kid can play, in fact it is very, very rare you see a teenage ruckman come in and make an impression the way that he did. The kid is a monster, standing 202cm and weighing 100kgs, and is still a month short of his 20th birthday. He is aggressive, he tackles hard and attacks the contest – but both will see him give away free kicks. It pains me to say, but he will be a bona fide star in years to come, the magpies struck gold in the 2012 draft with this kid. He is the number 1 ruck already at the pies, and will be given every opportunity this year – his job security is of no concern. He will certainly improve in 2014, but the question is – by how much?
Final Word: Risk/Reward selection. A Grundy/Sandi combination will cost you $580,000 in AFL Fantasy this year – but it could also cost you your season. It would be a combination I would strongly consider, if only there was a genuine R3 option.