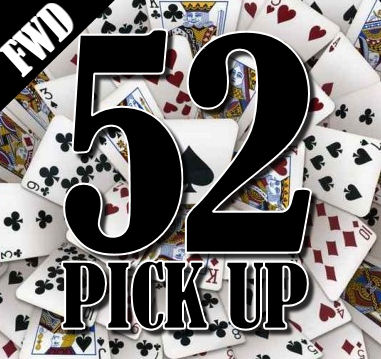 I don't know about you, but nailing the forwards in 2014 seems like the hardest position. Dangerfield and Dusty are locks, and Gary Rohan should be in 100% of teams. As for R3-R6, it's a toss up. There's plenty of value out there – let's have a look at some that should be on your radar.
Just a quick one this week – time is of the essence! Don't forget to check out Anthony Smith's fantastic mid-priced Forwards article – some gems in there!
Nick Riewoldt (StK)
Position: Forward
2013 Average: 103.1
Price: AFL Fantasy – $559,000; AFL Dream Team – $563,400
In every 52 Pick Up article I have done this year, the most expensive player from each line has been analysed. And I dare suggest, all 4 (McVeigh, Stevie J, Cox and NRoo) would be considered PODs this year. Nick Riewoldt was the only forward to average greater than 100 points per game in 2013. In simply an astounding season, NRoo increased his average by nearly 20 points on 2012, and for only the 2nd time in his career, he averaged more than 100 points for the season. In 2009 (when the saints won 20 games), he averaged 106.5 for the year. In 2013, when the saints won 5, he averaged 103.1. It just goes to show, that regardless of how well the saints are tracking, NRoo will score. Which is a good thing – because they will struggle in 2014! Since 2003, he has averaged at least 82.7 points per game. In 7 of those 11 seasons, he has averaged more than 90. High scores of 153 and 152 in 2013, he still has the ceiling, and with the exception of a 48 against Geelong (he missed much of the 2nd half with a knee sprain), he did not score below 80 points. Dangerfield, on the flip side, failed to reach 80 on 5 occasions.
Final Word: A star, and one hell of a dream teamer. Might be a bit pricey, but you will be reqarded handsomely.
Tom Mitchell (SYD)
Position: Forward, Midfield
2013 Average: 90.2
Price: AFL Fantasy – $488,700; AFL Dream Team – $492,600
Tom Mitchell was an out & out star after debuting for the Swans in Round 10 last year, when he scored 98 points. He backed this up with an astounding 144 in Round 11. For those who jumped on the week before he was on the bubble – well done. If you were like me, and missed that sensational 2nd score by the son of a gun, you were kicking yourself. He ended with an average of just over 90, although that included an average of just 66.75 in his final 4 games. This year, he is blessed with forward eligibility. Will he go backwards ALA Dayne Zorko this year, or take it up another level, considering he has cemented himself in one of the best midfields in the competition?
Final Word: Potential to average 100+ but beware the second (playing) year blues!
Jack Gunston (HAW)
Position: Forward
2013 Average: 76.7
Price: AFL Fantasy – $415,400; AFL Dream Team – $418,700
The hawks struck gold when they traded for Gunston with the crows at the end of 2011. Now entering his 5th year and he is sure to be more of a focal point considering the Hawks lost, well – you know who they lost. He reads the play amazingly well, pushes up the ground to collect +6's, has a great pair of hands, and is a dead-eye in front of goals. He increased his average by 15 points per game between 2012 and 2013, and I think he can take it up another level this year. He will still play second fiddle up forward for the hawks (Roughy will get most of the attention), and Gunston is a sneaky Coleman Medal chance this year.
Final Word: Cheap as chips, considering I think he is a huge chance to average 90+ in 2014.
Devon Smith (GWS)
Position: Forward, Midfield
2013 Average: 73.9
Price: AFL Fantasy – $400,500; AFL Dream Team – $403,600
I'm not a firm believer in the 3rd year breakout rule – but this guy might be the exception. He's played in 38 of the Giants 44 total games, and has averaged a healthy, 67.9 and 73.9 in his two seasons to date. I think he is a barometer for the Giants – as long as the team keeps improving, so will Devon Smith. Had 4 x 100's last year, to go with 3 from the year before – although it's the consistency that has hurt him – 6 scores of 60 or less in 2013. If he is able to stay involved in more games for longer, you are looking at an 80+ forward here, especially if the Giants improve in 2014.
Final Word: Huge draft smoky, hard to fit him in you Fantasy or DT forward line, but it may just pay off!
If you missed Anthony's midpricers article yesterday, he looked at the forwards and it's worth a read to go with this one.
Finally – 1 more AFL Fantasy League and 1 more Real Dream Team League! PLEASE DO NOT JOIN IF YOU HAVE ALREADY JOINED OTHERS. First in best dressed.
AFL Fantasy: DTTalk 52 Pick Up – JTDUTT7D
Real Dream Team: DTTalk 52 Pick Up – 351823