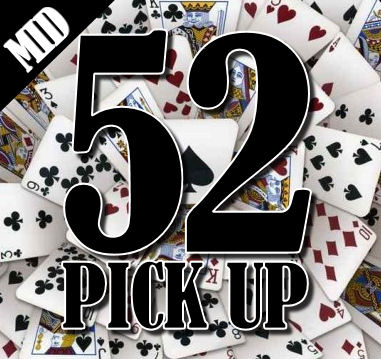 Welcome to the 2014 version of 52 Pick Up – the players who, just because they couldn't be crammed into the Deck of Dream Team, doesn't mean you should gloss over them!
52 Pick Up aims to bring you players, who may be fantasy superstars already, but may not, who might have peaked earlier in their careers, or maybe are yet to peak. These players are selected based on their potential ability for 2014 – both in standard AFL Fantasy and AFL Dream Team – and also in draft style leagues.
Up next, we have The Midfielders 2014 – B (last week brought you The Midfielders – A). This article today is designed to get you to think outside the box with your midfield selections, because we all know that come the end of the season, you will want all three of GAJ, Swan & Pendles, which leaves us with only 5 remaining on field positions. Who will those 5 be?
I'll start you off like this – Kane Cornes, in 2011 averaged 79, and looked like he was no longer fantasy relevant. In 2012 he averaged 91.4, and in 2013 he averaged 106.5. In Ryan Griffen's first 8 seasons, he never averaged over 100 – in 2013 he averaged 105.5.In St Kilda's grand final years of 2009 and 2010, Leigh Montagna averaged 115.8 and 112 respectively. After two years averaging below 100, he returned to fantasy relevance in 2013, averaging 111.8 and returned the 5th best fantasy average for the year. My point is – there are always Diamonds in the Rough.
Scott Selwood (WCE)
Position: Midfielder
2013 Average: 108.4
AFL Fantasy Price – $587,500; Real Dream Team Price – $592,100.
'Scooter' Selwood's fantasy average has increased every year since he entered the league (granted, he only averaged 47 and 57.2 in his first two seasons), culminating in a career high 108.4 in 2013, up by more than 11 points per game on his 2012 season. There is plenty of love out there for the younger Selwood, who, when he entered the league, was actually regarded as the best junior of the 4 Selwood boys (not that two of them gave him much competition). A popular pre-season pick in 2013, his first two scores were a very sub-par 71 and 87 (albeit against the two teams who were to play in the grand final later that year). Just as many Fantasy coaches jumped off, rather than seeing a substantial drop in value, Scooter came out and scored 142 against the demons to kick start his season. In his next 5 games, he averaged 125.2. That's right – 125.2. He is an accumulator of the ball, and one of the competition's leading tacklers – he averaged nearly 8 per game in 2013. This preseason, we have been hearing reports out of West Coast that he will be used as a tagger in 2014 – and if this is the case, this will surely affect his fantasy output. In the NAB challenge game against the Dockers, he scored 70 points from 72% game time – a worrying stat, especially given the way the eagles dismantled their cross-town rival. I just can't imagine the eagles would diminish his role as a run with player when he is the eagles best midfielder, and a future star of the game.
Final Word: The role worries me. If the eagles use him as they should (i.e. in the mould of Sam Mitchell), we have a top 5 fantasy scorer in 2014 on our hands.
Brendon Goddard (ESS)
Position: Midfielder
2013 Average: 105.4
AFL Fantasy Price – $571,300; Real Dream Team Price – $575,800
Ahhh. Brendon Goddard. An absolute mainstay in our Fantasy teams for years, because he was a defender. This year the Gods have cruelly (and rightly) removed his defender eligibility, making him a midfielder only proposition. So, why should you still pick him? Consistency. Since 2006 (excluding 2007 when he ruptured his ACL in Round 7 against the Swans), Goddard has averaged at least 90 points per game (and excluding 2008, he has averaged at least 95 points per game). In a highly dramatic year at the bombers, his first season at the club, he averaged 105.4, statistically his best season since 2010, and second best of his career. A low score of 71 in 2013 (Round 1), he topped 100 on 13 occasions, with a high score of 153. There isn't much you really need to worry about with Goddard, you know exactly what you'll get. He's an absolute star, fantasy gold, and will most certainly have yet another wonderfully consistent season in 2014.
Final Word: No longer a defender, but still a star.
Nathan Fyfe (FRE)
Position: Midfielder
2013 Average: 98
AFL Fantasy Price: $530,900; Real Dream Team Price: $535,100
Is Nathan Fyfe the best U-23 player in football? A better contested mark than any of the Bulldogs key forwards, silky smooth, highly skilled, runs all day, tough as nails… the list goes on. In fact, despite some rather unfortunate (unless you support the Hawks) misses at goal on Grand Final day last year, he nearly had the perfect season. Likened to James Hird (insert James Hird joke here), Fyfe the knife was simply superb in 2013. In the next 2-5 years, he will be one of your first selected, and a likely captain choice each and every week. He is nearly untaggable. Any midfielder that moves like him, can mark like him, can kick goals like him just cannot be stopped. He had one of the best second years in memory in 2011, when he averaged 98.3 from 21 games, and despite his injury interrupted 2012 (he clearly wasn't right to play early in the season), he still averaged a very respectable 89 from his 9 games (including a sub affected 22). In 2013 he returned to play 19 games and average 98, including 10 games over 100.
Final Word: He will be the best player in the competition sooner rather than later, and is in the next group of Fantasy pigs coming through the ranks.
Dyson Heppell (ESS)
Position: Midfielder
2013 Average: 95
AFL Fantasy Price: $514,900; Real Dream Team Price: $519,000
If Nathan Fyfe is the next James Hird, then Dyson Heppell is the next Scott Pendlebury. Heppell has averaged 83.4, 85.3 and 95 in his first three seasons at AFL level – Pendlebury averaged 62.5, 81.1 and 87.7. An ankle injury ended Heppell's season after Round 21 in 2013, but until then, he had been in blistering form. A low score of 73 (not including the 35 in Round 21 when he got injured), he topped the ton 8 times, including a high of 147 (albeit against the demons in one of the most one-sided games of football in the history of the AFL). He only dropped below 80 three times, which is an amazing effort for a 21 year old. He is a wonderful user of the ball and his decision making skills are excellent – traits in which the bombers want to exploit, they'll always want the ball in his hands. Given Watson, Stanton and Goddard are most likely to cop the opposition attention, 2014 could be the year in which Heppell goes BANG, and starts getting towards those Scott Pendlebury numbers.
Final Word: Will one day be a 110+ point per game player – will it be in 2014?
Adam Treloar (GWS)
Position: Midfielder
2013 Average: 89
AFL Fantasy Price – $482,100; Real Dream Team Price – $485,900
One of the young gun midfielders at GWS, Adam Treloar hasn't even been given time to become accustomed to AFL footy – he was thrown straight into the deep end. He's already played 38 out of a possible 44 games for the giants, averaging 81.6 in 2012 and 88.9 in 2013. Treloar is someone who I can see continuously improving, and being a substantial player for the young giants. He has proven to be generally a pretty reliable scorer, although based on his inexperience of both him and the side; he has gone missing on occasions as well. He had a 4 game stretch in which he scored over 100 last year, but they were sandwiched between a 67 and 81. If the giants are to improve in 2014, which they will, it will be on the back of a young midfield core, of which Adam Treloar is one of their best.
Final Word: Will likely increase his average again in 2014, however how much so not only depends on his personal improvement, but also the improvement of the Giants.
Luke Shuey (WCE)
Position: Midfielder
2013 Average: 88.4
AFL Fantasy Price: $479,300; Real Dream Team Price: $483,100
I must admit, I have a bit of a man crush on Luke Shuey. The kid is a jet, very much in the Patrick Dangerfield mould (although not quite as explosive). After a disappointing end to the season in 2013 (he scored 58 against the Swans in Round 17 and 24 against the Cats in Round 21 – substituted both times with hamstring problems), he only managed to play 14 games for an average of 88.4. However, if you take out the two games in which he got the red vest, his average was over 96, with 7 scores over 100 from those 12 games. The most damning stat about Shuey is that he either goes big, or he doesn't – there isn't much middle ground. No scores between 60 and 85, but two in the 50s in games where he wasn't subbed. In the NAB challenge game against the Dockers, he led all eagles players with 109 points, from just 69% time on ground. Should he find a way to stay involved each and every week (and stay on the park), we have ourselves a 100 point player.
Final Word: Now entering his 5th season, I think Luke Shuey will push his average towards the 100 point barrier – he just needs to eliminate his poor games.
Harley Bennell (GCS)
Position: Midfielder
2013 Average: 85.4
AFL Fantasy Price: $462,900; Real Dream Team Price: $466,500
When I saw that Harley Bennell averaged more than 85 in 2013, it surprised me. It certainly felt like it was a year where he just couldn't get going, and repeat his performance in his second year, when he finished second behind GAJ in the clubs B&F. When I delved a little deeper into his season, I realised I wasn't wrong – his scores did reflect an up and down season, in which he failed to get much continuity. His first 3 games in 2013 went 66, 44 and 116. He then missed the next 2 games with a hamstring injury, to return in Round 6 and score 52, 115 and 69 in his next 3. After Round 8 he didn't play again until Round 15 (after injuring his hamstring again), but ended the season in fantastic form, averaging a very respectable 91 between Round15 and 23. He is a goal kicker (he kicked 19 from his 15 games in 2013), a possession gatherer (a high of 32 in 2013) and will never cop the attention that his captain receives. There is no doubting this kid's ability – he is a young gun of the competition and a will be a genuine match winner. He just needs to stay on the park.
Final Word: If he is over the hamstring injuries that plagued him in 2013, then we have a legitimate breakout contender.
David Zaharakis (ESS)
Position: Midfielder
2013 Average: 82
AFL Fantasy Price: $444,700; Real Dream Team Price: $448,200
The bombers B&F winner in 2011 (in only his 3rd season), 'Zaka' has been… thereabouts… in the last 2 years. Zaka was publicly dumped from the bombers leadership group in 2014, and is on record as being "quite disappointed" with the demotion. He's apparently had his best pre-season to date, and is over the raft of injuries that have affected his fitness for the last couple of seasons. He averaged 97 points per game between Round 4 and Round 16 in 2013, including a high of 130 in the ANZAC day game in which he won the ANZAC medal for best on ground. He is looking to be used as a genuine midfielder in 2014, and with his ball hawking ability, his run and carry and nous in front of goal, 2014 seems set to be the year that he steps up and recaptures the form that saw him win the 2011 B&F. He scored a monster 145 from just 70% time on ground against the Gold Coast Suns in the bombers NAB Challenge opener, which really should put him on your radar.
Final Word: Set to prove plenty of people wrong in 2014, I think this year we will see Zaka elevate his game to a new level.
Andrew Gaff (WCE)
Position: Midfielder
2013 Average: 69.9
AFL Fantasy Price: $378,700; Real Dream Team Price: $381,600
Andrew Gaff has showed plenty of promise during his young career, however that promise led to increased attention, which he didn't seem to cope with very well. Actually, I think it started in 2012, when Hawthorn sent Liam Shiels to him in Round 23, and completely shut him down (he scored 55 points that game (after averaging nearly 88 to that point of the season). He was the ideal link man for the eagles, he has pace, knows where to find the footy and is damaging. Spent much of 2013 getting tagged, and his scores reflected that – 10 scores below 60, with a low of just 31! He's a great user of the ball, and now entering his 4th year, and after him having a tough season in 2013, I think we'll see him better equipped to handle a tag and manage to find a way to get involved in the game. If Adam Simpson adopts a game plan similar to Hawthorn's, you can bet your bottom dollar that the eagles will do whatever they can to get the ball into Gaff's hands. After averaging 86.1 in 2012, a stalled season saw that dropped to a very under whelming 69.9 in 2013. In 2014 I'd certainly be expecting him to get closer to his 2012 average than his 2013.
Final Word: Will be a steal in draft formats, and is likely to push the 90 point average barrier in 2014.
Liam Shiels (HAW)
Position: Midfielder
2013 Average: 63.4
AFL Fantasy Price: $343,800; Real Dream Team Price: $346,500
A late inclusion into 52 pick up, after his NAB challenge form simply could not be ignored (for the record, he replaced Liam Anthony (NM) – someone who I once had such high hopes for – looks like he is on the outer at North Melbourne). The burning question is – how will Shiels be used? He has been a highly productive tagger for the last two years for the hawks, however with the emergence of Will Langford possibly earmarked for tagging responsibilities in 2014, Liam Shiels may be let off the leash yet again, which may send his stock soaring. In 2010, Shiels played 6 games for the hawks, and average 53.3. In 2011, Shiels played all 22 games for an outstanding average of 102.7, which involved a 9 game stretch between Rounds 7 and 15 in which he averaged over 121! In fact, in 8 of those games he scored at least 108, with a high of 147! They are premium numbers, uber premium numbers, and his scores were pleasingly a result of a number of factors – he was finding space taking uncontested marks, racking up possessions, tackling plenty and kicking goals! His NAB challenge form in 2014 has been amazing, scoring 122 points from 76% game time against the Lions, and 114 points from 67% game time against the Kangaroos – leading all players on the ground in both matches! Yes, he averaged 79.5 in 2012 and 63.4 in 2013, however there is no doubting his scoring ability, and it is directly linked to the role he plays. If he isn't primarily used as a tagger this year, he may turn out to be THE BARGAIN OF 2014. He will always fly under the radar at the Hawks; he isn't as damaging as Rioli or Hodge, not as influential as Mitchell or Burgoyne and doesn't have the breakaway speed as Smith and Hill.
Final Word: I think Shiels fantasy relevance revolves around Will Langford being named in Round 1. There is no doubting his scoring ability, there is only doubting his role.
There we have it – The Midfielders – Part B. With only 8 spots available, and value priced players being more important than ever in 2014, a few diamonds in the rough might just be what you need to elevate yourself in AFL Fantasy.
Check back next week for a preview of the Rucks. Follow me on twitter @cruttonhutton for plenty of AFL Fantasy banter and the odd laugh leading up to season 2014.