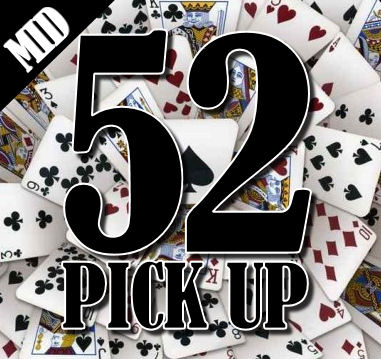 Welcome to the 2014 version of 52 Pick Up – the players who, just because they couldn't be crammed into the Deck of Dream Team, doesn't mean you should gloss over them!
52 Pick Up aims to bring you players, who may be fantasy superstars already, but may not, who might have peaked earlier in their careers, or maybe are yet to peak. These players are selected based on their potential ability for 2014 – both in standard AFL Fantasy and AFL Dream Team – and also in draft style leagues.
Up first, we have The Midfielders 2014 – A (there are too many to cram into one article – check back next week for The Midfielders 2014 – B). This article today is designed to get you to think outside the box with your midfield selections, because we all know that come the end of the season, you will want all three of GAJ, Swan & Pendles, which leaves us with only 5 remaining on field positions. Who will those 5 be?
I'll start you off like this – Kane Cornes, in 2011 averaged 79, and looked like he was no longer fantasy relevant. In 2012 he averaged 91.4, and in 2013 he averaged 106.5. In Ryan Griffen's first 8 seasons, he never averaged over 100 – in 2013 he averaged 105.5.In St Kilda's grand final years of 2009 and 2010, Leigh Montagna averaged 115.8 and 112 respectively. After two years averaging below 100, he returned to fantasy relevance in 2013, averaging 111.8 and returned the 5th best fantasy average for the year. My point is – there are always Diamonds in the Rough.
Steve Johnson (GEE)
Position: Midfielder
2013 Average: 118.4
AFL Fantasy Price – $641,400; Real Dream Team Price – $646,000.
We couldn't go through the Deck of Dream Team and 52 Pick Up without the number 1 averaging player from 2013 – Stevie J. In 2013 he averaged a stellar 118.4, nearly a full point higher than Dane Swan, and nearly 4 points higher than GAJ. He was also available as a forward – which of course, is not the case in 2014. After missing the opening 2 games of the 2013 season with suspension, we then witnessed one of the finest seasons by a forward in AFL fantasy history – one which also frustrated the daylights out of us with his bloody brain fades that saw him miss a further 4 games during the season. Only 3 times did he stoop below 100, with a lowest score of 84 in Round 23. He had 6 games over 130, with a high score of 156 against the demons in Round 16 (a game which subsequently saw him suspended the next week when Nathan Jones headbutted Stevie J's knee). I just get the feeling that the 2013 season was one out of the box for Stevie J, and I think he is more likely to return to an average in the 90's, a range that he averaged in 2007, 2008, 2009, 2010 and 2012.
Final Word: With that price tag and given he is no longer available as a forward; he will certainly be unique in 2014. Too expensive to start with, potentially look at upgrading to him later in the season.
Ryan Griffen (WBD)
Position: Midfielder
2013 Average: 105.5
AFL Fantasy Price – $571,800; Real Dream Team Price – $576,300
As mentioned in the intro, Ryan Griffen, the star bulldog and now captain had never averaged more than 100 in his first 8 seasons at the kennel – and then 2013 happened. He had simply a sensational year and carried a young and inexperienced midfield group admirably. He tapered off in the last 3 games, but his average between Round 1 and Round 20 was nearly 111 points per game – 'A' grade stuff. A top score of 166 against Port Adelaide shows he has a high ceiling, although the one knock on his season was he probably too often failed to crack the ton – 9 times in total. With Matthew Boyd probably entering his final season, the torch has been handed over. I expect Griffen to lead what will be a highly improved bulldogs side in 2014, and suspect he may even improve on his 2013 campaign.
Final Word: Will cop a hard tag every week, but he did so in 2013 as well, and produced a wonderful season. Strongly consider.
Kieran Jack (SYD)
Position: Midfielder
2013 Average: 101.4
AFL Fantasy Price: $549,400; Real Dream Team Price: $553,700
Kieran Jack is a budding superstar of the competition, and I think 2014 will see him bracketed in the elite group of midfielders – that's if he isn't already. After averaging 90.5 in his "breakout year" in 2010, he retreated back to mediocrity (in the AFL Fantasy world) in 2011, averaging just 78.3. His next two seasons, however, were sensational; as he went on to play every game both years and average 97.6 and 101.4 in 2012 and 2013 respectively. If we exclude is Round 3 debacle against North Melbourne, where he only scored 59 points, he averaged over 111 points per game between Rounds 1 and 13, which saw him amongst the elite. His second half of the season was not as productive, and he only scored more than 100 on two occasions (albeit a 128 and 140 in consecutive games). He began to cop a lot of attention from opposition taggers, who tend to alternate between Jack and Daniel Hannebery. Kieran Jack has established himself as a tough inside and outside midfielder, capable of pushing forward and kicking goals – the typical kind of player opposition coaches try to shut down. He has shown inconsistency in his short career when dealing with a tag, however based on the team first orientation that the swans play with, he will always be looked after by his team mates. I'm tipping him to improve again in 2014.
Final Word: I think he can be a top 10 midfielder by the end of the season – do you? Start him if you do, because he won't be any cheaper than he is now.
David Mundy (FRE)
Position: Midfielder
2013 Average: 97.9
AFL Fantasy Price: $530,600; Real Dream Team Price: $534,800
No undies Mundy, one of the most unheralded players in the competition – both in AFL Fantasy land and the general AFL community. I love the way he plays his footy. No frills, skilful, team first, tackles hard, runs all day – I think I have a man crush on no undies Mundy (don't worry Toby – I'm getting to you). David Mundy is a star – but is he worthy of a spot in your midfield? In 2011, before he fractured his fibula (the week I brought him into the side mind you), he averaged 109 through the first 10 rounds of the season. Premium numbers. He returned in Round 22 that season, but I think if Fremantle had their time again – they would have put him on ice for the remainder, because of the interrupted pre-season he had entering 2012. Missed the first two games of the year, and then started as the sub in Round 3. He failed to really hit his straps in 2012, but he ended the season with scores of 130, 125 and 111. Premium numbers. In 2013, his season was somewhat of a rollercoaster. 117 in Round 1, followed by 5 scores less than 100 in his next 6 games. His middle third of the season was fantastic, with 6 of his 7 games between round 8 and 17 (he also missed time with an injury) over 100, with a high of 131. Premium numbers. Finished the season quietly, and (like most of the Fremantle side) was rested in Round 23. Does get attention from taggers, however Fremantle have this superstar – Nathan Fyfe – who is bound to cop the number 1 tag in 2014. No undies Mundy, can again fly under the radar (like he has for most of his career), and should he find consistency in his scoring – then he may be a valuable addition to any midfield.
Final Word: It's all about consistency – the best friend of Premium Numbers is consistency.
Josh P Kennedy (SYD)
Position: Midfielder
2013 Average: 91
AFL Fantasy Price – $493,000; Real Dream Team Price – $496,900
One of the Brownlow medal favourites in 2012, Josh P Kennedy is currently sitting at M5 in my side. And I can't see him moving from there. Severely underpriced after an indifferent 2013, where he still managed to play every game, but groin injuries hampered his season. Since crossing from the hawks 4 years ago (don't get me started on that one), he hasn't missed a game, and really hit his straps in 2012 (don't get me started on that one either), where he averaged 101.5 for the season. A tough, inside midfielder, he does get attention from opposition taggers, but he is still pretty handy at finding the footy. Much like Sam Mitchell/Brad Sewell at Hawthorn, whom were the two main reasons he couldn't get a game, he relies heavily on his ball winning instincts and knows how to use it. He tackles hard as well, averaging nearly 5 per game in 2013, and go forward to kick goals – he kicked 13 in 2013 and 24 in 2012! Of the three swans midfielders discussed in this article (see Jack above and Hannebery below), I get the feeling JPK is the best priced for his potential production in 2014 – I think he can recapture his 2012 form (apparently his preseason has been blistering) and return his average to north of the 100 point barrier.
Final Word: I'm on board – priced below $500K, I don't think you can go wrong.
Daniel Hannebery (SYD)
Position: Midfielder
2013 Average: 88.9
AFL Fantasy Price: $481,900; Real Dream Team Price: $485,700
The 2010 NAB Rising Star winner enjoyed yet another consistent year in 2013. In fact, since winning the 2010 Rising Star award, he has played a total of 84 from a possible 88 games, and has averaged nearly 83 points a game. In 2013 he took his game to another level and ended the season with a career best average of 88.9. After a blistering start to the season when he scored 7 x 100's in the first 11 games with a high of 136, he tapered off and was often tagged by the opposition best tagger. He only had 2 x 100's after Round 11, and 4 scores below 70. Crowley was given the job on Hannebery in Round 8, and Hannebery pushed forward to end up with 4 goals and 27 touches. So he can handle the tag, even if it means pushing forward and playing off a half forward flank. Once he has eliminated his quiet games, and shows that he can back up his performances week in, week out, I think we have a future fantasy star on our hands – there is no doubting how good this kid is.
Final Word: Now entering his 6th season, I think Daniel Hannebery will relish his more senior role in the side and can push his average towards the 100 point barrier – he just needs to eliminate his poor games.
Mitch Duncan (GEE)
Position: Midfielder
2013 Average: 88.1
AFL Fantasy Price: $477,400; Real Dream Team Price: $481,200
I can't believe Mitch Duncan has only been around since 2010 and is only 22 years old – he plays well beyond his years. A very skilful half forward flanker/winger, Mitch Duncan is my tip from the cats to step up and fill the void created by the loss of Paul Chapman and also has been groomed to replace aging stars Joel Corey, James Kelly etc. It's a pity he isn't available as a forward – he would be a dead-set lock if he was. His end of season average has climbed every year since making his debut, from 67 in2010, 76.5 in 2011, 81.3 in 2012 and 88 in 2013. He has also become one of the mainstays in the Geelong side, having only missed 1 game in the last 2 years.  The most encouraging aspect about Mitch Duncan is his consistency – you might notice that is a very import factor for me. Removing his 2 sub-affected scores in 2013 (one green vest and one red vest) he did not score below 70 points, and in fact his season average would have been 94.85 points per game when we exclude those games. So, if his real average was 94.85 in 2013, is priced at 88.1 for 2014 and he will likely only improve this year – is he worthy of a speculative pick in your team? Not as silly as it sounds.
Final Word: Will only improve again in 2014 – and is priced unders due to sub affected scores of 40 and 1 in 2013 – monitor NAB challenge form closely.
Ben Cunnington (NM)
Position: Midfielder
2013 Average: 82.3
AFL Fantasy Price: $446,300; Real Dream Team Price: $449,900
Ben Cunnington has been tipped for a breakout year in many circles this preseason. The number 5 overall pick from the 2009 AFL draft has been thereabouts thus far in his carrier, with the hard bodied midfielder winning comparisons to stars Jimmy Bartel and Brad Sewell. In 2012, his third season, he had somewhat of a break out year, going on to average 75.2 from 19 games (after averaging 54.5 from 18 and 52.5 from 16 in 2010 and 2012 respectively). He improved yet again in 2013, and averaged 82.3 from his 20 games. Reports out of Arden Street this preseason is that he is ready to take the next step, with Brad Scott heaping praise on the youngster. Although not the cleanest user of the ball, he wins the hard ball and tackles hard (he had a high of 13 tackles against the Gold Coast Suns in 2013), meaning that he wont be tagged and should be able to score pretty consistently. I personally am pretty bullish about him this year.
Final Word: There is a lot of upside to Cunnington in 2013.
Toby Greene (GWS)
Position: Midfielder
2013 Average: 76.6
AFL Fantasy Price: $415,100; Real Dream Team Price: $418,300
Toby. He who only needs one name. The very thought of Toby runs shivers down my spine. Man crush? Yes, absolutely. I claimed him from his first game at Giants, and despite him really testing my patience in 2013, I think it might have been the learning curve that he needed to have. Was desperately unlucky not to be eligible to win the NAB Rising Star award in 2012 (despite my many letters and plea's to the AFL), but by the end of the year, those in the know were aware of just how good Toby is. After the bye in 2011, Toby, the man-child warrior, averaged nearly 104 points per game. 104! Simply an amazing effort from a future star of the competition given he was playing for the newly created GWS, getting thumped every week, and without much real senior assistance. A top score of 146, 8 x 100's for the year. One of the best first year players I've seen – ever. Then 2013 happened. In round 1, he got the recognition he deserved, and Ryan O'Keefe was given a run with role on him – he scored 37. Towards the middle of the season, he was given roles in defence, presumably to get him to work on the defensive side of his game. He didn't score over 100 until Round 14, and went north of 100 only one time after that. He ended the season with a very disappointing average of 76.6. This is the epitome of "second year blues" – in fact, many of the Giant kids had it. Going forward, with the likes of Shiel, Whitfield, Coniglio, Ward and a host of other young stars with another preseason under their belt, a Giants side likely to improve and "more midfield time" for Toby, I'm tipping him to bounce back in a big way this year. He is a genuine midfielder, clearance machine, tough as nails – and I even think he looks like Swanny when he runs. Not to mention those eyes that will make your heart melt. He will one day be perma-captain of all of our sides, but he is already perm-captain in my heart. Ahem… *Wipes Away Tear*.
Final Word: Toby.
Ollie Wines (PTA)
Position: Midfielder
2013 Average: 74.2
AFL Fantasy Price: $402,300; Real Dream Team Price: $405,500
It's hard to write about Ollie Wines, who was nothing short of sensational in 2013, after writing about Toby. The second year blues are a very real thing – can Ollie avoid it? The start of his career was blistering, averaging nearly 102 in his first 4 games – including 126 in that game against the crows in Round 3, where he just about was the difference. He went on to play every game in his first year, and while he did taper off towards the end of the season (not to be unexpected for an 18 year old kid), he showed that he is a 10 year player and will be one of utmost importance in a vastly improved Port Adelaide side. With a pretty handy midfield of Boak, Ebert, Hartlett, Cornes, Wingard, etc, Ollie Wines fits in there nicely, adds some grunt and will try all day – a player certainly worth keeping an eye on.
Final Word: Awkwardly priced, may succumb to the second year blues. Will one day be a 100 point player – will it be 2013?
Mitch Wallis (WBD)
Position: Midfielder
2013 Average: 69.9
AFL Fantasy Price: $379,100; Real Dream Team Price: $382,100
After a fantastic second season in 2012 that saw him average a very admirable 83 points per game, 2013 was disappointing for the young Wallis, a year which saw his average retreat to back below 70. By the end of the season was used very much as a tagger, which may also have something to do with Nick Lower falling out of favour. The Western Bulldogs have stockpiled a very talented core of young midfielders, with Stringer, Macrae, Clay Smith, Libba and the like, Mitch Wallis is likely to spend more time in 2013 playing a tagging role – his fantasy relevance just hinges on whether he can be an attacking player who can win the ball, as well as defensive – like a Ryan O'Keefe, Matt Priddis and the like. No doubt the kid is talented, it's the uncertainty in his role at the bulldogs which is why you should be cautious.
Final Word: Don't be surprised to see him improve on his 2013 campaign – just watch his role very carefully in the NAB challenge.
Daniel Rich (BRL)
Position: Midfielder
2013 Average: 67.4
AFL Fantasy Price: $365,500; Real Dream Team Price: $368,400
After his 2012 campaign, Daniel Rich looked destined for bigger and better things in 2013 – this didn't eventuate. His average went from 85.4 in 2012 to 67.4 in 2013, a disappointing result for the talented midfielder. This was his lowest season average of his young career, after he averaged between 77 and 85 between 2009 and 2012. Not only did he not score above 100 in 2013 – his top score was just 87! The influential midfielder was shut down by taggers in 2013, after it was determined that he is the most damaging midfielder at the lions. Rich missed a significant chunk of 2013 with a shoulder injury, which no doubt inhibited his season where he failed to deliver on his potential. Don't underestimate how good this kid is though. He can be incredibly damaging and is supremely talented – I'm happy to call 2013 a "blip" and think he can return to his days averaging 85+ – and maybe even higher.
Final Word: Very much under priced – he is not a 67 point player. Expect him to return to the 85+ range in 2014.
There we have it – The Midfielders – Part A. With only 8 spots available, and value priced players being more important than ever in 2014, a few diamonds in the rough might just be what you need to elevate yourself in AFL Fantasy.
Check back next week for a preview of more midfielders, including a Scooter and a Harley. Follow me on twitter @cruttonhutton for plenter of AFL Fantasy banter and the odd laugh leading up to season 2014.