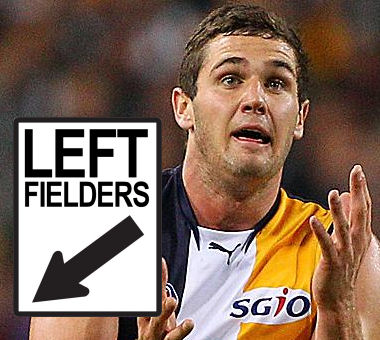 G'day all,
17 days until the real stuff kicks off! Don't get me wrong I am enjoying the NAB cup but it will be almost a relief when that first bounce down happens – if for no other reason than to stop me fiddling with my team!
I have finished with my 'offseason' Leftfield selections, and from here on in will be looking at those unique players who have impressed so far in the NAB cup ie 'preseason' Leftfielders
Call it jumping on the bandwagon after one good score if you like, but what I tried to look for was a lesser like who seems to have changed roles or even been granted a different/additional position for selection in 2014.
Anyway, welcome to the seventh edition of Lefty's Leftfielders – today is all about the Eagles young gun Jack Darling.
Name: Jack Darling
Club: West Coast Eagles
Position: Forward
AFL Fantasy Price: $374,500
AFL Dream Team Price: $377,400
Bye Round: 9
Percentage owned: 3.8% (UBER-NIQUE- the phrase for those players owned by less than 1 team per league on average)
Argument For
His lone 2014 NAB game returned 94 points against a pretty poor Freo side, this included JD playing a sweeping role across half back for most of the first quarter. 5 tackles and a goal helped boost his score as did his game high 8 marks. Looked fit, lean and hungry for the ball – exactly what we want to see at this stage of the year. Little bit hard to gauge how relevant this score was as Fremantle were awful and looked half asleep for most of the game – but I would rather he dominate in a game like this than just be ok.
In 2013 JD averaged 68.9 points over 21 games, this included 3 tons and a high of 127 versus the hapless Demons in round 3. He played predominantly in the forward half of the ground, and was one of the better performed Eagles players in what can only be described as an underwhelming year for the club.
In the off-season the Eagles replaced long time coach and club legend John Worsfold with former Kangaroo's midfielder Adam Simpson, who most recently was an assistant coach at Hawthorn. Its often hard to gauge the impact a new coach will have on a group of players, particularly after such a long time under a favourite son like Woosha, but all the talk coming out of the Eagles has been really positive. One thing Simpson has been quoted on numerous occasions is he wants more flexibility in the playing group, including a bit of midfield time for Darling. This should result in the strongly built young lad (he is only 21!) boosting his possession numbers as he will spend more time around the ball.
There is no issue with Darlings job security, if he keeps himself fit he is picked every week. He has never worn the green vest in his career, and I can't see that changing. Attacks the ball with serious intent without getting his head or body into awkward positions, runs hard and doesn't whinge at the umpires if things don't go his way.
With Kennedy back at full fitness, Cox or Nic Nat likely to be resting more in the forward line this year due to the interchange caps, it is likely Darling will be getting the third tallish defender most weeks. Most sides will struggle to find a matchup that works both in the air where Jack is a good grab and on the ground where he covers lots of grass over a game. Think a Zac Dawson type of defender who will be forced most times to combat Darling one on one, most would agree Darling will be coming out on top of that match-up more often than not!
Jack has proven himself to be a resilient beast since debuting in 2011, having missed only 2 games in his first 3 seasons. Perfect for a set and forget F6 in my opinion, this bloke fronts up almost every week for you.
Season                        Games                       Average
2013                              21                                 68.9
2012                              22                                71.0
2011                              20                                 67.3
Total  Avg                    21                                  69.1
Argument Against
In 2013 JD had a low of 18 (unvested), two scores in the 40's and seven scores in the 50's, that's almost half of his games returning less than 60 points. Yuck. Certainly enough right there to make most people seriously worried about picking Darling as there is nothing worse than your unique player flopping and costing you a round win.
There is always the concern in picking a young key position player that if the team is struggling the said player will often struggle to score well in fantasy as well. As much as we have heard the hype around increased mid time for JD, at this time of year it seems almost every second player is 'set for more midfield time' so it is a risk that it may not eventuate and if the Eagles don't improve then Jack may be left stranded in a quiet forward line.
One thing I guess some will weigh up is how much room for improvement do we see in JD this year? His average has been pretty similar over his first 3 years, if you pick him I think you are hoping for at least a 10 point rise in his ppg average or else it may be more worthy looking at a player like Hale? As keen as I was on Charlie Dixon earlier (Charlie seems to be getting double teamed a lot this year in the NAB, you don't get any points for contesting marks and bringing the ball to ground unfortunately), I am now considering using David Hale as my fwd/ruck cover (Hale/Dixon is based in my forward 6 with Thurlow at R4). Hale is only about $10,000 more than Darling and gives you the flexibility of a ruck/forward – probably more important in Real DT than Fantasy and even more so if you are picking a 'risky' starting ruck combo of Sandi, HMac and/or Hickey. By 'risky' I mean these guys have a history of injury or are not cemented as number 1 rucks and you may need to cover them for a week early in the year before they have fully fattened up.
Lefty's Call
RDT – At this stage he is in my team, I will be keenly watching to see how he goes in the second NAB game. I like the way he plays and as an Eagles fan would love to be able to cheer him for my fantasy side as well. Reliable in terms of playing, hopefully his new role in an improved Eagles side pushes his average to mid 80's.
Fantasy – Darling is the sort of player that you can take a punt on early, if he doesn't work out well you have 2 trades every week anyway. His odd bad game may cause his price to fluctuate early with the different pricing formula in Fantasy.
There you go, the seventh of the Leftfielders for the year. Maybe a bit biased due to my being an Eagles supporter and a big Darling fan, but hopefully I have made a case for you to look at Jack.
Cheers
Lefty
Feel free to give me a shout on twitter, @Lefty113