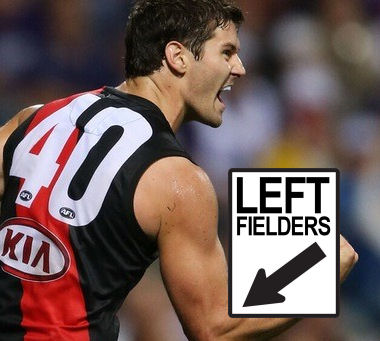 G'day all,
Another week – another shark culling protest over here in Perth, is it just me or is it starting to wear a little thin? Don't get me wrong I quite like sharks.
Usually with chips but hey that's just me I guess.
I have finished with my 'offseason' Leftfield selections, and from here on in will be looking at those unique (or in this case Uber-nique) players who have impressed so far in the NAB cup ie 'preseason' Leftfielders
Call it jumping on the bandwagon after one good score if you like, but what I tried to look for was a lesser like who seems to have changed roles or even been granted a different/additional position for selection in 2014.
Anyway, welcome to the sixth edition of Lefty's Leftfielders – today is about the Bomber's Ben Howlett
Name: Ben Howlett
Club: Essendon Bombers
Position: Mid/Forward
AFL Fantasy Price: $405,900
AFL Dream Team Price: $409,100
Bye Round: 10
Percentage owned: 0.9% (UBER-NIQUE- the new phrase I have made up for those players owned by less than 1 team per league on average)
Argument For
His opening NAB cup game in 2014 returned 103 points in an impressive display matched up most of the game against Harbrow. He managed to slot 3 goals from 19 touches and ran hard to collect 8 marks and also recorded 3 tackles. He looked pretty lean and seemed quicker than I remembered from last year, I couldn't find any info as to whether "he is having his best preseason ever and looks set for more midfield time" but he certainly looked the part.
In 2013, Ben played 19 games for an average of a tick under 75 points per game. He put up a high score of 127 in the opening round fixture against the Crows and followed this up with 117 in the second round against the hapless Demons. In fact after the first 4 rounds he was averaging 103.25 points which was right up there with the best early season averages last year.
Unfortunately that was the high point of Howlett's season, the off field dramas which slowly enveloped the Bombers coincided with lower and lower outputs from Ben. He copped 3 green vests before season's end which also impacted on his overall average, even more of a concern was his change of role to a defensive forward. More on that later.
Benny has proven to be quite a resilient little bugger since debuting in 2010, averaging almost 19 games a year so far in his career. His career average of a tick over 80 is pretty good as well for a bloke priced 5 points under that this year, and at least you can bank on him showing up most weeks.
Season                        Games                       Average
2013                            19                                  74.8
2012                            19                                  84.3
2011                             22                                 82.8
2010                            15                                  78.9
Total  Avg                   18.75                            80.4
The biggest tick in his favour this year is his addition of mid/forward eligibility. That negative forward role he played for most of the second half of 2013 has had a benefit in that we get to stick him into our forward lines alongside other dpp's like Dangerfield and Martin. As a pure mid I probably wouldn't have been giving him more than a cursory look, but as a forward he comes into serious calculations a bit more. Particularly with the reduction of gun fwd/mids this year (bye bye Stevie J) as I would always prefer to pick a midfielder who plays forward a bit over a key forward.
Round 10 bye is probably ideal for those trying to set up a team around the bye rounds, (it doesn't help me with my previously mentioned round 8 tanking strategy), as you don't have to trade/bench Ben until round 10.
Argument Against
That bloody defensive forward role he played last year is a major concern if he gets that job again. With Jobe, Stanton, Goddard and Heppell all spending significant time on the ball, Howlett may struggle for time in the guts. He played there a bit in the NAB cup game but the Bombers were light on in the midfield department which probably helped him.
He returned some horror scores last year, a 39 against North Melbourne in round 21 and four scores in the 50's with none of these being attributed to vests. Yuck.
He is a little awkwardly priced particularly in AFL Fantasy, those going with a traditional guns n rooks approach probably won't be able to fit him in. Although he is priced about 5 points below his career average, I don't really see Howlett as a big cash generator, maybe he will make you about $50,000 -$70,000 if he averages mid to high 80's.
For $30,000 more you could pick some bloke called Lance Franklin…apparently he goes alright (when he plays….)
Lefty's Call
RDT – If Benny can average mid 80's whilst showing up most weeks I will be pretty happy to slot him into my forward line. I also like to try and pick a player from most teams and if Fraser Thurlow doesn't make the round 1 team I will have no Bombers in my squad at this stage – although Jobe keeps trying to force his way into my midfield……
Fantasy – See what role he plays in round 1 (remember he started the 2013 season with a bang…) and if he starts well in 2014 jump on the bandwagon for round 2. Or go for broke in the 'free hit' round 1 and chuck him in, if he goes big early like last year he will make you some quick cash as well.
There you go, the sixth of the Leftfielders for the year. As always I am sure my pick won't be for everyone, but hopefully I have made a case for you to at least consider fitting in Howlett.
Cheers
Lefty
Feel free to give me a shout on twitter, @Lefty113