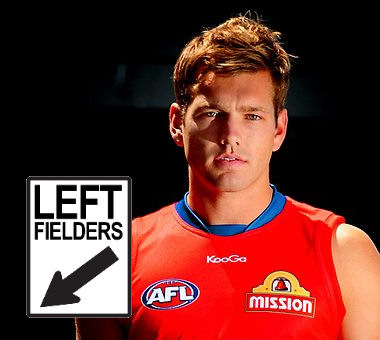 G'day all,
Another week – another Mitch Johnson barrage and another procession of 'batsmen' ducking for their lives. Great stuff Aussies keep it going and keep smashing them into the "cor pork".
The NAB cup has thrown up a few good games already, the opener was probably the most hotly contested preseason game I can remember.
I have used the team picker stats from the excellent DT Live to select my 'Leftfielders'. I have set the parameter that they must be in less than 15% of teams on the site to qualify. (To put this in perspective with 18 players in a league, 15% ownership is less than 3 owners of that player in your league by average)
Anyway, welcome to the fifth edition of Lefty's Leftfielders for 2014 – today up on Lefty's Leftfielder's is the Western Bulldog's Shaun Higgins (I can hear the chorus of laughing already haha)
Name: Shaun Higgins
Club: Western Bulldogs
Position: Forward
AFL Fantasy Price: $305,400
AFL Dream Team Price: $272,800
Bye Round: 9
Percentage owned: 10.5%
Argument For
Here we go, deep breath Lefty….
In 2013, Higgins played only 3 games for an average of a tick over 71 points per game. He put up a high score of 115 in the opening round which got a few people interested but he then only managed a mediocre 68 against Fremantle in round 2, followed by a disastrous 31 in Round 3. Injury to the navicular bone in his left foot finished his season there, with the plagued half forward put on ice for the rest of the 2013 season.
If we go back a season to 2012, Higgins played 19 games for an average of 76.8. If we take out his two sub affected games that average jumps up to 81.5 (from 17 games) which isn't too bad for a forward. Particularly for one that will cost you less than $280k this year.
Higgins cops a lot of flak and abuse for being injury prone, but if we ignore last year for a moment and look at his return from the previous 4 seasons it actually doesn't read as bad as I was expecting before researching this article:
Season                        Games                       Average
2012                            19                                   76.8
2011                             18                                   82.5
2010                            16                                   82.1
2009                            17                                   88.5
Total  Avg                   17.5                                 82.4
To put Higgins perceived lack of durability in perspective, if we take Buddy's last 4 seasons (2010-2013) Buddy has played 71 games, which is only 1 more game than Higgins 2009-2012 seasons (although Buddy's have been at the higher average of 94.90).
There is no doubt the Bulldog's rate Higgins very highly, with no further evidence required than Shaun wears the coveted number 7, last owned by seven time club best and fairest Scott West. Higgins has been touted as a future leader of the club, and coach McCartney has also hinted at playing Higgins on the wing or even half back this year, both traditionally more DT friendly roles than Higgins usual high half forward mainstay.
The Bulldogs like the ball in Higgins hands, with only Ryan Griffen (6.0 per game) averaging more inside 50's last year than Higgins (5.3) Albeit this was from a very small sample size it still helps outline the importance of Higgins to the Dogs.
With the development of the younger mids like Libba and the week in week out efforts of Boyd and Griffen, Higgins now has some support around him. If he can stay on the park and build an understanding with some of the inside types like Clay Smith, Koby Stevens etc he could conceivably end up playing a similar role to Montagna at the Saints. I am not suggesting he is as good as Joey just yet, but the role he should fill at the Dog's could well be very similar.
How's this for a dream set of fixtures. Melbourne twice. Giants twice -including the grand final. Suns twice. Saints in the first week of the finals. Bulldogs last 4 games are all played at Etihad so no issues with wet and wild days in August causing low scoring days and no travel load to worry about.
Round 9 bye probably helps those trying to set up a team around the bye rounds, (it doesn't help me with my previously mentioned round 8 tanking strategy), there aren't too many other obvious forward picks with a round 9 bye.
Argument Against
Its Higgins. Every time he goes near the ball your heart will be in your mouth hoping that he doesn't find a way to hurt himself.
He is a little awkwardly priced particularly in AFL Fantasy, those going with a traditional guns n rooks approach probably won't be able to fit him in. If (like most) you have already gone with Sandilands and Suckling as your mid pricers how many $300k players do you want? By this I mean for every two midpricers you pick (2 x $300k), you sacrifice a gun and rook combo ($500k and $100k)
Higgins has had an interrupted preseason and has only just rejoined the main group in training. This may result in either him being underdone at the start of the year or even potentially starting as the sub early in the year, the club is spruiking he will be right to go in round one but we will have to wait and see. He hasn't been named for the first NAB game either, if he does play in the second I would expect him to cop a vest.
For about the same price you could pick up Taylor Walker – or for about $30k more you could pick up Travis Varcoe, both of those have their inherent risks as well though. Cheaper again is Alex Fasolo too…….
Lefty's Call
RDT – IF he can stay on the park he should deliver mid 80's which means he will be a great F6 for the year. If he can stay on the park. Big if though…
Fantasy – Priced at over $300k seems a bit more of a gamble for someone like Higgins , but I guess this is where the 2 trades every week can help. At an 85 average he should gain value and peak about $450,000 which is not a bad result……
There you go, the fifth of the Leftfielders for the year. As always I am sure my pick won't be for everyone (especially this week lol), but hopefully I have made a case for you to consider Higgins. Even maybe some of those who have him on the 'never again list'
Cheers
Lefty
Feel free to give me a shout on twitter, @Lefty113