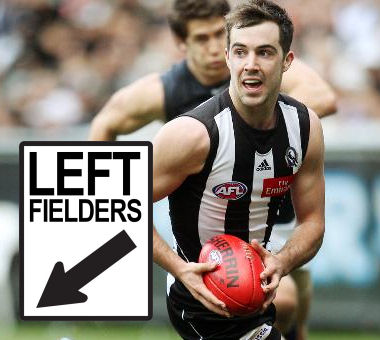 G'day all,
*This article was started on Tuesday, so please don't accuse me of jumping on the band wagon after one good score. Even if he had a crap game last night this article would still have come out, the fact he dominated does make my case more worthy though I admit.
Isn't it nice to have AFL back on the TV, I am stuck up in the far north on a work trip this week and it definitely was a welcome break last night to watch the game. Cricket is good – but lets face it footy is number 1! Although the pub I was in watching the NAB game had the cricket on as well – so that is pretty much the epitome of winning!
This whole 18 games in 18 days preseason feast is a genius idea – now we just need to get Good Friday over the line and it's pretty much perfect fixturing from my point of view haha.
I have used the team picker stats from the excellent DT Live to select my 'Leftfielders'. I have set the parameter that they must be in less than 15% of teams on the site to qualify. (To put this in perspective with 18 players in a league, 15% ownership is less than 3 owners of that player in your league by average)
Anyway, welcome to the fourth edition of Lefty's Leftfielders for 2014 – today up on Lefty's Leftfielder's is the Collingwood's Steele Sidebottom.
Name: Steele Sidebottom
Club: Collingwood
Position: Mid
AFL Fantasy Price: $523,000
AFL Dream Team Price: $527,100
Bye Round: 8
Percentage owned: 0.6% (!!)
Argument For
In 2013, Steele played 22 games for an average of a tick over 96 points per game. He cranked out 11 tons which is pretty good (50%) -"but hardly premo territory Lefty" I hear the masses call out. "Better value with others like Cotchin and Stanton" I hear you cry – and rightly so. Steele's 2013 average was down nearly 10 points from his 104.6 average (from 21 games) in 2012 – so why the hell is Lefty putting him forward as a viable Leftfielder?
Two words.
Dayne Beams.
In the 14 games in 2013 that his buddy Dayne didn't play, Steele averaged only 92 points per game.
In the 9 games they played together last year (including the EF loss to Port) Steele averaged 104.6. That's almost a 13 point swing to the better when Beams plays and is also EXACTLY what Steele averaged in 2012 when Beams played all 21 games. Bit more interested now?
When Beams plays opposition tend to focus on him, Pendles and Swanny so Steele is often the one they let off the chain. A good motor and ability to find space has him often racking up +6's as the link man, plus he is getting his goal average up to almost one per game. With the star studded Pies midfield it is hard to imagine many teams electing to apply a hard tag to Steele so when the others are all up and running it spells fantasy gold for the 2010 Name of the Year recipient.
Another benefit could be that with the absence of Heath Shaw this year it remains to be seen who picks up the link responsibility between the backline and midfield. It seems those I speak to are generally of the opinion that the artist formerly known as Harry O and Clinton Young will fill this role, but maybe Steele will pick up a few extra touches here as well?
This guy has proven himself to be very durable, playing at least 21 games in each of the last 4 seasons. Perfect for our fantasy sides, no silly suspensions or late withdrawals to worry about here. Plays week in, week out and has the ability to rack them up.
High scores last year of 143, 143 and 126 show Steele has the proven ability to go large – very important as a unique pick.
Argument Against
To be honest the biggest argument's against Steele are his price and his bye round.
He is at a little bit of an awkward price, but I believe he is about $50,000 under priced based on his expected average of 105. At around his starting price, more popular selections have been Cotchin (in about 30% of teams) and Liberatore (about 9%) of teams. Both are good players and Libba in particular is one to watch, although Libba only had 9 tons last year and Cotchin had 11 – the same as Steele. Cotchin is a fraction cheaper but far more likely to get a hard tag and Cotch shares the round 8 bye.
The bigger issue for most teams is how many Pies is too many? Beams is close to a 'must have', Swanny and Pendles are deserved uber premiums we will all want in our sides by seasons end and a decent showing in the NAB cup will have Clint Young in most sides. How many Pies can we fit into our starting teams bearing in mind the looming round 8 bye? More and more I am looking at 'tanking' round 8 and stacking my starting side with Pies, Suns, Cats, Roos, Crows and Tigers . I will almost certainly lose my league games and suffer a drop in my overall ranking in this one round but I hope the 'best 18' advantage of almost full squads in 9 and 10 will offset this loss.
2013 did see Sidey return some low scores, notably a 46 and 49 in rounds 3 (Hawks) and 6 (Saints). I am not sure what happened in the Hawks game, but I remember Geary wore him like a cheap suit in round 6. Even more evidence of how crucial Beams is to Steele's scores!
He is only available as a mid which is a bit annoying, would have loved to have him sitting next to Danger in my forward line.
Lefty's Call
RDT – As long as he and Beams are lining up round 1, I will be starting with Sidey. This suits my bye strategy, but for those trying to set up a team to provide 18 on field in all 3 weeks I doubt you will be able to fit him in?
Fantasy – Watch the Steele Beams combo provide the foundation of the Pies fantasy scoring in round 1 (very bad pun intended) and if all goes to plan decide if your bye structure allows another Pie's/ Round 8 bye mid.
There you go, the fourth of the Leftfielders for the year. As always I am sure my pick won't be for everyone, hopefully I have given a few of you something to consider though.
Cheers
Lefty
Feel free to give me a shout on twitter, @Lefty113