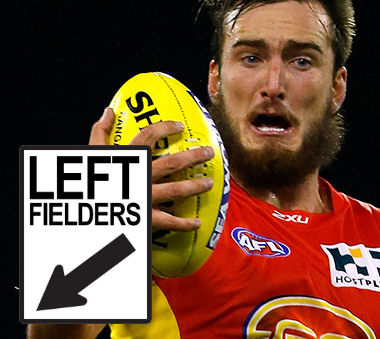 G'day all,
First preseason game of 2014 tomorrow I can't wait!
I have gone through my team and looked at who is my number 1 "Leftfielder" this year and decided to offer him up now. I was going to save him for last but then I thought it may (likely will!) change once we see a few preseason games so I may as well use him up now.
I have used the team picker stats from the excellent DT Live to select my 'Leftfielders'. I have set the parameter that they must be in less than 15% of teams on the site to qualify. (To put this in perspective with 18 players in a league, 15% ownership is less than 3 owners of that player in your league by average)
Anyway, welcome to the third edition of Lefty's Leftfielders for 2014 – today up on Lefty's Leftfielder's is the Sun's Charlie Dixon.
Name: Charlie Dixon
Club: Gold Coast Suns
Position: Ruck/Fwd
AFL Fantasy Price: $386,100
AFL Dream Team Price: $389,100
Bye Round: 8
Percentage owned: 6.6%
Argument For
In 2013, Dixon played  13 games for an average of a tick over 71 points per game. This average includes 3 games where Charlie received the dreaded red vest, if we take these 3 games out his average goes up to almost 80 points per game. This was a welcome increase on his 59 point average from 12 games in 2012 and reflects his improvement as a player and the Sun's general improvement.
He had a high in 2013 of 119 against GWS in round 5, and one other ton (110) versus Sydney in Round 2. Actually, Dixons best 3 scores of last year came in rounds 1 to 5 when he was fit – and very importantly so was Zac Smith. Dixon's best scores have without exception come in games when he is used primarily as a forward with a bit of pinch hitting ruck support. His poorer scores for the year (apart from his vests) generally came in games when he was used as the Sun's number 1 ruck due to their injury issues in that position last year (Smith, Nicholls). So far the Sun's ruckmen seem to be relatively injury free which should mean Dixon will be starting the year in his preferred forward role.
He is available to select as a ruck/fwd. Last year we were absolutely spoilt for options in this category (Cox, Nic Nat and Roughy to name a few) however this year there are far fewer options to choose from. Many teams I am seeing are going a combo of Sandilands and one of Hickey, Grundy or HMac. Indeed I am personally looking like going with a Sandi Grundy combo, with 2 rooks on the bench. By putting Dixon in your forwards and selecting Fraser Thurlow (Ruck/Fwd rookie) as your R4, you can give yourself a little bit of cover (particularly those playing Real DT with only 30 trades). Given the turf toe saga with Sandi, it would be no surprise to see the Dockers rest Sandi a few times during the year to minimise chances of reinjuring his foot, so having the additional cover could be a masterstroke.
The Sun's improvement means the ball should spend more time in the forward half this year, providing more opportunities for Charlie to pick up the +12's. Improved delivery from the developing young mids (Jaeger, Matera, Bennell, Prestia etc ) should also really help his scores.
Argument Against
Unvested lows of 37, 52 and 59 last year are the potential downside of picking a key forward in a struggling team like the Sun's.
I have said this before but having the bye round of 8 isn't ideal for those trying to manage their squad to avoid too many from each bye week. (I on the other hand am looking to 'tank' in one of the bye rounds and if so 8 is the perfect one in my opinion.)
I mentioned earlier that Dixon's role changed last year due to other players injuries, however he wasn't immune to the curse himself. On 3 separate occasions he was subbed out with injuries to his ankles, and he missed 9 games during the year. This is a risk as he hasn't been able to play more than 13 games in any of his first three seasons, and I am banking on him being over the ankle issue.
For $40,000 more I guess you could select Buddy as a pure forward, or for a little bit less you could grab a Dalhaus, Matera or Caddy  type but I am not sold they offer any more security than Dixon and they don't have the added benefit of ruck dpp.
Lefty's Call
RDT – If he was a ruck only I probably wouldn't have him in my side, but that flexibility with the (usually) worthless R4 via a dpp really adds to his value in my opinion. Those who are going for value in the rucks, what will you do if Sandilands/Hmac is rested in say round 6? Not many of the rookie rucks look likely to play much at this stage, (although that can always change I guess) so will you trade to cover a one week rest and use one of your precious 30 trades? Cop the donut? With a likely forward bench of Rohan and maybe Honeychurch I am confident I should have the depth to cover a one or 2 week injury/rest to either Sandi or Grundy by sending Dixon up to my rucks. I just hope the Sun's don't do the same in real life and leave Charlie near the big sticks most of the time!
Fantasy – The above flexibility is probably less important in Fantasy with the 2 trades every week meaning you can likely afford to trade players out for 1 week injuries.
There you go, the third of the Leftfielders for the year. As always I am sure my pick won't be for everyone, hopefully I have given a few of you something to consider though.
Cheers
Lefty
Feel free to give me a shout on twitter, @Lefty113