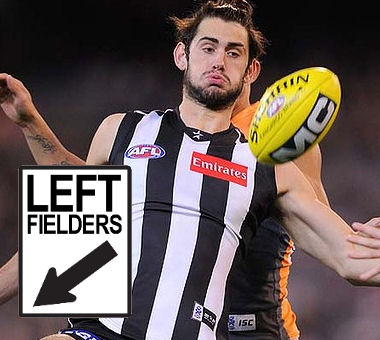 G'day all,
Firstly -I have just found out that next week we are going to commence 18 days in a row of footy(!!!) to tide us over until March. All I can say is anyone without Foxtel get involved now – and everyone with Foxtel and a partner/family start booking up brownie points because the glut of AFL viewing coming our way means very little chance of those household chores getting done!
Now onto the Leftfielder selection for the day, I have gone through the rucks and picked out one I believe offers value and is still not in many teams.
I have used the team picker stats from the excellent DT Live to select my 'Leftfielders'. I have set the parameter that they must be in less than 15% of teams on the site to qualify. (To put this in perspective with 18 players in a league, 15% ownership is less than 3 owners of that player in your league by average)
Anyway, welcome to the second edition of Lefty's Leftfielders for 2014 – today up on Lefty's Leftfielder's is Pie's big man Brodie Grundy.
Name: Brodie Grundy
Club: Collingwood
Position: Ruck
AFL Fantasy Price: $335,500
AFL Dream Team Price: $345,800
Bye Round: 8
Percentage owned: 14.7%
Argument For
In 2013, Grundy debuted and played the Pies last 6 games (plus the EF loss to Port) for an average of 70.3. Not bad for a 1st year rookie thrown in the deep end, his games coming due to injuries to the Pies number one ruck Darren Jolly and the decision to play Grundy ahead of Hudson with an eye to the future at the end of the year.
He caused a flurry of excitement with his first game delivering a 92 which included a very impressive 7 tackles.
Unfortunately this was to be his highest score for the year (very closely followed by his 91 against the Hawks) as the young man had a bit of a rollercoaster ride of scores with 2 x 50's, 2 x 60's and 2 x 90's.
In 2014 Grundy (at the tender age of just 19!) has big shoes to fill as he will start as the Pies number 1 ruckman, following the slightly surprising sacking of Darren Jolly in the offseason. Ben Hudson and Jarrod Witts are the only other listed ruckmen, although White and even Keefe I guess could pinch hit. As long as he stays fit he should be #1 ruck for the year, which I believe gives him a bit more security than Tom Hickey/ Billy Longer.
He is similar to another Pies player in SP10 in that he comes from a predominantly basketball background as a junior  – if only that meant he was also going to be a superstar!
He will now have a second preseason under his belt at the peerless Lexus centre, if ever there was an environment conducive to fast tracking development of players it is that one. Already a beast of a kid, early reports are he hasn't missed any conditioning sessions and is injury free.
Collingwood's high possession game also helps him, numerous times last season he was spotted up with the lateral 'hold up' kick, usually if Travis Cloke was covered down the line. Another preseason of learning to shout for the ball and his team mates knowing his skills should result in even more willingness to kick it to him.
Argument Against
Jesse White has been drafted in and there is no doubt he is capable of playing that roving forward/pinch hit ruck role that the Pies have proven a liking for (think Leigh Brown, Quinten Lynch). What does this mean for Grundy? Will they vest him at 3/4 time and go with a running game late with the likes of White, Keefe in the ruck?
His erratic scoring (from a pretty small sample) is obviously a concern, are the 50's the anomaly or are they closer to what we should expect? With Cloke, White and Reid up front, Collingwood would be very top heavy adding Grundy to that mix so resting forward may be a concern? Although both Grundy and White are pretty agile at ground level for big men so they may decide to go with it, or even throw White into the ruck as said above.
Having the bye round of 8 isn't ideal for those trying to manage their squad to avoid too many from each bye week. (I on the other hand am looking to 'tank' in one of the bye rounds and if so 8 is the perfect one in my opinion.)
Big men generally take time to develop – as a Perth fan I can remember the early days of Dean Cox, who has become the premier big man of the modern era. At 19 years of age big Coxy couldn't run out of sight on a dark night let alone handle the aerobic demands and physical contact of AFL rucking. Will Grundy be able to handle the mantle of being the number one ruck for the whole year?
Grundy has shown in his brief career to date an unwelcome habit of giving up free kicks including the game against North in which he gave up 5 FA's. Willingness to try and lay a tackle is one thing – but very costly when the tackle is recorded as an in the back free. +4 suddenly turns into -3 for a 7 point swing and frustration for owners)
Lefty's Call
Interesting but largely pointless fact – Grundy's birthdate of 15/4/94 is actually a footy score birthdate ie     15  4      94.
RDT – I am unable to pick who I think will be the number 1 and 2 ruck this year so I am going with value in my starting rucks. Sandilands is a given for most teams I would assume, its the number 2 spot that is up for discussion. Do you pay the premo price for Cox or Nic Nat and hope they pay back your loyalty by being in the top few rucks for the year? Not me, I am going with the Pies young man. I think he will be better in his first half of the year than the second as the rigours of AFL footy may wear him down over the 22 rounds, and he will likely be upgraded in my squad to whichever ruck is number 1 at the time (maybe around his bye for those worried about too many round 8 players in their team?)
Fantasy – Same as above for DT, except you could make a case that he is more relevant for Fantasy given the 2 trades per week means the likely trade of Grundy to whichever ruckman is looking like the number 1 for the season in about round 12 doesn't hurt as much.
There you go, the second of the Leftfielders for the year. As always I am sure my pick won't be for everyone, hopefully I have given a few of you something to consider though.
Cheers
Lefty
Feel free to give me a shout on twitter, @Lefty113