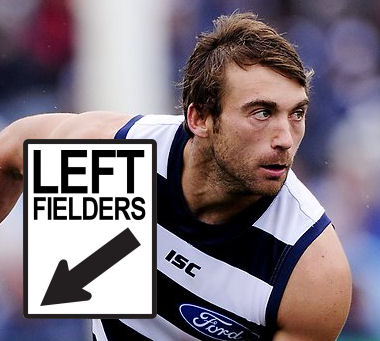 G'day all,
One all in the 3 test series between Australia and South Africa, really looking forward to the decider it should be a cracking match between two evenly matched sides.
I have finished with my 'offseason' Leftfield selections, and from here on in will be looking at those unique players who have impressed so far in the NAB cup ie 'preseason' Leftfielders
Call it jumping on the bandwagon after one good score if you like, but what I tried to look for was a lesser like who seems to have changed roles or even been granted a different/additional position for selection in 2014. Although this week I have thrown all that out the window and decided to talk about an old stager who I think is just going to keep on doing what he has done for years – I reckon he has been in almost everyone's side at some stage over the last 4 years?
Anyway, welcome to the eighth edition of Lefty's Leftfielders – today is all about the Cats old master Corey Enright.
Name: Corey Enright
Club: Geelong
Position: Defender
AFL Fantasy Price: $480,300
AFL Dream Team Price: $484,100
Bye Round: 8
Percentage owned: 2.7% (UBER-NIQUE- the phrase for those players owned by less than 1 team per league on average)
Argument For
His lone 2014 NAB game returned 128 points in a fiercely contested match with Collingwood which ended in a 2 point win to the Cats. 25 kicks, 11 handballs and 10 marks is a fair night out and reminded me of just how good a player Enright still is. The Cats continue to look for Magnum at every opportunity and there were many chains of possession in Geelong's back half which ended up with the pill in the hands of the number 44.
In 2013  he averaged 88.6 points over 21 games, this included 6 tons and a high of 124 versus Sydney in round 22. He went on a long streak of high scoring from rounds 5 -15, returning 4 x 100's, 4 x 90's and 2 x 80's over this stretch to average 96.7 over this stellar period. That is right up there with last years best defenders, and only a shade below this years highest ranked defender McVeigh who averaged 97.7 in 2013.
The departure of Josh Hunt in the off-season has probably helped ensure Enright will play every game across half back in 2014, as the Cats will be reluctant to take any more experience out of their back half. That said though with Taylor, Mackie and Rivers still down there it's not like it's a group of bright-eyed schoolboys down back for Geelong as those three alone combine for about 480 games of experience.
He has proven himself to be amazingly resilient since debuting all the way back in 2001, having missed only a handful of games in his last 8 seasons combined. Only once since 2006 has Magnum played less than 21 games – and that was in 2011 when he played 20!
His last 5 seasons numbers are below, to be honest with all the plaudits that have gone to Stevie J, Selwood, Chappy etc I think Enright has been a little underappreciated for just how good he has been.
Season                        Games                       Average
2013                              21                               88.6
2012                             21                                80.7
2011                              20                               91.9
2010                             21                                91.8
2009                             22                               89.7
Total  Avg                    21                                88.5
So over 5 seasons we have an average of 21 games per year at a cracking return of 88.5 ppg, that has him firmly entrenched in the very top echelon of defenders.
Argument Against
In 2013 Magnum had a low of 48, however this came in the last round versus Brisbane so I am not certain how hard Enright was trying? He had a forward tag applied in a few matches, Matthew 'preseason hype' Wright kept him to only 63 when the Cats met the Crows in round 17. There is nothing new in a forward tag on Enright and most times he breaks free, but occasionally someone will shut him down for a game.
One thing that you may want to consider is picking him up after his bye if that suits your bye planning better. Hows this for a nice set of fixtures-
Round                     Opponent
12                              Carlton
13                              St Kilda
14                              Gold Coast
15                              Essendon
16                              Bulldogs
17                              Demons
18                              Giants
If you decide not to start with him, can I just say that you would definitely want to be bringing him in for this series of games. Heck you could make a case for bringing in the whole Geelong side with this run!
You will not make much (if any cash) out of picking Enright, his highest season average is a tick under 92 and he is priced at 89 this year. You are not picking him to make you cash though, he is a set and forget keeper you can build the rest of your back line around.
He is 32 years old, normally this would scream 'Warning,Warning' but he has shown no signs of succumbing to the soft tissue injuries that tend to hit older players (Chappy's strings honourable mention). Can Enright keep cheating father time and have another injury free year? I am not too worried but it probably needs to be considered.
For almost the same price you can pick up Luke Hodge in your back line, Hodgey certainly has some good games and in full matches over the last 4 years probably scores about 5 points per game higher than Enright, but Hodge has had injury issues and has missed a few games at least every year, as well as only playing 8 games in 2012. Do you pick the slightly higher average or the regular player – I know which one I prefer!
Lefty's Call
RDT – Locked. A bit surprised more people haven't jumped on him after his eye-catching NAB game, but maybe they are already loaded with round 8 bye players? You will need him by round 12, maybe a first post bye upgrade target?
Fantasy – Same as Real DT, whatever your strategy to handle the byes you will need Magnum by round 12.
There you go, the eighth of the Leftfielders for the year.
Cheers
Lefty
Feel free to give me a shout on twitter, @Lefty113