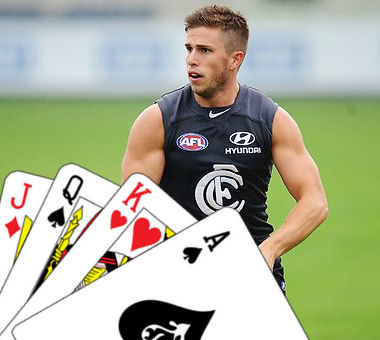 Name: Marc Murphy

Club: Carlton
Position: Midfielder
AFL Fantasy Price: $463,500
Real Dream Team Price: $467,200
Bye Round: 9
2013 Average: 85.5
2013 Games Played: 21
Predicted Average: 105
Why should I pick him?
Last season was the first time since 2008 that Murphy finished with a season average of less than 97! He has made a career of being a consistent premium scorer, tallying at least 8 x 100+ scores each year (including last year's injury-affected, 16 game season). Until last year's 'roadblock', he was coming off 2 x consecutive seasons with a 100 avg. The man is a genuine A grade midfielder still on the rise.
Despite injury concerns mid-way through 2013, Murphy still managed 21 games. That's one of this man's real strengths – his durability. 2012 saw him taken out by Dangerfield (unintentionally), which saw him injure his AC Joint and miss 7 games. He then managed to come back after that and play out every game to end the year on a positive note. In every other season since his second year, he's played at least 21 games per year – including 4 seasons without missing a game. Durability – check.
Isaac Smith, Ryan Bastinac, Bernie Vince – these are the guys that are priced around the same as Marc Murphy. You don't have to be a savant to know that Murphy's potential to improve his average (once again) into the 100+ range is far greater than any of those names mentioned – or for many priced higher than him for that matter. In fact, if you take out the 3 x injury affected scores from 2013, Murphy's average automatically rises to 92 – so there's a hint of his value just to begin. In my mind, Murphy is certain to bounce back to premium status in 2014 and represents the greatest value of any player likely to push into premium territory barring perhaps Dayne Beams.
At the risk of dragging this on too much, I have to mention that the Blues have a great opening draw – they play Port, Dees, Dogs, Eagles, Pies and the Saints all in the first 8 rounds – if we go off his combined averages against these sides from 2012+2013, the number is 104. If we go solely off his more profitable 2012, he would average 110 against these opponents. This alone should give you confidence that he will start the year with a bang.
Will Murphy be a top 10 midfielder by years end? Maybe not. But he's at least $100k cheaper than my predicted average for him, which will prove very handy this year. At the very least, he'll be a handy scorer until his R9 bye – after which you can keep him on as a handy M8/9 or upgrade him to one of the fallen top-10 premiums at your own will.
Personally, I think the Blues are in for a good year and Murphy will be driving that from the front – so I'm on board the #SmurphTrain
Why shouldn't I pick him?
Last year was his first year as Carlton Captain, and it was obvious to many that for the most part of 2013 – Murphy struggled with the added pressure. We see it almost too often: player X is smashing it, then boom – he gets the captaincy and he struggles to retain the same effectiveness with the added pressure.
Murphy dropped his average by 15 points last year with only a few minor injury dramas. For some, that's more than alarming. With Judd on a downward trajectory, Murphy is Carlton's most effective and damaging midfielder. This means he'll get the #1 tag most weeks. In recent times, he hasn't proven that he can consistently break free. He was held to 55 in R19 against Crowley and 70/73 in R9/10 against Brisbane and GWS. So be prepared for a few of these scores throughout the year. Luckily for him though, he doesn't face any of these three opponents before R11 – so he should hold strong until the MBRs at least.
Deck of DT Rating.
KING – I'm wary of giving Smurph an ACE rating here due to his unlikeliness of pushing into the top-10 overall scorers, but value will be of greater importance in 2014 owing to the higher rookie prices in AFL Fantasy or the stagnating Salary Cap in Real Dream Team. If he can raise his average by 15-20 points and play 20-22 games, Marc will be one of the most successful picks you'll make next year. Can he do it? Yes he can!
#SmurphTrain
FOLLOW ME ON TWITTER: @McRathDT for my honest and unbridled opinions on AFL Fantasy. Let's get the deck discussion going, using the hashtag #DeckofDT.