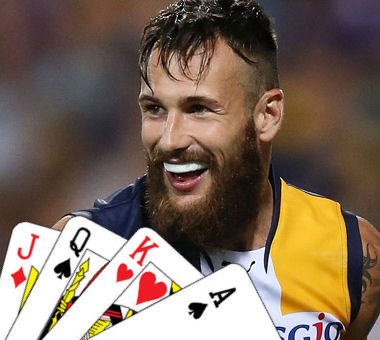 Name: Chris Masten
Club: West Coast Eagles
Position: Midfielder
2014 AFL Fantasy Price: $533,400
2014 Dream Team Price: $537,600
Bye Round: Round 9 (shared with Carl, GWS, Haw, Port, WB)
2013 Average: 98.41
2013 Games Played: 19
Predicted Average: 107
Why should I pick him?
A few years ago, I really didn't like Chris Masten as a footballer. He came with big expectation as a number 3 pick (that's Chris Judd expectation too) and after his 4th year in the system, had only just cracked our best 22 and had a sh*t haircut and sh*t tattoos. He hadn't even won a Brownlow FFS!
Come 2012, Masten thought 'Shit, I better put my big boy pants on now' and decided to get serious about being a Footballer. He got a tank to run all day. He got rid of his sh*t haircut (sort of). He got a beard. He cemented himself in the Eagles' midfield as a future leader, and with it his DT points increased. Masten broke out in 2012, increasing his average from 58 in 2011 to 85 in 2012. 2013 saw this trend continue and Masten bring some Priddis-like consistency to his game, with only 4 games below 90 (this included a vested 22 and 64 in the final round when the cue was in the rack) and a respectable average of 98.4. Take out the vested score of 22 due to an ankle injury in round 18 and Masten has an average of 103, so already comes slightly discounted in 2014.
What interests me with picking Masten in 2014 is his ability to still pump out elite scores when his team is getting smashed. It's Round 17 vs Sydney. West Coast were convincingly beaten by 6 goals but 'my boy' still racked up 31 touches, 5 marks, 7 tackles and 134 DT points to boot. While I'm amazingly bias and think we're a chance next season, the fact of the matter is that we'll have to get use to a new coaches' game plan and will still be on the wrong end of some beatings. Knowing that your players are not down-hill skiers is always a nice thing. Masten has also become a bit of a ball magnet, increasing his disposals to 26.3 a game and also has a positive kick: handball ratio. Add this to his 4.4 marks and 3.9 tackles a game and Masten isn't far away from averaging Tbetta's fabled 'triple trouble' (25 possessions, 5 marks, 5 tackles) which only few gave done. It also puts great faith in your players when the like to tackle like this. That's a +8 there.
The eagles draw is another reason to consider Masten. Due to putting the cue in the rack in about round 21, the Eagles now have a pretty sweet draw before their bye. In the first 8 rounds, they play Bulldogs, Melbourne, Saints, Port and the Giants which mean players like Masten could be off to a flyer and will give supporters like me a false hope.
Why shouldn't I pick him?
Well it seems like the flavour of the month in the mids is 'value' and as there is a hell a lot about. I can definitely see it hard to justify picking someone like Masten over Watson, Liberatore or Steven who are all within $7k of Masten's starting price. At this value, it's reasonable to expect a 110ish average for the money but at the end of the day, value is subjective and if your crystal ball says Masten will average more than these guys, well go ahead and pick him! (Props up to 'Danidog' who optimistically has him averaging 132 on the drawing board at the time of writing).
What also is a concern of climbing to the top of Eagles' midfield tree, that he will be at the head of the queue for a tag from some of the games' best. While he had a couple of tags in 2013, he beat them and still performed well. In 2014, I think the tags will continue as in 2013, he managed to increase his disposals by 5 per game, yet keep his efficiency above 70% which is better than Jobe Watson( 27.5 disposals@ 67.7% efficiency)
While it is encouraging to see that Masten finally played a full season in 2012 and put his injury woes behind him, 2013 saw him miss 3 games, 2 games with foot and ankle issues and one 'omitted' (because you drop someone who  26 disposal, 6 marks and 7 tackles in a 53 point win). What was encouraging was the amount of time he had off after the ankle injury that vested him in round 18. It looked pretty serious, with Doc Larkins listing it as 'minimum 2-3 weeks' (grain of salt there) only for him to return in round 20 for a 120 point performance. Missing 2 games in the last 5 is not what a fantasy coach needs from his blue-chip midfielders.
Deck of DT Rating:
King – Masten has all the signs to suggest that he can take the next step to elite and I'm gonna make the call that he will be in this bracket by the end of 2014.  Like Tbetta and Jeppa with their 'boys' from West Coast, I'm making Masten 'my boy' in 2014. Watch him crash and burn now!
I think Masten will be more suited to AFL Fantasy Classic as you can pick him to try and take advantage of the early draw, where as in Real Dream Team, you'll have to pick him as a keeper. There is definitely upside to picking Masten as a unique pick ]as he is only in 2.2% of teams on the Drawing Board, yet  all coaches are quite optimistic about his chances this year, with all but 1 coach pencilling in a 100 point average. But at his awkward price there are a lot of solid options that may just get the nod over him.
FOLLOW ME ON TWITTER: @jimbobholder. Got something to say about the deck? Use the hashtag… #DeckofDT. Fantasy Pre-season is here!