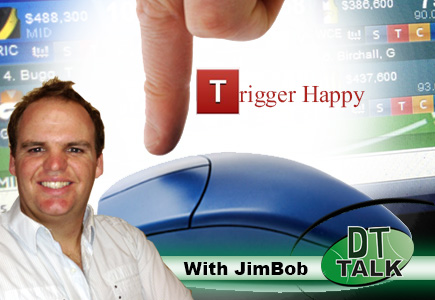 Well here we are at the final round of AFL Fantasy for 2013. It has been quite the experience, with many highs and lows along the way. As Dunny mentioned this morning in the Scramble, we are generally in unprecedented territory with 2 trades left in the last round of DT. This time last year, my strategy was to simply just hang on and prey that all my players didn't get rested!
This year with 2 trades in the last round, it's almost a little luxurious as shown by the most popular traded player out this week – JJK. From all reports, he isn't injured, he's just $hit at the moment and we can all afford to move him on.
Match Analysis
Overall, team selections have been pretty kind to us this week. Apart from our mate Ross giving a couple of POD's in Mundy and Fyfe a rest, there hasn't been too many omissions of note. So instead of analysing each line, I'm gonna analyse each match and see if there is any rabbits I can pull out of the hat.
Sydney vs Hawthorn
The context – Sheep stations are definitely on the line in this match.  Hawthorn need a win to maintain top spot and Sydney need this win to convince us they are genuine contenders this year after a lack-lustre month of football. We have a live game here.
Players of note:
Jordan Lewis ($433,200) is back in after being a late withdrawal last weekend. Has a decent record against Sydney so I would play him with confidence. Ryan O'Keefe ($396,000) is in terrible form at the moment, but is a big game player. Had 142 on the Hawks in rd 22 last year, so may turn up. Luke Hodge ($454,000) has the highest projected score of any hawk, mainly due to his 120 earlier in the year. Named in the centre square and another big game player. I wouldn't go there personally.
St Kilda vs Freo
The context – Ross the boss reckons he can knock off his old side with the B team – that's how much he rates Kosi and Blake. Freo need to win to have any chance to make 2nd and next to no chance of slipping to 4th. Will have plenty of kids trying to impress to keep their spot for finals. St Kilda will be trying to get a win for Kosi and Blake so this could be an interesting game.
Players of note – Joey Montagna ($506,000) is a popular in this week after a couple of months of stellar form. Had 117 on them at Paterson's last time, but likely to get the Crowley tag first up. Always has me worried. Pavlich ($383,500) has been in good form since returning from injury and a popular in this week with little competition from St Kilda's back line.
Geelong  vs Brisbane
The context – Geelong need to win to make sure they keep 2nd spot and a home final (wherever that will be) and you don't want to flirt with winning form. Brisbane have a hail Mary chance at finals, but at Simonds Stadium, not too many give them a sniff. A live game for at least a half.
Players of note:
Paul Chapman ($437,000) had about a half of a game last week and you would think they would want to give him a full game this week coming into finals.  If he does get the green vest, he'll likely get it for the whole finals series. Should be pretty fresh and proved last week he can still rack up points but a bit pricey for me (as opposed to the risk). Geelong players in general love Simonds stadium so getting in any of Selwood, Enright or Stokes, is never a bad idea. There is no one from the lions that I would recommend bringing in (only if you don't have Rockliff)
Port Adelaide vs  Carlton
The context – this is where the race for 9th starts. Port want to keep winning and Carlton need to win to ensure they make the finals. If Carlton wins here, the race for 9th is virtually over and other games become fizzers. If they don't, then it's game on.
Players of note
For Carlton, Kreuzer comes back in, but may be under done after a few weeks out.  I think it's time for Carlton Skipper Marc Murphy ($353,000) to have a big game if they are any chance to win here, but probably first in line to get a Kornes tag. Matthew Lobbe ($466,000) is on fire of late and only in 1.4% of teams! Comes with a price tag but. Travis Boak is usually very quiet against the blue baggers, but probably gets Carrots each time. Will still get a tag, but I'm backing him to break it and pump out a big score and Port to continue their fairytale season.
West Coast vs Adelaide
The context – Could be a dead rubber, could be a live game if Port smashes Carlton (The first time ever the Crows are going for the Power).  I don't think the eagles have too much interest in winning, not when pick 6 may be on offer as opposed to pick 10/11 if the eagles win by a bit ( playing Adam Selwood also reflects this).
Players of note
Probably a little bias here, but I love the consistency that Scooter Selwood( $494,000)and Chris Masten ($429,000) have developed this year and expect nothing different this game. Both good POD's for this week. Patty Dangerfield ($433,000) is the sort of player who can get off the chain (especially if  A Selwood runs with him, and not S Selwood)  and I think he is due for a big score. Will lead from the front with Scotty Thompson ($377,000) of there is a sniff of a finals hope. Hopefully, the eagles can once again nullify Adeiade's finals campaign!
Essendon vs Richmond
The context – Despite technically being a dead rubber, I think it will be far from it. Essendon have something to prove after the week they have had and have to show up for their fans. Richmond are in good form and don't want to change that. Let's hope for a shootout.
Players of note:
Watson ($469,000) and Cotchin ($444,000) have both been named in the square. Would be great to see them both go head to head and if it did happen, you could see big scores from both players. Cotchin has 99, 143 and 145 in his last 3 against the bombers, while Watson has 122 and 134 in his last 2 against the tigers. Will Cotchin get subbed again as management for the finals if the game is in the bag? Deledio had 160 on them last year and 3 tons in his last 3 games.
GC vs GWS
The context – Nothing to play for here but pride and careers next year.  Hopefully GWS can get up for Sheedy's last game as coach and make a fist of the game.
Players of note
Will Gary Ablett ($444,000)return to form? Is he injured? Or is this the evolution of the suns not requiring him to have the ball every second possession? I'm not sure and am currently considering benching Ablett as I think he will get a tag from Scully/Whiley too. Charlie Dixon ($303,000) has been named in the ruck and can go big. One to consider.
Collingwood vs NM
The context – Could be a live game for NM and we see them come in and swoop the last spot in the finals with their superior %.  Collingwood just want to maintain their good form to have any chance of going deep into the finals and should be up for the scrap from NM.
Players of note –
Steele Sidebum  ($491,000)has his BFF Beams back in the team this week, which usually translates into a big score. Had 106 on them earlier this year and projected for a 120. Swanny is at the sty' and where he is as happy as a pig in the proverbial and a lock for the C. Toddy Goldstein ($400,000) is a popular replacement for the rested Zac Clarke which seems a good replacement as his last 2 scores against the pies have been  101 and 104. Up against 5 game veteran Brodie Grundy, he might show him a thing or too. Then again, Goldstein could go one better than last year and flop in the GF, rather than the prelim! You have been warned!
Melbourne vs Bulldogs
The context – While this match has sweet FA relevance to the AFL season, it has a hell of a lot of relevance in the Fantasy world! A lot of coaches may choose players like Griffen as captain, while others are bringing in Liberatore and Boyd for that final Sunday push. There can't be too many from Melbourne who are not playing for their careers on Sunday, so you would think they would get up for the occasion?
Players of note
Beware of form tagger Jordie McKenzie as he will go to one of the above mentioned three, and likely Griffen. I Expect a big game from Luke Dalhaus ($400,000) and Bob Murphy ($380,000) to comeback after last weeks' 49 as it is the mid players who pick up their scoring against the dees, not just the big names. Rookie Dean Terlich ($401,000) is likely to finish the season as the dees most valuable DT player, which says a lot about the state of affairs at Melbourne. It's also hard to even think about who you would even consider  from the dees in 2014? That's what I thought…..
So there are definitely some points of difference in there to consider if you are behind in your projected and need to make up some ground. Should be a good weekend of football and I'm sure there will be a surprise or two!
Running review
2 wins and 2 losses for The Running Man in major prelims and through to the GF of the of our writers league. Have to beat the 9th ranked @TeeTee to get the chocolates so have my worked cut out for me. Unsure of my trades as yet but will definitely upgrade JJK and maybe Cotchin, but his history against the bombers has me over thinking things now. Swanny is a lock for the captain and then it's cross my fingers time.
Thanks
I would like to say a big thank you to all the coaches for their well wishes throughout the season. Writing a weekly article can sometimes be tough as it is quite time consuming (I'm also a very good procrastinator) so people nice comments and well wishes go a long way to keep me motivated along the way. Looking forward to a nice break an enjoying the finals for just the football and not possessions/tackles goals (will still have a look out of habit though). Have some big ideas for next year and welcome all feedback and suggestions on how I can improve the article to make as relevant as possible.
Good luck to all in GF's and Especially Hook for the number 1!
As always, Give me a follow on Twitter @jimbobholder