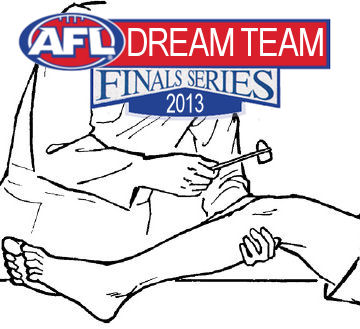 Well it's a feeling of mixed emotions today. We are finished for the 2013 Dream Team season. No longer will we be able to watch our favourite premos and cheer every time they get a touch, nor can we yell at those players we love to hate. Our weekends will suddenly be filled with emptiness. Then again, DT has basically turned to sh*t in the last month so it probably earns us a well deserved rest. 23 weeks of blood, sweat and tears came down to this weekend for many DTers… and things might not have gone so well. For the final time this year, it's time to knee-jerk!
The Legends
So who were the players won Grand Finals of their own boot? Their certainly could have been a few! Even some much maligned jerks of times gone by stepped up to the plate. Yes I'm talking about you, Brent Stanton (149). And yes I traded him out. In fact looking at the list this week, there is an unheard amount of monster match winning scores. If I was to pick one who stuck his hand up for future seasons though, it would have to be Ellis (143). This man, in fact this kid is a beast! 25 kicks, 10 handballs, 16 marks if you don't mind. Who needs to tackle? Let alone win this odd thing called hard ball. Unbelievable effort and a hero in many DT grand finals. Cornes (143) has been a shock all year and for those of you who held the faith, they were rewarded with riches beyond their wildest dreams. Never write off a DT legend, they don't forget how to find the footy. Bartel (134) must be coming to the end of his DT days, but he wasn't going to go out without a bang. He was a POD in many finals due to that suspension a few rounds ago, and boy did he deliver. We will never forget you, Jimmy. Mumford (134) was one of the few POD trades to come off, then again what ruckman didn't smash it this weekend. O'Keefe (120) and Lewis (120) gave the middle finger to those who benched them. Pricks. Cox (133), Selwood (125), Dangerfield (126), Prestia (133) and Pendlebury (126) showed us glimpses of the past and the future in vintage displays. News is that Ablett (132) got word of some talk about transferring him out for the Fantasy Grand Finals. That was only ever going to end one way. Liberatore (148) made a late entry, we may have a new flat track bully king! My second last legend has to be DTTALK's own (How many times can we legally say that?) Tom Rockliff (140). He is approaching super premo territory and even fought off tags on his way to an 8 round average of 123! In fact he was behind only Joel Selwood (avg 124) for points scored in this time period. Massive effort! However the highest score of the 2013 season was still to come this round. Montagna (189) didn't have a Fremantle player come within 20m of him all day, let alone the much feared Crowley tag. If you were one to trade him out, then you have just experienced the ultimate FMDT moment. Congratulations.
The Sunday Chops
So why are we here? Obviously because for every player that wins you a GF, there is 3 that will lose it for you. Half of my never again list comes from Grand Final failures. And whilst it would be a big call, Beams (48) did a good job of getting himself there. But you know what I don't even care what he does. Meant nothing to me. SIDEBOTTOM (61) ON THE OTHER HAND. God almighty give me strength. I needed 78 from this peanut and he couldn't deliver. How can you get outscored by Danny Stanley first of all, but by 36 points? Deep breathes… Never again. And I don't say that lightly. Never, ever, ever, ever, ever, ever… *1 hour later* ever… EVER AGAIN. Ok that's me done, now for the 20 other sh*tstains.
Kennedy (34). Mate, I'm not sure if you realised but the AFL season goes for 23 rounds, not 20. Probably a fairly vital piece of info I would've thought. Some people went for a very viable POD in Masten (64). Unfortunately the Eagles left for their post-season trip a month ago. Not that they deserve one. Frankin (51) summarised his season perfectly with a another pitiful score. We thought he was the greatest DT forward in the land, surely he won't be affected by this contract business like Cloke. Fatal error. His season was almost as bad as Freo's performance on the weekend, you can throw Pavlich (50) and Barlow (56) under that bus also. Just on that game, Freo actually averaged 53. Yes 53. I'm not sure what you call that. Compare it to St Kilda's 92 average per player and you just about understand the violation that occurred.
I'm going easy on Enright (48) because he's been brilliant all season, but seriously… Never again. Thanks for your contributions Boris. Griffen (57) has had a blinder of a season, so personally coming up against him in my GF I reckon he deserved an off game. Well timed Griff, let's hope McKenzie gets de-listed! Bring back the Melbourne point fests! Remember when I asked what ruckman didn't smash it this weekend? Can you smell that? I think it's the Leuenberger (52) owners lighting themselves on fire. You dived into the haystack and managed to get pricked by that one needle. It's definitely time to bring on 2014!
The Clown
Even though his worst nightmare didn't come true, it came bloody close. Ross Lyon decided to fly a team recently picked up from the creche to play St Kilda, and boy did it nearly come back to bite him in the ass. Ryan Lester connects with that snap like he would 9 times out of 10 and Freo have just forfeited a home final. In fact that's what they did in essence. I do understand why teams rest players, but why not do it the round before? Western Australian teams aren't exactly new to travelling. It's not the best lead into a massive Qualifying Final against Geelong next week, I guess we'll see who has egg on their face come next Saturday! Either way, they looked like clowns on Saturday regardless.
What we've learnt?
After securing my cash league title, my celebration went something like this.
Melbourne and the Bulldogs are on the up. The pre-season favourites are not. How things change…
Hindsight is a beautiful thing. Unfortunately it's as useful as a parachute in a submarine.
Steele Sidebottom will be as welcome to my team next year as a fart in a phone box.
Being white is great. Almost as great as being a Selwood.
Trading for fixtures could very easily leave you madder than a baptist in a brothel.
Finally, and most importantly… Hook is unbeatable!
This game sh*ts me
Oooooooooooooooooooooooohhhhhhhhhhhhhhhhhhhhh jesus. Hold me back. HOLD ME BACK! Basically I needed Sidebottom to outscore Stanley by 36 to win 2 Grand Finals! The rest is history. But that's all it is, history. However the new 44 trade system does sh*t me when it comes to Grand Finals. You could be ranked 10,000 yet storm in to win a Grand Final. Yes it keeps people interested for longer, but does it reward those teams that were the best all season? I'm not so sure. And that's why this game sh*ts me!
The year in summary

What a year it has been. I began with a squad representative of a potato field, and somehow managed to recover to a respectable (Ok, it's pretty damn good) overall ranking of 136. Unfortunately it's fair to say the chops (and the bullsh*t) outweighed the legends heavily. We can only go up in 2014! It's been great writing for you all, and I can only hope that I eased your pain, if ever so slightly. Cheers!!!
If you enjoyed my raging and want a hittable punching bag when sh*t goes tits up, follow me on twitter @MattCraigDT. My views are honest, mostly helpful and occasionally entertaining! Also hit me up with any suggestions for who you thought were the Legends, Losers and Clowns, plus what you've learnt the past week. I value everyone's opinion!