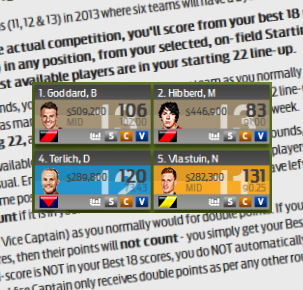 As we know, the bye rounds are just around the corner and we should all be thinking about how our teams are shaping up for them and hopefully you can get some league wins or make up some ground in the overall rankings. I want to keep this pretty short and sharp for the ADHD Generation that love to frequent the site – hey guys – but there's a bit to talk about!
THE RULES
As set out below thanks to Virtual Sports, the rules this year state that the Best 18 scores will count from the 22 players named on field. That means that while positions aren't as important as in the past, you can have a maximum of 6 defenders, 8 midfielder, 2 rucks or 6 forwards scores… not, for example, all 10 midfielders scores if you had them all playing and available.
You may have your starting 22 playing and then the best 18 scores will count. If you only have 18 players playing, but 9 of them are midfielders, unfortunately you can only count 17 of those scores as the ninth midfielder (on your bench) will not count. However, if this was the case for you team and a midfielder who was to be playing that weekend didn't, an emergency from the midfield bench would count.
HELP > POINT SCORING: http://dreamteam.afl.com.au/help/pointscoring
Probably some of the main answers people are looking for include the captain stuff – if your captain's doubled score is lower than 18 other onfield scores, it won't count. Also the reiteration of what I said about your emergency players ONLY counting if your player who doesn't have a bye, doesn't play.
THE SPREAD OF PLAYERS
In a perfect world, we could have 10 players from each bye round leaving 20 players available for each of the rounds. Sounds simple, but there wouldn't be many teams structured like that… and I highly doubt that there are many teams with their full squad of 30 players playing.
The key thing to remember here is that you need to aim to have a minimum 18 players playing for each week that come from your 22. This means that four players can miss from your 22… so there needs to be some thought on positioning. Say you've only got two defenders available in Round 11, that means you would need the full quota of midfielders (8), rucks (2) and forwards (6) to make up the 18 players. This is where a few teams will come unstuck.
To check this out, I recommend getting the Footy Nerd bookmarklet to easily see which byes your players are in. Below is how my team currently looks in regards to the byes with thanks to the bookmarklet. Also, check out Nix's spreadsheet from last week (updated Tuesday).
As it stands, my side would have (selection pending):
ROUND 11 – 6 defenders, 8 midfielders, 2 rucks, 6 forwards = 22/22 players playing
ROUND 12: 5 defenders, 8 midfielders, 1 ruck, 5 forwards = 19/22 players playing
ROUND 13: 5 defenders, 3 midfielders, 2 rucks, 5 forwards = 15/22 players playing
This gives me 7 / 10 / 13 structure if things didn't change from here.
TRADING STRATEGY
My current side doesn't look great with a lot of Round 12 and 13 bye players… but all is not lost. I will look to upgrade/downgrade some of those Round 13 players to players from other rounds… and then the big one, over the bye rounds, I will use my two trades each week to offload players with the upcoming bye for someone who just completed theirs. In a perfect world, this will be going a premium bye player for a premium (preferably fallen) player who is back in after their bye.
If you head in looking like 8 / 10 / 12 or 9 / 10 / 11 (with a good spread of players across positions), then you are in a good position to trade out players who have a bye coming up for those who have completed theirs when Round 12 and 13 hit.
In the lead up to the byes, make sure you're thinking about how many players you will realistically have available. This means some of the rookies you are banking on may not be there and of course, there could be some injuries that come and mix things up – remember Pendles last year?!
It's going to be interesting as I'm sure there will be quite a few curveballs thrown but you will need to be as prepared as you can. Don't go overboard with some of the stars – such as those Bombers, Magpies, Suns, etc, like I have – when upgrading over the next couple of weeks… you don't want to make your Round 13 score any lower than what it already will be.
Chat about your bye set up and strategy in the comments below.