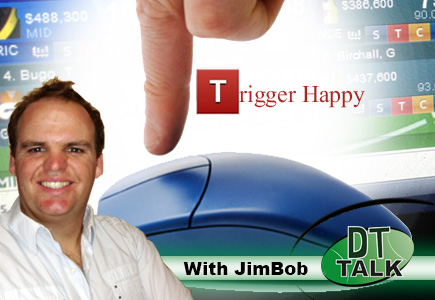 Hello!
Welcome to the first edition of Trigger Happy for 2013!
I decided to give the article a re-name and ditch the 'Good Trade Bad Trade' to encompass the new trading rules, as with 2 trades every week, we can all be Trigger Happy!
In this article I hope to analyse the most popular trades of the week and also provide a bit of info on the best people to trade in to your team, the people to get out (Jack Watts) and the people who you should hold onto.
New Goalposts – New Strategy ?
As we all know the game of Dream Team was turned on its head over the off season when were told we get 2 trades a week every week. This rule alone has put us all on the most level playing field that we have ever seen, as patient and disciplined coaches who held their trades past round 14, brought home the chocolates at the business end of the season. Not anymore. Last year, the first question that we had to ask each week was if  we should trade,while this year it's now the question of who to trade.
As the skill of patience and discipline of trading has been largely taken away, the fine art of whom to trade in when will become even more of a skill, as the top coaches look to stay ahead of the rest of the pack.
So what is the right trading strategy for success? Is it to load up on players who have easy early draws who are likely to have a quick price rise and make a quick buck? Or pick a well known fast starter like Stanton and look to trade him out just after the byes?
Personally, I am still going to stick to the same trading strategy that I tried last year in that a keeper will be keeper unless they are suspended or injured for more than 3 -4 weeks and  sideways trading a preium will still generally be a no – no. I still firmly believe that if you keep sideways trading guns out of your team for 1 week injuries or simply they had a crap score, it will take you longer to complete your team.  As I said before, now the question of if has been removed I think  a list of priorities  for trading every week would be the best way to decide on which trades are more important. Mine  look a little like this:
Trading for players on the bubble – pretty simple but without cash generation, we can't trade in the guns we want to finish our teams. If players come and start with a bang, you only need to keep them for 2-3 weeks to have made $100 – $150K.          All part of  DT trading 101 'buy low, sell high'
Trading out rookies who will start losing money – sell high and dont let those stocks plummet – Kyal Horsley was a great example last year!
Fallen Premiums – Another simple one.  Stevie J's 1 point game last year meant he became super cheap a couple of weeks later. It's going to happen again and you need to get guys of this caliber into your team, as everyone else will. Mitch Robinson in 3 weeks anyone?
Premiums who are injured or suspended for 4+ weeks –  this may seem a little silly as with so many trades, it's pointless hanging onto these guys, but I do have my reasons. Last year, Swan and Ablett were predicted to miss for up to 4 weeks with their respective injuries  but ended up only missing 2. Most people traded away while the disciplined ones held and reaped the rewards of saving a trade. Yes, I am fully aware that having this low on the trade priority list can go balls up; read Pendlebury and Buddy last year!
Trading for magic beans –  Who doesn't need magic beans?
Sideways trading * – Sideways trading is still a no-no for me.  So far, 475 people have traded Dangerfield to Swallow based purely on one score – a bit harsh I reckon! To think someone of Dangerfield's caliber won't bounce back  is absurd and if you run around chasing points from players that scored points last week, I don't think you will get very far. I am still very much in the school of thought that you try and get as many guns in your team as possible, and you don't do that by sideways trading.
* If sideways trading a perium was ever a good idea, it would be in the first 2 rounds when you need to jump on the missed rookies, or jump off a premium like Beams.
Anyway these are just some thoughts of mine that could change dramatically after 3 rounds. Every situation will be unique and can probably have a reasonable explanation for the trade. Still trying to think about the bigger picture is still very important.
Buyer Beware!
So far some of the most popular trades in to people's teams this week are household DT names like Suban, Vickery and Kreuzer (well Kreuzer always seems to pop up at this time of year)
Just in case you were thinking about jumping on one of these players with their impressive score in round one, maybe you should cast your mind back to round 1 2012 and see who came out big in round one and how they went for the rest of the season?
| | | |
| --- | --- | --- |
| Player | Round 1 score | 2012 DT average |
| Craig Bird | 127 | 68 |
| Kreuzer | 96 | 78 |
| Jack Trengove | 105 | 76 |
| Lindsay Thomas | 110 | 68 |
| Matt Rosa | 127 | 92 |
| Jack Steven | 115 | 84 |
Obviously it actually could be some of these players seasons – Suban could get a running back role for the whole season ( as if you would trust Ross Lyon though) Vickery could win the coleman, and  Kreuzer is a name that always gets bandied around at the start of the season. At least with Kreuzer, his size suggests that he takes longer to hit his peak and he actually could be a genuine breakout contender this year, but you do have another week to have a look before there is any price change. What makes a decision like Kreuz even harder, is that Matty Leuenberger chalked up a more than handy  110 points in the NEAFL over the weekend so could come in and go bang from the word go – how does this mess with your structure? But I digress, the point of this paragraph should be fairly simple to anyone who is following, don't pick Tyrone Vickery.
Stubby's Holders and Folders
As Kenny Rogers (and Johnny Cash) once said 'you've got to know when to hold em, know when to fold em' which couldn't be more right for DT. Knowing when to keep a player, and when to set them free will be some of the most important decisions you make all year. For those who don't know my surname is Holder thus having the nickname 'Stubby'. Each week I will take a look at some of the more popular players and give you a verdict if to hold or fold…..
Patrick Dangerfield $525,000 – In 2012 Dangerfield had that breakout season he has been threatening for a while, and many think he can go to another level again in 2013, even as a mid only. Come round one, I could not of been more certain who I was going to give the big V to. 51 points later Dangerfield has been far from dangerous – you think he would of tried hard considering he put the C on himself in his own team! There was rumours that he may of missed the game with the flu so he could of been underdone on the night so we'll give him the benefit of the doubt and another week. VERDICT – HOLD
Dayne Zorko $487,800 –  Owned by almost 1 in 3 coaches,  many were expecting him to pick up where he left off last year, but a 52 point game left coaches very underwhelmed. A bit like Danger, he may not have been 100% for the whole game with a going twinge and more time up forward. You picked him as a keeper, and I would of hate the rocket they got from Vossy after the game! look out next week! VERDICT – HOLD
Mark Le Cras $355,400 – Poor bloody Frenchman. A year on the sidelines and 2.5 quarters into his comeback, Mzungu does him a mischief and breaks his arm. Not totally sure if LeCras would of been in the top 10 forwards ( but is if based on looks :s)  and you can't have a player whose job is to make you cash sitting on the pine. As much as it pains me to say (his face would'nt be in my lineup)             : VERDICT – FOLD
Dayne Beams $599,400 –  You think we would get at least one week of no late withdrawals wouldn't you? Beams probably caused the biggest headache over the weekend with his late withdrawal and now likely to miss a week or two with a quad injury (maybe he can ask to borrow Ollie Wines' quads?). The positive is he didn't give you a crap score  and he hasn't lost any value. What else are you going to do with your trades this week? What's that? Jobe Watson is playing Melbourne?  VERDICT – FOLD
Final thoughts
My team "The Running Man" had a solid start to the season, with a respectable 2019 and sitting in about 4k,.  I'm inclined to not trade this week but jumping on the Ollie Wines bandwagon is tempting, which will give me some cash to get rid of Scott Lycett to Jon Patton. Alternatively, I could trade Byrnes to Leuenberger, swinging Cox forward and having a "Berger with sauce combo" (Leuey and Jacobs). I swear these two trades a week are going to burn a hole in my pocket!
So do you have any trading theories?
Do you think my strategies are a heap of $hit?
Who are you holding and folding?
Discuss it below!
As always give me a follow on Twitter @jimbobholder