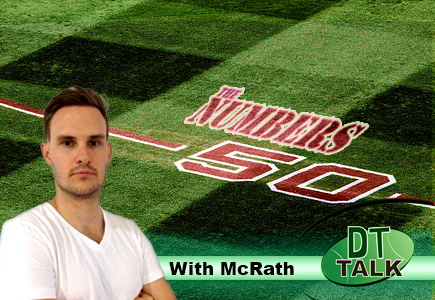 Ahh 2013 – a new year, a new season. With another new year comes another 22 rounds of numbers to explore. Now into my second year doing The Numbers, I'm happy to be back bringing you some interesting and out-of-the-ordinary figures that will hopefully bring cause for a few laughs and some deep thought throughout the year. Once again – a big thanks to the boys Warnie, Roy and Calvin for giving me a platform from which to write about what I'm passionate about; and Griff for his work putting together the graphics for my articles in 2013.
The Numbers… A unique look at the world of Fantasy Football.
2 – Shots that Blues X-Factor Chris Yarran sprayed in the final quarter of their tense matchup with old foe, Richmond in Round 1.  Now, no one can legitimately blame Yarran for losing the game for Carlton. It was lost by many more moments than just these two. But as a Blues supporter, I can tell you that at that moment, I sure as hell blamed him for it! No one will be more frustrated than Brock McLean however, as he was standing ten-out screaming for the ball as Yarran sprayed the shot that couldn't handed his team the four points. Was it all for Glory, or crumbling under pressure? Either way, Yarran looked a dejected figure after the game – so I dare say he knows. And it'll probably haunt him for a while.
4 – Goals scored by undoubtedly the game's best player Gary Ablett in his side's round one win. Seriously, what can't this guy do? Any musings of this guy not keeping up his high standards in 2013 was put to bed as he smashed out a handy 135 points in a low-scoring round of AFL Fantasy.
10 – The Kennett Curse continued Monday afternoon as Geelong hung on to win their 10th consecutive game against the Hawks, with Hawthorn unable to beat the Cats since their meeting in the 2008 Grand Final. Unsurprisingly, the 7 point winning margin falls within the average winning margin of 10 points over the last ten games.
11 – Days that round 1 has dragged on for. In what has seemed like forever, the AFL will need to reconsider starting the season with a split round again. Seriously, how can they think we'd be happy with 2 games on the first weekend of the season?!
17 – Number of debutantes across the league in round 1. Considering this time last year we had 32 largely due to expansion club GWS, this number paints a clear picture of the strain coaches have been feeling over the preseason regarding rookie job security – especially in our forward lines!
21 – % of people who took the punt on talented Eagle Mark LeCras. After smashing out 82, he was sadly subbed off after the luckless Frenchman had his wing clipped in a heavy collision with Freo's Mzungu last Saturday night. A trade down to his teammate, Josh Kennedy (99) looks the best bet for those with him at this stage. If you have him in a draft league however – consider holding if you can as he may be back within a month.
34 – Disposals by Jobe Watson in Essendon's win over last year's preliminary-finalists – Adelaide Crows to open the season a week and a half ago. I read a statement the other day, which I wholeheartedly agree with: If teams dont put a hard tag on Jobe Watson in 2013, he will win back-to-back Brownlow medals.
114 – Port Adelaide's new wrecking ball, Oliver Wines aka Quadzilla's TAC DT average from 2012. Well known by many as the best fantasy rookie from this year's draft crop, Wines' has started the year on a great note – posting a 99 on debut to help his team to a big win against Melbourne first up. Also averaging 98 in the U18 Carnival, this guy may well be the Toby Greene of 2013. At just $156k – jump on now so you don't miss out!
127 – Fremantle look the goods this year. With their midfield fit and firing, the absolutely ran over West Coast in their Round 1 Western Derby. This is how many DT points Freo Ace Michael Barlow accrued in the clash, with his 3.1% of owners very happy at this stage based on not only his output, but his potential he showed to step up to the next level in 2013. David Mundy owners (myself included) will also be chirpy at his 117 points scored given his starting price of just $452k.
133 – I couldn't write this article without giving credit to my boy Bryce Gibbs, who slapped his critics in the face on Thursday night with a 34 disposal, 133-DT point game to open the season. Almost single-handedly dragging the Blues over the line, Gibbs' performance would have brought a post-match smile to Mick's face as he went on to play a brilliant game in the guts.
72,233 – Average crowd between Hawthorn and Geelong in last 10 games (prior to R1 – source: AFL.com.au). In what is one of the great modern day rivalries in AFl, the Hawks/Cats clash once again lived up to expectations as Geelong once again defeated Hawthorn in another tight contest to finish the round.
Send me your 'Numbers' for the week @McRathDT
AFL Matchday
NAB and the AFL has rolled out this year game day-specific competition in 2013, where coaches get their chance at a one-off shot to pick the highest scoring combination of 8 players in a game. Perhaps the coolest part is that you get to compare yourself directly against some of DT Talk's finest in a pure ranking-based comp that will see how you measure up in this format. The first chance to play was the NAB Cup Final, where my boys scored a semi-reasonable 740 points. The second game was the Hawks v Cats game yesterday, where I did much better as My teams tallied 891 to move up the rankings a bit.
Have you joined up yet? Make sure you jump on to have a crack and join the DT Talk league, where we have a massive 1500+ participants! League code is 612437 for any more keen to have a go.
Talk of the Town
After being drafted as a rookie at the ripe age of 28, many thought the brother of Swans' Champion Adam Goodes should have been playing AFL long ago. Now 29, his hard work and patience seems to be finally paying off as he starred in his side's round one win, tallying 24 touches for 91 DT points on debut. Current listed as the most owned player along with fellow rookie Jaeger O'Meara, Goodesy features in a whopping 58.2% of teams at the time of writing this. I would be amazed if this number doesn't jump again in the next few days. He may well be the best rookie (in DT) for 2013. So if you're one of the 42% who don't have him – what are you still doing reading this? Get him in!
Holy Sh*t, did that really happen?
After what many would consider to be an upset win on the weekend where a young Dogs' side smashed a more fancied Lions outfit, few would think that there would be a more surprising result in Round 1. Enter Gold Coast Suns. After downing 2012 top-8 hopefuls Richmond and Carlton, this year came with higher expectation – and their young fan base didn't have to wait long in 2013 to see them get their first scalp.
Marking their 13-point win over a sorry Saints side with a brilliant 4th quarter by their captain fantastic, Mr. Gary Ablett Jnr, the Suns won some key statistical categories that no doubt helped them gain the momentum needed to take the win. They won the clearances (40-30), cont. possessions (145-139) and tackles (54-49) however surprisingly still won after being on the losing side of the disposal count (335-355), inside 50's (50-59) and disposal efficiency % (69-77). This will not the the last upset they cause in 2013 so the other 16 clubs best watch out – because they could be next.
Whore of the Week (you better believe it's back)
After he managed to snare a coveted WotW nomination in 2012 amongst a raft of big names, gun Kangaroos midfielder Andrew Swallow gets the gong for Round One as he was a shining light in a beaten side against the Pies' on Sunday. He easily topped the DT points (which lets be honest, is all we care about) with a massive 141 points coming from 34 disposals, 9 tackles and 5 marks. Could this be the year he finally steps up to Dream Teams elite and push a 110 average?
Waste of Space
Take your pick – Ryder (45), Danger (51), Thompson (75 – actually probably the Adelaide Crows in general id say) were all dismal when they opened the season what seems like years ago now. Another to disappoint was 2012 rookie gun Toby Greene, who scored a paltry 37 in his teams loss to Sydney. Sorry to point it out, but our man Roy was amongst the most unlucky DT Coaches of Round 1 as he had Robinson (subbed for 21), Beams (late withdrawal), Whitfield (47), Zorko (52) and Greene on his field. Oh, did I mention poplar Berger replacement Billy Longer's failed 45? Not a great round. Thankfully there are some positives – 1. we have 2 trades per week now so there's plenty of trades to fix up your teams; and 2. it's a long season – so don't panic! Onwards and upwards to Round 2…
Your Numbers
Is one thing to share my observations with all of you, but I want to also share your observations with all of you. So every round on a Monday ill be asking for your Numbers from the weekend. They may be funny, insightful or jaw-dropping – whatever it is, send it through to me via Twitter and the best will feature here in The Numbers for that round.
The Round Up
Highlights – Swallow (141), Mitchell (128) and Ablett (135) had big games on the weekend, with Wines (99), Goodes (91) and Viney (86) had fantastic debuts for their clubs.
Lowlights – Round 1 started terribly with some low scores in Ryder and Danger annoying their owners. The weekend got worse, especially for rookies, with Whitfield (47), Toumpas (37) and Mitchell (24) disappointing their coaches. At least they ran out however, with Dayne Beams being a huge thorn in his coaches' sides in being the first big name, 11th hour withdrawal for Season 2013.
Team McRath – I managed to scrape over the 2k mark in R1 with 2020 thanks to some last quarter luck courtesy of Jimmy Bartel. I had some huge highs with Gibbs, Mundy and Wines; and some frustrating lows in Danger, Longer and Zorko – so overall pretty par I think. Let's hope R2 is kinder to me as I look to push up towards 2200 with a bit of luck.
Good luck to everyone for Round 2 and good luck with your trades – let us know below what you'll be using your two trades on this week. Or is anyone so happy with their team that they wont be using them?
Feel free to shout out some feedback in the comments, or perhaps put forward your own creative Numbers for the week. Also – if you're not already… follow me on Twitter already! @McRathDT