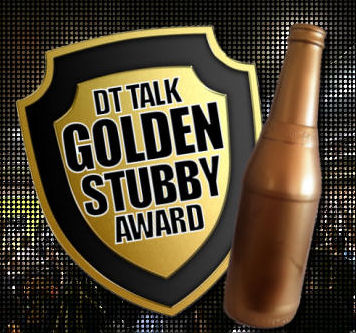 Welcome back to the 'Golden Stubby' for 2013!
Every round I'll be asking for your nominations on twitter for the player most deserving of this prestigious accolade. This isn't necessarily the highest scoring players of the round. But the players who stepped up in a fantasy scoring aspect when you most needed them to. Whether it's a highly paid premium who put in a massive effort to drag your team over the line in a head to head battle or a rookie priced player who stepped up and scored well above his expected average.
So in a round where everything that could go wrong, did go wrong, who still went against the trend and scored well for you? Lets have a looks at a few player who narrowly missed out.
Jack Viney – I have no doubt that Viney will feature in this poll sometime this year. But for the coaches who played him on the field they were rewarded with a massive debut score of 86. Led his team from the front and will be a mainstay in Fantasy teams for years to come.
Michael Barlow – He managed to fly under the radar for a lot of teams this year due to his awkward pricing compared to other mid premos, but the simple fact is that with one round gone he just outscored a lot of the premium players above him. 126 is a fantastic return for a player at his price.
Josh Kennedy, Brent Moloney and Jarrod Harbrow – We spoke a lot during the preseason for the decision to play mid priced players in various positions. With scores of 99, 96 and 82 respectively, these are the blokes who scored above their payscale in a low scoring round.
The Nominations are in!
Brett Goodes, 91 – With a lot of teams forced to play Goodes on field due to structure, he did not disappoint anyone. Acting like a general in the young Bulldogs backline, Goodes showed a ferocious attack on the footy and led by example, going a long way to being one of the key components in the Dogs win. Add to the fact that this was his first AFL game and it was certainly an impressive performance. Also outscored his brother…
Ollie Wines, 99 – Another massive game from a debutant. With so many premiums falling down in our midfield, coaches who were willing to pay the 'rookie premium' were rewarded by Wines stepping up with a huge score which made a lot of our overall's look more respectable.
Gary Ablett Jnr, 135 – With a lot of talk in the preseason about a change of role having a negative effect on his scoring, a lot of coaches decided not to go with GAJ. He rewarded the coaches who stuck with him by grabbing his team by the scruff of the neck and dragging them over the line against the Saints, with a huge 13 disposals and 3 goal, 54 dt point fourth quarter.
Matthew Kreuzer, 114 – Showing signs of his career best form returning, Kreuzer was the highest scoring ruckman of the round, especially considering he played decent opposition in Ivan Maric. With a lot of coaches caught out with Leuenberger not playing, Kreuzer stepped in at the 11th hour and put the big numbers on the board.
Tom Rockliff, 114 – Rockliff vs Zorko was the debate throughout the preseason, with a lot of coaches leaning towards Zorko after Rockliff was tagged to a low score in the NAB GF. Rockliff stood up for the coaches who stuck with him to be one of the highest scoring forward premiums in a low scoring group.
Vote below for the player most deserving of this rounds Golden Stubby.
Golden Stubby - Round 1
Brett Goodes (28%, 725 Votes)
Ollie Wines (32%, 826 Votes)
Gary Ablett Jnr (29%, 744 Votes)
Matthew Kruezer (6%, 142 Votes)
Tom Rockliff (5%, 133 Votes)
Total Voters: 2,568
Loading ...
Tune in to the boys live webshow during the week to see the winner!
Was there a player you felt was more deserving? Don't forget to get your nomination in during the round next week by tweeting me at @AnthonyDSmith86 and including the hashtag #GoldenStubby