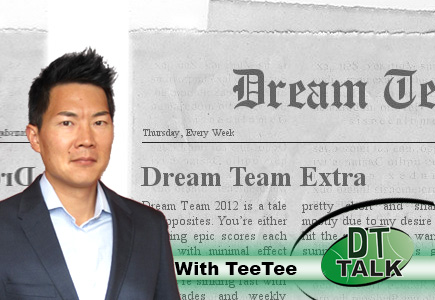 Welcome to the first instalment of DT Extra for season 2013! Hopefully by now most of you will have shaken off the after-effects of an incredibly carnageous opening round and have either knee-jerked your squad to death through the week or are holding firm for the coming weekend's games.
Opening Round FMDTs
The months of thorough research and meticulous planning saw us trudge through partial lockouts over the last two weekends to kick of the new season. Personally, a massive split round is not ideal to get the footy underway and I hope it doesn't become a regular feature. On top of that, it seemed that all of our hard work unravelled in Round 1 with masses of underperforming guns resulting in plenty of scores in the 1800s and 1900s. While it wasn't a great start, I don't think anyone is complaining about the 2 use-them-or-lose-them trades we have available to us each week as we begin to make fixits this week. Hindsight, eh?
Beamergate
Everyone loves a 'gate' at the end of any name or incident that currently courts controversy. Last weekend saw Beamergate hit plenty of coaches hard with his late withdrawal. Likely sitting high in M2 or M3 for his coaches who were banking on The Piglet to bust out a typical 120+ to steady the split round, Dayne missed with a mystery quad injury. Details are sketchy but there's confirmation of up to another two weeks on the sidelines. The best advice at this stage is to move him on to another elite MID with one of your 2 weekly trades.
The Berger's Are Better…
A major inclusion for the coming round is likely to be big Berger, who had a promising 110 in his NEAFL hitout last weekend. @FantasyFreako reckons he'll be eased back in with plenty of time up forward and it's hard to argue otherwise as Brisbane will take a cautious approach and nurse their gun ruckman back into top-flight action. He'll be a very good pickup once he's got a couple of games under his belt and is on the bubble, so keep a close eye on his first two matches to see how he's travelling.
Anyways, that's the rub for this week. Got any breaking news, juicy gossip or wild rumours? Need to rant or rave? Stick it in the comments and let's get some healthy chatter going ahead of team lists tonight. See ya next Thursday for another bout of media trawling and good luck this weekend!
Any questions, suggestions, general chit-chat or requests for next week's #DTExtra?
Hit me up on the tweetvine: @TeeTeeDT