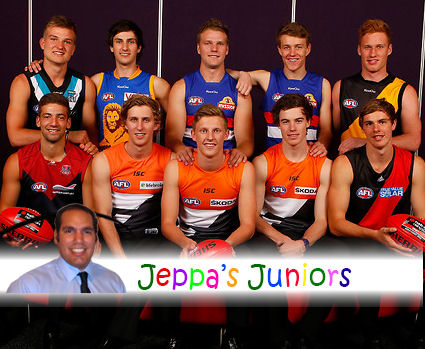 One of the biggest decisions we are faced with at the start of every season is setup. Guns 'n' Rooks or a blend of Guns, Midpricers and a few top rookies? No matter what your set up, you have to be convinced that the rookies you select are good enough to perform well, week in week out.
My task over the NAB Cup has been to take notes on those rookies who have been most prominent. Many are obvious, some not so obvious. I've looked at whether or not they can mix it with the quicker and bigger bodies, the role that they've played on the field and the stats they have accumulated in the match time received.
To be honest, good rookies are not in over supply this year so take note.Here are my best rookie options for the start of the 2013 season.
DEFENDERS
Brett Goodes
Price: $121,300
Predicted Average:70
Role & Job Security: Goodes was upgraded to the Bulldogs senior list on Tuesday and with that, officially claimed a spot in the Dogs back six. Like I've said before, you don't recruit a 29-year-old footballer unless you have a void to fill in your side. Goodes is very composed on the field, has an accurate kick and is accountable for his opponent. He will play a sweeping defender role and looks to be assigned to the kicking in duties (kick it to yourself!).
NAB Cup Form: In the first Round of the NAB Cup Goodes managed scores of 32&31, which is very good for the shortened version of the game. In Round 2, he managed 70against the Hawks and after resting in Round 3; Goodes came back in last weekend's practice match against the Tigers to be named in the bests after a score of 59. Goodes has been a standout this preseason and I think it's fair to suggest that his form will carry on into the season proper.
Final Thought:Goodes has to be in your side and his scoring in the preseason suggests that he needs to be starting on your field. Lock him in.
Jasper Pittard
Price: $132,600
Predicted Average:73
Role & Job Security: Pittard does his best work across the half back line and the Power hierarchy seems to prefer the ball in his hands coming out of defence. With the departure of Danyle Pearce and Ben Jacobs, Pittard is in the Power's best 18 so there are no job security issues here. Jasper just needs to be able to avoid injury to consistently get out on the park!
NAB Cup Form: Pittard had not played a full game in the NAB Cup competition until last weekend's practice match against the Swans where he scored an eye catching 108 (19k, 6h, 10m, 1g). This performance will be enough to convince dreamteam coaches (including myself) that Pittard belongs in their side. Before last week's dominate display, Pittard had only managed 22 & 7 in both Round 1 games and 18 in a quarter and a bit in Round 3. Lets hope his tonne last week is a sign of things to come.
Final Thought: Two trades every week minimises Pittard's injury risk. He should average above 70 so start him on your field if you don't mind being stung by the possibility of an injury during a game. If Pittard can stay fit, he'll be one of the biggest cash cows of the season.
Lewis Stevenson
Price: $108,500
Predicted Average:71
Role & Job Security: Before the NAB Cup began there was a bit of doubt as to whether or not Stevenson had a place in the Power's backline. Now that preseason is over, I think it is safe to say that he has done enough to gain a regular spot in defence. Stevenson is an outside player who ranks in the top 5 at the Power for kicking efficiency. He also loves to run and carry the ball like most attacking defenders.
NAB Cup Form: Stevenson has played in every game of the NAB Cup. His best performance came last weekend with an 81 (16k, 5h, 5m) against the Swans. In Round 2 Stevenson scored 64 followed by 49 in Round 3. Stevenson's high kick to handball ratio will see him score well in the season proper and I expect consistent scores from him all year.
Final Thought: Being continually named as an emergency behind Waters and Hurn means that you must have some really good attributes. Stevenson requested a trade from West Coast last year seeking more game time and that will happen at the Power. I'm very confident that he will be an important part of the Power's back six so get him in your teams!
Nick Vlastuin
Price: $147,700
Predicted Average: 70
Role & Job Security: I've been very impressed with Vlastuin's hardness and work rate during the NAB Cup. He is big on second and third efforts and he has good skills. If you watched DT Talk's Preseason Episode 3 you'll know that Mr Coleman, Jack Riewoldt expects Vlastuin to be named for Round 1. Riewoldt also said that Vlastuin will likely play a midfield/half back role.
NAB Cup Form: Every time I watched Vlastuin play, I thought to myself…this bloke really wants to make it. He leaves everything out on the field. During the NAB Cup, Vlastuin averaged 72 points per 100 minutes. 57 dream team points in Round 2 and 63 in last weekend's NAB practice match are not the greatest scores but are still noteworthy.
Final Thought: I really like him but Vlastuin does havea few naysayers. My biggest concern is that he is likely to cop a few vests in the early rounds of the season. When he does get the chance to play a full game, Vlastuin should score really well. Lets hope he follows in the footsteps of Brandon Ellis but with a better average!
Dean Terlich
Price: $102,700
Predicted Average:68
Role & Job Security: Terlich is a guaranteed starter for Round 1. His hard running and ball use are attributes that the Demons desperately need.I predict that Terlich will play at least 15 games this year.
NAB Cup Form: Terlich's last two performances in the NAB Cup competition saw him score 56 from 67% game time and a massive 91 against the Suns.These scores justify starting Terlich on your field, question is though, can Terlich continue to pump out decent scores when the Dees are getting continually belted by the opposition?
Final Thought: Terlich needs to be in everyone's fantasy team. Melbourne drafted him to build their thin half back stocks and in my opinion, it is obvious that he has done enough to deserve a chance at the highest level. Please note that I do not expect Terlich to be a consistent scorer. There will be some games where he only pumps out a 50 odd score, so some patience will be required.Don't push the trade button too early though.
Lachlan Plowman
Price: $174,700
Predicted Average:59
Role & Job Security: Plowman is a future key position player for the Giants but at the moment he'll play as a third tall defender deep in defence. When you are such a high draft pick, you are usually given every chance to develop your game at the highest level. Expect Plowman to get a minimum of 14 games this year. Just keep an eye out for those dreaded rest periods!
NAB Cup Form: Plowman was named in the bests last weekend so there are signs he is impressing early. He scored 63 & 54 in his last two NAB Cup outings, which is ok for a young tall defender.The downside is that I cannot see these scores improving in the upcoming home and away season.
Final Thought: Plowman is not worth it in my opinion. He's not going to score exceptionally well for a player priced at $174,700 so you are better off picking the cheaper defender rookies and spending the extra funds in the forward line where good rookie prospects are non-existent.
Sam Colquhoun
Price: $102,700
Predicted Average:66
Role & Job Security: Colquhoun was a prolific ball winner and a running machine at junior level but it's a different ball game against the bigger bodies in the AFL. Before the NAB Cup began, I didn't give Colquhoun too much of a chance to impose himself at the Power but to his credit he has proved me wrong. He's played some very good footy in the NAB Cup but I still think he'll get exposed in defence. I don't expect more than eight games from Colquhoun this year.
NAB Cup Form: Colquhoun has played every game in the NAB Cup. Scores of 78 in Round 2 and 74 last week are big positives.  He has scored most of his points from rebounding out of defence so his scoring may dry up when Port are getting thumped.
Final Thought: Buyer beware.If he is not named for Round 1 then it's an obvious pass. Even if he is named, I probably wont pick him up unless I decide to put him in my mids to have a swap option with Goddard, Gibbs, Hartlett, etc.
Some of you might be saying, what about Sam Docherty?Well there are far better options than Docherty in my opinion. In all the games Docherty played in the preseason, he never stood out and the fact that he started as a sub in the NAB Cup GF was the final nail in the coffin for me. Campbell Heath and Luke Brown are in a similar boat to Docherty.Both are solid defenders but they lack the scoring punch that dream team coaches need. Additionally, both Brown and Heath are not guaranteed a spot in their respective senior sides.
Keep an eye on Jayden Pitt, Tanner Smith, Jackson Thurlow, Aidan Corr and Nathan Wright throughout the year but they are all a long shot for consistent senior footy in the first half of the season.
MIDFIELDERS
Jaeger O'Meara
Price: $108,500
Predicted Average: 81
Role &Job Security:Jay-ger can play both an inside and outside midfield role, however it seems like McKenna will want him to play him on the ball after he lined up in the centre square numerous times during the NAB Cup. Add to this his ability to rest forward and kick goals and you have the ultimate dream team rookie. Note that O'Meara will play every game that he is fit so don't be tempted to trade him out too early.
NAB Form: O'Meara was pretty quiet in both games of the first week of the preseason competition scoring 19 in each game. Round 2 didn't get much better with a 42 but in Round 3, Jaeger showed us why he is going to be such a great dream team rookie scoring 89 (14k, 10h, 4m, 4t) against last year's premiers.
Final Thought:10/10.A no-brainer. Start him on your field.
Kane Mitchell
Price: $119,300
Predicted Average: 79
Role & Job Security: Mitchell's role in Port's team looks to be as a wingman/half forward. I wouldn't expect to see too much of Mitchell in the centre square unlike his days at Claremont but don't let that put you off. Port are desperate for big bodied, running midfielders hence why Mitchell's selection should be mandatory. His disposal is by no means damaging so he shouldn't attract too much attention from the opposition and thus, score very well from big possession numbers.
NAB Cup Form: Mitchell scores the majority of his points from marks and kicks after running hard to space.
A score of 100 (13k, 13h, 7m, 3t) in Round 2 of the NAB Cup against the Demons is the second highest dream team score by a rookie priced player this preseason. Add to this,a score of 41 from only a half of footy and you can conclude that his output has been very good.Mitchell did score 31 in a full game against the Eagles but we'll put that down as a one off.
Final Thought: Mitchell's excellent preseason will see him promoted to the senior list and selected for Round 1 and beyond. In all honesty, you can't afford not to pick him.
Ollie Wines
Price: $156,700
Predicted Average: 76
Role & Job Security:Wines is an inside midfielder who dominates the contested possessions and the clearances. He'll play on the ball in every game that he plays this year, maximising his dreamteam scoring potential. Initially, his higher price tag put me off but after seeing him in the preseason I'm now considering his worth. There would be a lot of Port supporters excited to see Wines at their club. He is a future star of the competition and after seeing him speak on the footy show last Thursday I'm convinced that this bloke will one day captain an AFL club.
NAB Cup Form: Dream team points aside, Wines has been the most impressive rookie this preseason. In Round 2of the NAB Cup, Wines had 15 contested possessions and a whopping 10 clearances, which was almost half of Port's total number of clearances for the game. Since Round 2 of the NAB Cup, Wines has managed dream team scores of 73, 53 (from 3 Quarters) and 46 from half a game!These scores are very, very solid. Wines' high handball to kick ratio is hindering his potential output however, I feel that as he plays more games and gets more confident his kicking and tackling numbers should increase.
Final Thought: Wines is an elite young in and under midfielder who is worth the extra spend. Hewill definitely play on the ball and with no expansion club this year, he is a must have.
Jack Viney
Price: $102,700
Predicted Average:65
Role & Job Security:Viney is the definition of a ruck rover and his job security is the highest of any rookie this season. With Jones and Magner as Melbourne's only true inside midfielders, the Demons are desperate for more tough clearance players. For a young fella, Viney knows where to put his body to win the clearances.
NAB Cup Form: Viney hasn't played in the NAB Cup since Round 1 due to a neck injury but don't worry recent reports have suggested that he will still be ok to start the season. In the NAB Cup games that he did play, Viney played as a tagger on Swallow and Cotchin. Don't read too much into his tagging role because he doesn't have the tank to run with the best midfielder from the opposition week in week out.
Final Thought: I believe Viney will average more handballs than kicks and take very few marks hence my predicted average will only 65. He is currently occupying a spot on my midfield bench because of his job security but if he's not named for round 1, he'll be gone.
Lachie Whitfield
Price: $183,700
Predicted Average: 80
Role & Job Security:Whitfield is a player who can run all day. More importantly, he knows where to run. Whitfield is an outside midfielder who will play on a wing this year. Like Plowman, the frustrating thing with Whitfield will be the rest periods he receives. Last year, GWS proved that they wouldn't hesitate resting their young stars. If the timing isn't right, his nominated rest periods could hurt potential money earnings.
NAB Cup Form: In Round 2 of the NAB Cup, Whitfield showed us why he is going to be such a great dream team rookie after scoring 95(12k, 5h, 9m, 4t)against the Lions. For the whole of the NAB Cup, Whitfield scored at 92 points per 100 minutes, which is the highest of any rookie priced player that played more than one NAB Cup match.
Final Thought: Whitfield will be one of the highest averaging rookies this season so if you can afford him then get him. His high job security helps justify his price.
Jimmy Toumpas
Price: $170,200
Predicted Average: 68
Role & Job Security: Toumpas is a hard running wingman with exquisite skills. Add to this his ability to push forward and kick goals and you have the complete package. Toumpas will play in most of Melbourne's games this year so I wouldn't worry too much about job security.
NAB Cup Form: Five minutes into Toumpas' first NAB Cup game had me licking my lips. Finally, a kid at Melbourne who is prepared to gut run, win the footy and distribute effectively to his teammates. In Melbourne's shortened Round 1 game against the Tigers, Toumpas scored an impressive 41 dream team points. Further scores of 38 & 52 in other NAB Cup rounds are a worry though!
Final Thought: If Toumpas was priced at $108,500, I would have locked him in a long time ago but he's not and I can do so much more with the extra dollars. For me it's a pass but I wouldn't be surprised if this decision bites me in the backside down the track.
Brad Crouch
Price: $108,500
Predicted Average: 69
Role & Job Security:Crouch plays his best football as an inside midfielder however, with Van Berlo, Dangerfield, Thompson, Sloane etc, I cant see him spending too much time on the ball. He will most likely play as a half forward with moments on ball when the Crows premium midfielders need a rest. Brenton Sanderson seems to love him but at the moment I think his job security is still a bit shaky and I wouldn't be surprised if he is not named for Round 1. If a few injuries hit the Crows midfielders, expect Crouch to come straight in.
NAB Cup Form: Crouch registered a 70 in the Crows practice match against the Dockers and 34 in a half against the Cats in Round 2 of the NAB Cup. His best game from a football perspective was against Carlton in Round 3 of the NAB Cup but this performance only equated to 66 dream team points (10k, 5h, 6m, 1g).
Final Thought:He is a fantastic young footballer and there will be games where he turns it on but in my opinion, he won't hit big scores often. Crouch is therefore a likely suitor for one of your midfield bench spots.
A score of 107 from Matt Jones in last weekend's practice match against the Suns is something worthy of pointing out. Both Jones and Michael Evans are two rookie priced players that I feel will score very well when they are named to play.Both players have seen a bit of NAB Cup action and I feel that they are in the best 22 at the Dees but who knows what the Melbourne selection committee are thinking. If Jones is named for Round 1, I will probably select him because rookies that have the potential to tonne up are very rare this year.
Preseason injuries to gun rookie midfielders Jesse Lonergan, Tom Mitchell, Nathan Hrovat and Jonathan O'Rourke means we have four fantastic down grade options at some point in the first half of the season. The added bonus here is that we get to look at these players for two rounds before we decide whether or not we bring them into our teams.
If you like a punt then you could pick one of either Nick Kommer, Dane Rampe, George Horlin-Smith, Dean Kent, Sebastian Ross or Jackson Macrae. All of these players have shown a bit in preseason and if they are named in Round 1 you could do worse than picking these blokes. At the end of the day, I don't think these players are good enough to hold a spot in their respective senior sides all year.
RUCKS
Mark Blicavs
Price: $108,500
Predicted Average: 70
Role & Job Security: The guys at Virtual Sports must have felt sorry for us fantasy coaches when they decided to make Blicavs a ruckman at the eleventh hour. He's now listed as a Mid/Ruc DPP! This years slim rookie ruck stocks means that this is a timely change. Injuries to Hmac, Trent West, Nathan Vardy and Dawson Simpson means Blicavs is a likely starter for Round 1. However, reports yesterday suggest that Trent West is pushing his case to be ready for Round 1 but I doubt it. All in all, I don't expect Blicavs to play more than two games this season.
NAB Cup Form: Blicavs is a former steeple chaser. He's made the transition from athletics to AFL and has performed admirably this preseason. Last week Blicavs scored an impressive 84 dream team points against the Pies. This was after his 67 against the Crows in Round 2 of the NAB Cup and a modest 40 against the Roos in Round 3. Remember Blicavs can out run any ruckman he comes up against so he is likely to get some cheap stats.
Final Thought: With the uncertainty surrounding senior selection of Currie and Daw, Blicavs firms for one of our ruck bench spots. Personally, I'm not picking him…I'd rather Currie and/or Daw because I know they'll play more than two games this year.
Daniel Currie
Price: $102,700
Predicted Average: 73
Role & Job Security:Brad Scott indicated in his post match conference on the weekend that it would be very unlikely that they would play both Goldstein and Currie and would instead go with one designated ruckman, likely to be Goldy. Most of us were relying on Currie as our R3 this year but it looks like we have to look at other avenues. Please note that there is a chance that Scott could be feeding us some bullshit considering that he played Hmac and Goldy together for the majority of last season. The worse part of this ruck saga is North's round one game against the Pies is on a Sunday so we are not going to know the final teams before the final lockout.
NAB Cup Form:Currie has had a pretty decent NAB Cup campaign. In Round 2 against the Suns he managed 58 from reduced game time, 77 rucking solo in Round 3 (albeit against Bilcavs) and a mediocre 26 from 47% game time last week against the Hawks. Currie's last performance killed any chance he had of taking the number one ruck spot at North.
Final Thought: Pick Currie if you are desperate. If the Roos play Goldy as a solo ruckman then just cop it on the chin because there is no one else.
Majak Daw
Price: $108,500
Predicted Average: 62
Role & Job Security: Never has there been more hype about a player who hasn't played a senior AFL game. His athleticism and speed for a big fella puts him in the same mould as Nic Nat. Daw's role in the NAB Cup was as a forward (third tall) and ruckman when required. Brad Scott's forward line set up is anyone's guess but I feel that his preseason form warrants selection.
NAB Cup Form: Daw averaged 88 points per 100 minutes of game time in the NAB Cup and in Round 3he had hit his best score of 68. You could do way worse!
Final Thought:I'm likely to still pick Daw even though he is an outside chance to be selected for Round 1. My view is that Daw is better suited to North's setup than Currie because of his marking ability and potency up forward. Unfortunately, Daw is a prime red vest candidate when he does play.
Daniel Gorringe is fighting Charlie Dixon for the forward, part time ruck role at the Suns and to be honest, he is losing the battle badly. I'd pass on Gorringe unless one of Zac Smith or Charlie Dixon goes down with injury. Ben Hudson was upgraded to Collingwood's senior list during the week meaning that Jarrod Witts falls down the selection pecking order at the Pies. Sam Grimley may come into contention if injuries hit the Hawks talls.
I do not expect Jack Hannath to play in Round 1 as recent headlines have pointed out. Freo have used Michael Johnson as apart time ruckman in the past when injuries have hit. Apparently, Zac Clarke's injury isn't that serious and he is still a chance for the Derby on Saturday.
FORWARDS
Brent Macaffer
Price: $132,600
Predicted Average: 63
Role & Job Security:To be totally honest, at the start of the year I didn't think Macaffer was in Collingwood's best 22 but after watching him this preseason, I'm certain he'll play an important role for the Pies this year. I see Macaffer as a high leading half forward that can push up on a wing for moments in a game. If he plays his role reasonably well, he should keep his spot but Collingwood have great depth and the likes of Seedsman, Didak etc could force him out when he lacks a bit of form.
NAB Cup Form:Round 1 saw Macaffer score 28 & 30 in the two shortened games.After being rested for Round 2, he scored only 36 in Round 3 and a 60 in last week's practice match against the Cats. Without being a major ball winner, Macaffer's stats have been spread well in all facets of the game.
Final Thought:With limited rookie forwards this year, Macaffer is a must somewhere in your forward line. If you can play him as your 7th forward then do so because he isn't going to average a lot and he doesn't have a high ceiling.
Jonathon Patton
Price: $183,300
Predicted Average: 58
Role & Job Security:He's a big man (teenager) that's for sure! It's pretty obvious that Patton will be given all the time he needs to develop at full forward this season so no job security issues lie here and that's why so many coaches are jumping on board.
NAB Cup Form:Last year, Patton averaged 36 from 7 games. Not bad considering he came back from knee surgery during last year's preseason. It's only got to get better from here although Patton has only averaged 56 points per 100 minutes with his highest score being 27 from last week's practice match.
Final Thought:I think with a full preseason under his belt, Patton will show significant improvement from last year. His job security is a plus but his high price tag really hurts.Additionally, a full forward relies on the quality of ball from his teammates and with such a young GWS midfield I think Patton's lack of supply will hinder his scores this season.
Setanta O'hAilpin
Price: $157,700
Predicted Average: 60
Role & Job Security:With his DPP eligibility, I've placed Setanta in my forwards review because he can be swapped with Cox (the most likely chosen 1st Ruck) when needed. Sheeds has been on the record as saying that O'hAilpin will take the place of Israel Folau in the GWS side as a forward/ruckman. Setanta is by no means the most damaging ruckman or forward but he is a competitor and you know that when he steps out on the field, he is going to give it his all.
NAB Cup Form:O'hAilpin has only played in two NAB Cup games with a best score of 28 from limited game time. Ouch!To add more doubt, he played for GWS reserves last weekend (kicked three goals). I've been informed by GWS die-hard@RLGriffin85 that Setanta's move to the GWS reserves was to increase his match fitness ahead of Round 1.Still, its not great preseason form from Setanta.
Final Thought: He won't score amazingly well but with such slim pickings, I reckon Setanta has to be on either your ruck or forward bench. His DPP eligibility means he can be swapped with Cox in either position as required and even though his preseason campaign has been limited, his job security is decent compared to most other rookie priced forwards and rucks.
Scott Lycett
Price: $162,300
Predicted Average: 50
Role & Job Security: Nic Nat will join the main training group later this week meaning that he is still probably three weeks away from a senior berth. The word from the West is that Lycett will come in for Nic Nat and try and fill his shoes as best as possible. Expect Lycett to be omitted when Nic Nat is ready to return.
NAB Cup Form:Like most rookie forwards, Lycett has not scored well in NAB Cup games. His best performance was only 42 in Round 2 where he played mostly up forward.
Final Thought: Desperate times call for desperate measures and Lycett is only a short-term option. By the time Round 4 comes around, hopefully someone like Jake Stringer will come in and those with Lycett can make a quick trade.
Jake Neade
Price: $108,500
Predicted Average: 32
Role & Job Security:Neade has had a pretty good preseason. He can break a game open with his skill and pace but unfortunately, these attribute also make him the perfect green vest candidate.
NAB Cup Form:He has played in every round of the NAB Cup, which is a positive. However, scores of 53 (full game), 35 (full game)& 26 (half a game) aren't very exciting.
Final Thought:I'm scrapping the barrel here but you can do worse than picking Neade. His job security is obviously very shaky but if he plays well as a sub he could become a Port's preferred sub player like Brad Hill was for the Hawks last year. His Fwd/Mid eligibility gives you some trading options down the track.
With this year's slim pickings in the forward line it ultimately comes down to who's named for Round 1. Beau Maister (nee Wilkes) has Tom Lee's measure at the minute but if Waters decides to go tall in the forward line, Lee will be a good chance for Round 1. If Lee is named then I will probably pick him up. Jed Lamb is in a similar boat to Lee. Lamb is a former first round draft pick who is silky and skillful enough to play in Sydney's senior side but the Swans depth has forced him out to date. Lamb should get opportunities this year but some of these will be vest affected.
Hayden Crozier is an option not spoken about a lot within the realms of dream team. Crozier played 3 senior games last season, which is a decent initiation for a first year player. He'll play more senior games this year that I can guarantee. His highest score this preseason was 84 in Freo's practice match against Adelaide some weeks ago. At $175,200, Crozier is priced very high for a player who carries a green vest risk. It's a pass for me but I will consider him if he is named for Round 1.
I'm reserving a paragraph here for Collingwood's Ben Kennedy. Let me express my excitement for this kid. To start, Kennedy was named in the 2011 U/18 All-Australian team as a bottom aged player and backed up that same accolade in 2012. In Round 3 of the NAB Cup Kennedy scored 73 against the Lions and looked very, very comfortable mixing it with the likes of Beams, Sidebottom etc. His disposal was precise and his decision-making was excellent. Hopefully he gets a go sometime this year.
Same Rowe was woeful in the NAB Cup GF when he took off the green vest. He got a goal from a cheap 50m penalty from Patfull and that's about all he did. Malthouse has always said players pick themselves, so it looks like Rowe will start 2013 in the 2's. Pass.
Mitch Morton, Brent Staker and Jake Stringer are all injured so be patient. Troy Menzel, Josh Growden, Josh Simpson, Joe Daniher and Sam Mayes should all get a look in later in the year.
Well there you have it. I hope my analysis assists you with your last minute rookie choices. Look out for my weekly Jeppa's Juniors article throughout the season where I look at the performance of playing rookies and other rookies close to selection. Don't forget to follow me on Twitter @JeppaDT. Happy coaching!