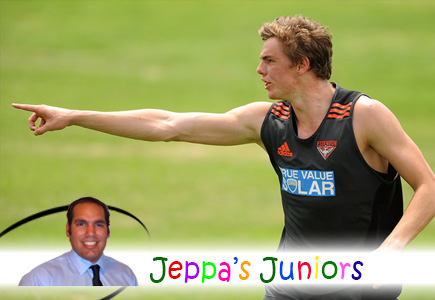 Its no secret that there are slim pickings by way of forward rookies this year. So how will you approach the issue? Will you pick more mid pricers? Will you go all out and pick a gun forward line? Or will you take your chances and pick three or four of the best forward rooks available?
The following rookie priced forwards aren't necessarily going to set the DT world alight but they should get regular games this season.
Brent Staker
Price: $132,600
Predicted Average: 73
After two knee reco's, Brent Staker is finally ready to reassert himself at the Brisbane Lions. His preseason is currently on track and he will play in the NAB cup if everything continues to go to plan. Staker is definitely in the Lions best 22 and will likely play as a third tall in defense. His marking and ability to find space will make him a consistent dreamteam scorer this season. Staker will be one of the most popular selected rookie priced players this year especially with his Def/Fwd eligibility. Lock.
Jake Stringer
Price: $165,700
Predicted Average: 72
The Bulldogs are screaming for a key forward and I reckon they've found a player in Stringer. I really rate this kid. He is powerful, strong one on one and very good when the ball hits the deck. Out of all the first year forwards, Stringer looks to have the highest job security. He's competed well in preseason thus far and will be given opportunities to shine when the season begins. He is quite expensive for someone that probably won't score amazingly well but with no other major standouts, Stringer has to be considered.
Jonathon Patton
Price: $183,300
Predicted 2013 Average: 60
Patton appears to be over those injuries that hindered his fitness last year (Source). We all know he will take contested grabs, split packs open and kick goals but he is not going to have the supply in the forward line like most other key forwards. I am against picking young key position players because they usually take that little bit longer to be able to match it with their direct opponents. So I'd stay away from Patton this season if I were you.
Tom Lee
Price: $108,500
Predicted Average: 64
Lee is a talented mobile forward who is a dead eye in front of goals. He kicked 60 goals and averaged 80 dreamteam points in the WAFL last season. With Tom Hickey also joining the Saints in the off season, it appears that the Saints are prepared to play two ruckmen. You'd think then that Kozi's days are numbered and Lee could be the preferred full forward. If Lee impresses in the NAB cup then I think he would be a decent forward bench option for dreamteam coaches this year.
Mitch Morton
Price: $164,900
Predicted Average: 69
Late last season, Morton was given an opportunity to make an impact as a small forward at the Swans. His form at the time was enough to be selected on grand final day and become a premiership player. It was well publicised that Morton was on a knife edge regarding selection going into the grand final, so it's fair to say that he is a risky proposition. With McGlynn nearing full fitness and Led Lamb pushing his claim for regular senior games, it appears Morton will be squeezed out of Sydney's best 22. His high price tag accompanied with his shaky job security should be enough to scare you. Pass.
Sam Mayes
Price: $152,200
Predicted Average: 72
Mayes is a half forward/wingman who has won early praises from some insiders at Brisbane with Mark Harvey indicating that he could play Round 1 and make an instant impact at AFL level (Source). Mayes is quick, agile and a beautiful user of the footy. He played a dozen games for North Adelaide in the SANFL last year and was named BOG in one of them. He's a Fwd/Mid and yes he might cop some vests but there is potential here for Mayes to be a great cashcow.
Scott Lycett
Price: $162,300
Predicted Average: 66
Lycett has had an outstanding preseason to date and is set to take a place in the Eagles 22 while Nic Nat recovers from his groin issues.  He is no sure thing throughout the season but the new trading rules making him an interesting prospect. I'm not expecting massive scores from Lycett when he does play and his $162,300 tag is pretty steep. Personally, I don't think he is worth picking up but I have had discussions with many who strongly disagree. Watch him closely in the NAB cup!
Joe Daniher
Price: $143,200
Predicted Average: 68
Joey Daniher is a supreme forward in the making who can comfortably take the ruck duties when required. He can take a contested mark and is a very good shot for goal. He's impressed so much in his short time at the Bombers that James Hird went on the record to say that Daniher will play more games this year than first thought (Source). With so many talls at Essendon, competition for spots is high and I'll be surprised if Daniher plays 10+ games this year. I won't be picking him but he could be a surprise packet.
Brent Macaffer
Price: $132,600
Predicted Average: 77
Macaffer did his ACL in last year's preseason competition and almost made a return to AFL ranks after three VFL games in August. He's the perfect utility player. He can play back as a third tall or he can play forward and push up onto a wing. Many think Macaffer is not in Collingwood's best 22 however, I reckon Buckley rates him. I know it's easy for me to say this now but if you select him and he lags a little you can always trade him to a potentially higher performing rookie at a lower price. Macaffer is currently in my team as bench cover but  if he doesn't show enough in the NAB cup then I'll get rid of him.
Josh Growden
Price: $108,500
Predicted Average: 69
Growden is widely considered as a midfielder by those at GWS but he can also play forward hence his Mid/Fwd eligibility. He's a  good decision maker under pressure and is excellent overhead for a player of his size. Growden spent last season recovering from a broken leg and is currently coming back from hip surgery. He may just miss Round 1 selection but look out for him as the season progresses because I think he will score well once he gets going.
Jed Lamb
Price: $108,500
Predicted Average: 66
Lamb is ready to make his mark at the Swans after two years of development in the NEAFL. He is a very good kick of the football, he's got pace and he loves to kick a goal.  Interestingly, Lamb was played as a midfielder in the NEAFL however it's likely he'll play forward pocket/half forward for the Swans. Lewis Jetta said Lamb is leading the way at preseason training (Source) which great news for Dream Team coaches. Lamb will get games in 2013, some vested, some not but if he plays well, I think there is a spot for him in the Swans 22. Watch him closely in the NAB cup!
From what I am reading, both Josh Simpson and Troy Menzel won't be anywhere near selection in Round 1 hence why I haven't gone into them in detail above. Definitely keep an eye on these guys as the season progresses because they both will play senior football at some point this year.
Other forward rookies to watch closely in the NAB Cup include Nick O'Brien, Viv Michie, Brad Dick, Marco Paparone, Tim Membrey, Spencer White, Taylor Garner, Sam Kerridge, Lewis Johnston, Hayden Crozier, Kristian Jaksch and Amos Frank.
Look out for my post NAB cup analysis on forward rookies who looked good, rookies who struggled and those who snuck in under the radar!
I hope my articles over the past few days have allowed you to gain a better insight into the best rookie options for 2013. Happy planning!
Remember you can follow me @JeppaDT for all rookie relevant topics and more!
READ JEPPA'S PRE-NAB CUP ROOKIE REPORTS
Defenders / Midfielders / Rucks / Forwards