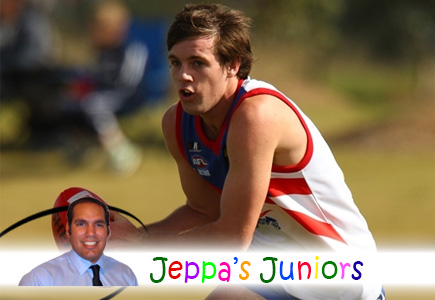 Like the midfielders, there are numerous rookie defenders that will hold their own this season and do many dreamteam coaches proud. Many are in line to play a lot of senior footy this year so some decisions need to be made. Here are my best rookie defenders for this year…
Nick Vlastuin
Price: $147,700
Predicted Average: 68
Footy aside, have you seen a bigger head on a bloke? It's comes with a pretty thick skull too. Vlastuin is an in and under type and a very good tackler. He's already built for AFL and Damian Hardwick loves the tough players (e.g. Morris, Newman, King, etc.). Vlastuin considers himself as a midfielder (think Brad Sewell) but I can't see him breaking into Richmond's midfield or half back line this year until injuries hit Punt Road. At the moment it's a pass for me, even with his DPP eligibility but I wouldn't be surprised if he does well in the NAB cup and gets named for Round 1.
Sam Docherty
Price: $108,500
Predicted Average: 72
After a tough first season in the AFL, Sam Docherty is looking to make is mark at the Lions in 2013. The No. 12 pick from the 2011 draft has improved his fitness dramatically and has had a great preseason to date. His ability to use the ball effectively is why he is so highly rated. Looking at Brisbane's list, Docherty should be used as a half back flanker this year especially with Drummond's retirement. At the moment, he is occupying one of my defender bench positions. Keep a good eye on him in the NAB cup.
Jasper Pittard
Price: $132,600
Predicted Average: 77
Obviously Pittard is not a rookie but he is rookie priced. Injuries have absolutely ruined this bloke's career to date. In 2012, Pittard battled numerous soft tissues injuries and when he finally made his comeback in Round 17, he got cleaned up in the first quarter and was left with a broken rib and a collapsed lung. From all reports, Pittard has been doing well this preseason. He'll be preferred at halfback for Port especially with Danyle Pearce's departure to Fremantle. He's a lock for me because I think he will be one of the highest scoring rookie defenders this year. Let's just hope he can stay fit and play some good consistent footy.
Campbell Heath
Price: $108,500
Predicted Average: 60
Heath is someone who has slipped under the radar a little since joining Port from the Swans. He's a no nonsense footballer with a very good kick and provides some rebound out of defense. His main rival at the Power would be Jack Hombsch, a player who I think is first choice as Port's third tall defender. I don't think Heath will play in Round 1 but watch out for him as the season progresses.
Brett Goodes
Price: $129,700
Predicted Average: 74
Brother of Adam is a running defender with explosive pace and great awareness for what's around him. He can tackle hard and push up the ground for a goal. When you make an AFL list at age 28, you're effectively recruited to immediately fill a void in a side. Goodes is rookie listed but the Bulldogs have a spot on their senior list for him. He is priced quite high but his Def/Mid eligibility makes the extra spend worth it. There is no doubt Goodes will play senior footy this season.
Lachlan Plowman
Price: $174,700
Predicted 2013 Average: 59
Plowman was the best key defender in this year's draft pool. He reads the play exceptionally well and is very good in the air. He will play his fair share of games this year but I doubt he'll score well since he is likely to play a lock down role. For most dreamteam coaches it's a pass because of his hefty price tag but others may gamble on his potential in a young and developing GWS team. Personally, I am against selecting rookie key position players.
Jackson Thurlow
Price: $116,200
Predicted Average: 64
Thurlow is a medium defender who loves to run and carry. He's a good reader of the play and has had some senior experience with Launceston in the TSL. In Geelong's recent 'simulation' matches with North Melbourne, Thurlow stood out with his skills and decision making (Source). He's still lightly framed so he'll need to spend a little time in the gym. It is likely that Thurlow will play senior footy this year but I doubt it will be at the start of season.
Lewis Stevenson
Price: $108,500
Predicted Average: 72
My fellow sandgroper left West Coast for more opportunities at Port Adelaide. He's a running defender who averaged 66 dreamteam points in the WAFL last year which isn't bad considering he always copped a heavy tag. In 2012, Stevenson was named as an emergency for West Coast numerous times. When you consider the competition of Hurn, Waters, Butler, Schofield, Adam Selwood it's fair to say that he was up against it. No such competition exists at Port so he should slot straight in. Lock him in!
Dean Terlich
Price: $102,700
Predicted Average: 66
The mature age defender from Norwood has been recruited to add some 'attack' from the Demons backline. He caught the eye of Melbourne recruiters after his BOG in last year's SANFL grand final. Terlich is pretty quick and will play a half back role similar to Heath Shaw. He recently suffered a hard knock to the head at training but has since been cleared of any serious injury (Source). I don't think he'll be an amazing scorer but he is a safe option since the Demons have very few rebounding backmen.
Dylan Van Unen
Price: $102,700
Predicted Average: 71
Another year, another Frankston player joins Essendon. Following in the footsteps of Hibberd & Baguley, Van Unen was selected by the Bombers with pick 51 in last year's AFL draft. He's a cool customer who reads the play well and has a great set of skills. He was named BOG for Frankston six times last year and will push the likes of Hibberd, Myers etc for a spot in Essendon's back six. I will need to have a good look at Van Unen in the NAB cup before I am convinced of his job security.
Luke Brown
Price: $147,700
Predicted Average: 61
Hot off the press, Luke Brown has been labeled as a potential Michael Doughty's replacement for the Crows this year (Source). He got a taste of AFL last year which would have fast tracked his development however, Brown is a lock down defender which means he won't pump out massive dreamteam scores. He loses his DPP eligibility from last year and is more expensive but his job security looks to be higher than most other rookies.
Those with Sam Colquhoun in their teams, I'd maybe rethink that one. Colquhoun is a lightweight (72 kgs) and I think he'll get exposed one out in defense. Port initially wanted to recruit Colquhoun on their rookie list (Source) but was picked up in the pre-season draft because of Essendon's interest. I think he'll need to spend some time in the gym before he gets a go at AFL level. I could be wrong on Colquhoun but at this stage, this is how I see it. Let's hope he plays in the NAB cup so we can get a good look at him against the bigger bodies.
Other defender rookies to watch closely in the NAB Cup include Jayden Pitt, Jordan Lockyer, Josh Saunders, Will Hams, Josh Prudden, Nathan Wright, Tom Clurey, Josh Tynan, Tanner Smith, Aidan Corr and Luke Thompson.
Look out for my post NAB cup analysis on defender rookies for those who looked good, those who struggled and those who snuck in under the radar!
Please note that Brent Staker will be covered in my rookie forwards article tomorrow.
Remember you can follow me @JeppaDT for all rookie relevant topics and more!
READ JEPPA'S PRE-NAB CUP ROOKIE REPORTS
Defenders / Midfielders / Rucks / Forwards