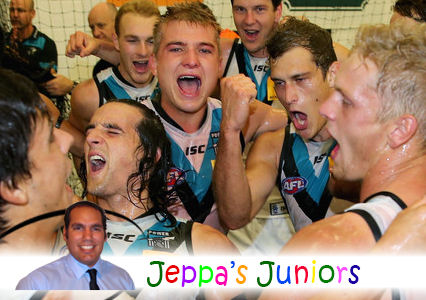 Significantly fewer debutants and rookie priced players in Round 1 forced the dreamteam fraternity to make important decisions regarding team structure. If you're like me, 'structure' went out the window after having numerous options to revise my team with three partial lockouts. On a positive note, a handful of rookie priced players proved their worth in Round 1 meaning that the 'Guns and Rooks' strategy is still alive and well.
Do not underestimate team depth! Dane Beams' late omission on Sunday proved how important rookies will be this year. You can't afford to bring in rookies just because they are named. You must take note of a rookie's role in a team, their style of play and arguably the player's opponents in the upcoming rounds.
Here is my take on the rookie performances from Round 1…
One Gamers
The game with the most rookie relevance was the 'blockbuster' between the Demons and the Power. In this game, best mates Jack Viney and Oliver Wines went head to head and both were very, very impressive. Viney was BOG for the dreadful Dees and scored 86 from 22 touches, 4 marks, 2 tackles and a goal. His clearance work and ability to spot up targets up the ground were notable positives. It is a guarantee that Viney will be an integral part of the Dees midfield all year so if he isn't in your team then get him in ASAP. Ollie Wines was the highest scoring rookie for Round 1 with 99. 12 kicks, 12 handballs, 7 marks, 3 tackles and a goal were Ollie's stats that earned him this years first NAB Rising Star nomination but do not expect these numbers week in, week out. The Dees v Port game did open up in the second half and Wines was on the end of a few cheapies. Port face GWS on Saturday so definitely start him on your field in Round 2. Both Viney and Wines each had 16 contested possessions, which is a record for any player in their first game. The previous record was 15 held by both Daniel Harris and last year's rookie hero Toby Green. Hopefully, this is a sign of what's to come.
Lewis Stevenson 74, Matt Jones 69, Jasper Pittard 62 and Campbell Heath 58 were other prominent players in the rookie match of the round. Stevenson looked really comfortable at halfback and he provided a lot of attack from defence. He also took a heap of kick ins which suggests that the Power like the footy in his hands. Matt Jones wasn't overly damaging with the possessions he collected but he did try hard all day to be named in the bests for the Demons. This mature age recruit finished with 22 touches (13 were handballs) and 5 marks, which is a pretty good effort considering he had little help from his teammates. After watching Jones attack the ball on the weekend, I expect him to hold his spot in the team for most of the season. Both Pittard and Heath look to be an integral part of Port's defence this year. Pittard didn't gather too much of the footy but I suspect that his scoring will improve in the coming weeks. For those with Heath, I'd be worried about his scoring potential, as I doubt he'll score over 60 often. His 58 included a +12 in the last quarter when the game was dead.
Jimmy Toumpas, 37 and Jake Neade, 53 were woeful for their respective sides. Toumpas looked lost and Neade was afraid to attack the contest. If you're like me and you have Neade on your forward bench then consider trading him to Leuy…that's only if you have the cash and a forward/ruck DPP. Cameron O'Shea deserves a mention after scoring 60 on the weekend but he'll be on the outer when Alipate Carlile is fit to return.
All hail Brett Goodes. The 29-year-old rookie looked like a 200 game veteran against the Lions on Saturday. Goodes' BOG performance came about from his elite skills and countless intercept marks. For those who love cheap stats, Goodes kicked it to himself a handful of times after taking the Bulldog's kick ins. His score of 91 came from 14 kicks, 10 handballs, 7 marks and 2 tackles. Lock and leave Goodes in your back six until at least Round 12 but do not expect scores in the 90's too often.
Jaeger O'Meara took a while to get going against the Saints after starting on the half forward flank but thankfully he was later moved into the midfield. Jaeger scored a sound 73 which included 6 tackles! I suspect he'll pick up a few more possessions against the Swans in Round 2 so don't worry too much if you need to start him on your field.
It seems like so long ago now but Essendon pair Jackson Merrett 65 and Nick Kommer 60 kicked off rookie proceedings against the Crows. Kommer gained massive wraps for his tenacity and hunger for the football. He's a bit of a cult hero at Bomberland so for those who picked him, stick with him. Merrett played a half forward, midfield role but with Zaharakis now ready for a full game, I'd say that Merrett will either be the sub or omitted this week.
Giants' trio Jonathan Patton 61, Lachlan Plowman 58 and Lachie Whitfield 47 all tried hard against last year's premiers. Plowman looked very composed with the footy and started pretty well but like most young players, he little impact in the second half. Conversely, Whitfield started slow and then got better as the game went on. Patton is just a lump of kid who will continue to present and kick the odd goal or two. All in all, I'm pretty happy that I resisted the temptation to pick up any of these overpriced GWS rookies.
Mark Blicavs was about as good as Buddy's new hair do scoring a mere 32 dreamteam points. Interestingly, Chris Scott said that Blicavs looked like he belonged at AFL level! Yes, Blicavs was competitive but he never looked like he wanted the footy. Don't hold your breath for bigger scores from Blicavs and don't be surprised if he is dropped this week.
Josh Thomas, 57 and Jack Frost, 48 were both late inclusions for the Pies. Thomas' clearance work was highlighted by Bucks post match and I though Frost did his job but has a lot of improvement in him. With a host of Magpie stars to return in the coming weeks, I don't expect much more AFL action from these two. Brent Macaffer didn't impress those coaches who started him on the field after scoring only 50 dreamteam points from 12 possessions, 5 marks, 2 tackles and a goal. Never the less, Macaffer did play an important role for Collingwood and he will hold his place in the senior side in the short term.
The green vest club of Kane Mitchell 24, Sam Dwyer 34 and Jed Anderson 28 all had an impact when they got their chance but George Horlin-Smith didn't get much of a go against the Hawks scoring only 16. Dwyer came on at the start of the third quarter and his attack on the footy would have pleased the Collingwood hierarchy. I really hope Dwyer is rewarded with a full game this week but with Daisy and Krakouer nearing full fitness, his spot in the side looks shaky. It's hard to say whether or not Kane Mitchell will avoid the green vest this week. He played only a quarter against the Dees and scored 24 dreamteam points, so for those who don't have him, watch him closely this week. Jed Anderson was lively during his short time on the field on Monday but he'll probably wear the green vest again this week for the Hawks.
Luke Brown, 35 and Dane Rampe, 32 received red vests after sustaining injuries during their games. Brown injured his foot in the third quarter but has been declared fit for this weekend. Rampe was pretty poor against the Giants and then sustained a leg injury just after half time. Both Brown and Rampe are not DT relevant players so if they are in your team, get rid of them!
One would think Scott Lycett copped a vest after scoring only 19 but unfortunately for his owners, he was absolutely terrible. As a West Coast supporter, I was livid with his performance and I hope he gets dropped for Callum Sinclair this week. At $162,300 coaches should be looking for better options than Lycett.
Keep Your Eye On
Brad Crouch – It looks like Crouch took his non-selection in Round 1 personally because he racked up 31 possessions in a near BOG performance for West Adelaide in the SANFL last weekend. Given that a few Crows were pretty poor against the Bombers, it looks like Crouch will be squeezed into the Crows side this week (source).
Sam Colquhoun – Colquhoun had 25 possessions and a massive 15 marks in the SANFL for 122 dreamteam points! Out – Neade, In – Colquhoun? Maybe. Ken Hinkley has indicated that it will be difficult to break into Port's senior side (source), so Colquhoun and dreamteam coaches may need to be a little more patient.
Dean Terlich – The Dees will wield the axe after their poor performance against Port and Terlich has to be one of the first inclusions. Terlich's recent form warrants selection. He won a heap of the ball in Casey Scorpions practice match against Box Hill on the weekend.
Setanta O'hAilpin – Word on the street is that Sheedy wants the big Sultana in the Giants side as soon as possible. O'hAilpin has gained adequate match fitness in the 2's but if he is named this week, expect a few sub 50 scores to start the season. Proceed with caution!
Happy trading!
Got a question? Ask me on Twitter @JeppaDT.