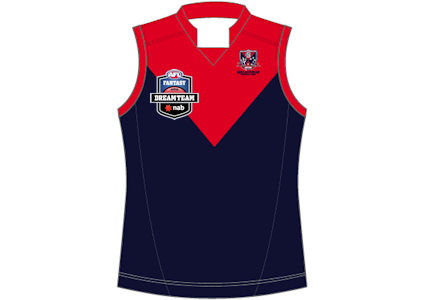 This series of 'club preview' posts are written by DT TALK regular contributors choosing their 5 players they have on their watchlist from the respective club. These aren't who we think will be the top 5 highest scoring players… and are not necessarily in order. They are just our opinions of the 5 players who we have on our watchlist heading into the 2013 season.
JEPPA'S FIVE FROM THE DEMONS
1. Jack Viney (MID), $102,700.
This young clearance machine is set for a massive year hence why he is currently the second most selected player in dream team. Don't read too much into Viney's performance in Round 1 of the NABCup. Against the Roos, he was assigned to tag Swallow and then against the Tigers he ran with Cotchin. Being accountable for Swallow and Cotchin led to Viney's below par scores of 16 & 14 in the shortened version of the game. I find it hard to believe that Melbourne will play Viney as a tagger this season but don't write it off completely.
There is no doubt that Viney has to be in your side, question is though, do we start Viney on the field or is his style of play only suitable for one of our backup midfield positions? If we look at his scores in the VFL last year, he averaged 71dreamteam points from 3 games. In my opinion, this is a pretty good indicator of what his scoring is going to be like this year. Personally, I have Viney starting on my midfield bench and that wont change until he proves himself in the season proper.Lock him in regardless.
2. Jimmy Toumpas (MID), $170,200.
Toumpas has got class written all over him!He is a skillful outside midfielder who doesn't mind mixing it with the big boys. In the SANFL last year, he averaged 69dreamteam points from 5 games and in Round 1 of the NAB Cup, he had 41 dream team points from only 31 minutes on the field. Many of Toumpas' points came from marks and kicks after he led hard to space.At no point in the game did he waste the footy.
The fact that both Viney and Toumpas didn't play in Round 2 of the NAB Cup suggests that they are being managed for the long season ahead so I think it's fair to assume that Toumpas will play a fair chunk of footy this season. At $170,200 many coaches will look elsewhere especially given the depth of midfield rookies this year but if he continues to score well in the remaining NAB Cup games you may want to jump on board.
3. Shannon Byrnes (FWD), $229,300.
The lack of forward rookie options this year has forced our hand towards midprice players and one from Melbourne showing value is Shannon Byrnes. Since his move from Geelong, Byrnes has impressedon the training track working tirelessly all preseason and showing the young Demons how it's done (source). Byrnes will play a running half forward role with a licence to push up the ground and win the footy. He was best a field in the Demons intra club match with 5 goals but then had a pretty poor game against the Roos in Round 1 of the NAB Cup scoring only 15 dreamteam points after 34 minutes on the field. He should get his groove back when the home and away season begins.
If there were an abundance of decent forward rookie options this year then I'd probably overlook Byrnes and use the cash elsewhere but the way I see it, coaches need at least one of Knights, Varcoe or Byrnes. Knights is still unproven at Richmond,Varcoe is injury prone,leaving Byrnes asthe safest bet out of the three.
4. Jack Grimes (DEF), $474,000.
After stringing together 21 games in 2012, Grimes finally found some consistency forcing dream team coaches to sit up and take notice. His leadership, decision-making and precise foot skills make him an asset for the Melbourne Football Club hence why he will spend time through the midfield this year and maintain his 92 average from last year. From all reports Grimes has had a pretty smooth preseason thus far and it showed with a good performance against Richmond in Round 1 of the NAB Cup.
The Demons play Port, Essendon, West Coast, GWS, Brisbane, Carlton and Gold Coast in the first seven rounds of the season and Grimes' last scores against these sides were135, 97, 65, 125, 67, 90 and 103 respectively. Even with those couple of scores in the 60's, I still say lock him into your team for Round 1.
5. Mitch Clark (FWD), $384,100.
Clark is someone who hasn't generated much interest thus far and after a limited pre season this year I can understand why. The arrival of Dawes to Melbourne changes everything! Neeld has stated that Dawes will play as a stay at home forward with Clark to play up the ground at times and get amongst it in the ruck (source). With Clark playing more through the middle it is fair to assume that his 75 average as a permanent forward last season will be improved upon. Please note that Clark is touch and go for the start of the season (source) so it may be wise to pick him up in the early rounds of the season after he shows form.If you didn't have Clark on your watchlist, put him on now.
Others on the Watchlist:
With Blease on the injury list for four to six weeks, Dean Terlich's (DEF, $102,700) stocks have risen. Terlich's kicking skills make me nervous but his attack on the footy and ability to lock down a forward are strengths of his game that you have to admire. Michael Evans (MID, $108,500) is a player that has snuck under the radar a little after he missed most of the 2012 season with back and hip problems. 27 possessions and 112 dreamteam points from Evans against the Saints in 2011 is definitely something to work with! Also keep your eye on mature age rookie midfielders Dean Kent (MID, $102,700) and Matt Jones (MID, $102,700). Both players provide very good run and carry but they'll need to polish their skills before they can establish themselves in Melbourne's best 22.
Chris Dawes (FWD, $337,700) if you dare! Please remember that Dawes' supply at Melbourne is going to be nowhere near as good as what he got at Collingwood not to mention his butter fingers.Cameron Pedersen (DEF/RUC, $296,200) looks to have found a home at the Dees but he stinks of red vest and Colin Sylvia (FWD/MID,$393,100) hasn't turned any heads in the NAB Cup thus far but still remains as one to watch because of his high ceiling.
FOLLOW ME ON TWITTER:@JeppaDT