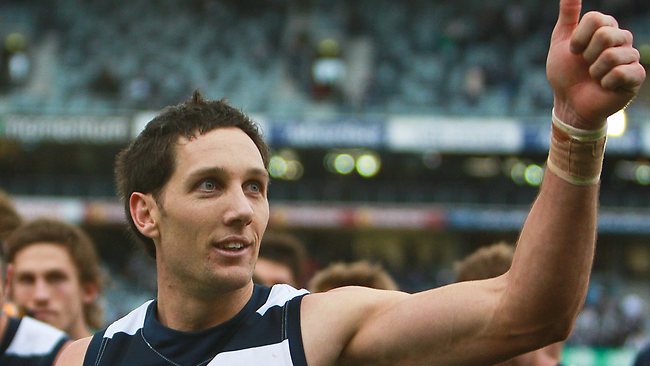 Welcome to the fourth edition of Lefty's Leftfielders – where we look to make a case for some of the less popular options.
This week on Lefty's Leftfielder's is the Cats boy from WA – Harry Taylor.
Name: Harry Taylor
Club: Geelong Cats
Position: Back
Price: $376,800
Argument For
Firstly can I say how timely this write up has worked out after Harry smashed out a big score (124!) on the weekend. Yes it is only NAB cup but I prefer to be trying to hose down expectations rather than looking for reasons to be optimistic.
In 2012, Harry played 21 regular season games- and in fact he has proved to be a remarkably durable lad, only missing a handful of games since his debut in 2008.
In 2012 he banged out 4 scores over 100, with a big 126 versus GWS which was helped by his bagging 6 goals in a switch to full forward. At his best he is thwarting opposition attacks by taking the big intercept mark and switching the play to the opposite side of the ground. He appears to have a license to fly for the grab even deep in defence which means he can chalk up +6's in a hurry, and is very good at running to space to be the link up man on the switch out of the back line.
His disposal is usually good, as his is decision making which helps make him a 'go-to' guy in the reinvigorated Cat's backline. The retirement of Scarlett in particular leaves him as one of the senior guys that the others look for.
Argument Against
21, 46 and 50- Harry returned these 3 horrible scores during the season when the opposition used his opponent a lot as a decoy.
The biggest concern I have is the teams Harry is up against in the first 3 rounds – in 2012 he returned the below scores against his opening 3 opponents:
Rounds 1-3
Hawks             59 and 50
North              64
Carlton           71
Hardly an inspiring set of numbers (with an average of 60ish) and there is a real case to be made for avoiding picking Taylor until after the first 3 rounds are gone – check out his next 3 opponents and the corresponding 2012 scores:
Rounds 4-6
Swans              107
Bulldogs         59, 80
Richmond      115
A far superior set of numbers with an average of over 90 may make Taylor a more viable pick after his seemingly tough start. The thing is though with the 3 round price change formula even a bad start will not affect his price too much if he can bounce back in his 2nd game – or if not you can always flip him to a rookie on the bubble?
Lefty's Call
Great job security, a high ceiling and durability all tick the box in Harry's favour. It is
just that bloody horror draw at the start that has me a little undecided on locking Harry in at D4. But I feel a lot more confident after the game on the weekend – against Adelaide last year he scored 46 and 69 and turned that around with 124         (which was over double his average from last year against the same team)
More than any player I have looked at previously I think there is a risk in starting with Harry but if he can get a few good scores in early he just might be that smoky that can win you a close league game.
Cheers
Lefty