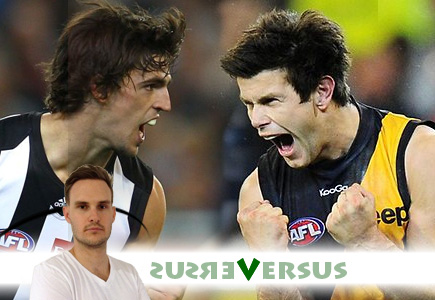 Versus
A head2head analysis of Dream Teams Elite
Each year we are faced with selection decisions that turn into headaches that effectively shape our seasons as Dream Team Coaches. It is imperative to look at all of the issues; all of the positives (and negatives); and get an accurate, well-informed opinion before you make that call. This preseason, McRath (with the help of Rob Rusan) will again look at a series of players who, for whatever reason may find themselves in one of these 50-50 calls. This analysis will help you to make an informed decision and let us handle the headaches.
In 2012 we saw the rise and rise of a new star of the competition. He has a combination of smooth moves and a terrier-like attack on the football that saw him jump into the elite class of premium midfielders in just his 5th year of AFL Football. Trent Cotchin is now the captain and lifeblood of the rising Tiger army, with a brilliant supporting cast behind him and a huge ceiling – this former-Tiger cub is set to rule the jungle as he looks to dominate the competition in 2013. The other side of this matchup sees us looking at an established club-champion who is coming into his prime as he aims to help lift his team to a second premiership in 4 years. Scott Pendlebury is already a superstar in his own right, and after a 2012 season down on his standards (largely due to a broken leg) – he will be looking to bounce back and take his place as one of the best in the game. A blockbuster clash of Dream Team Fighter Jets – Let Round 5 begin.
Trent Cotchin
Price: $570,200
Position: Midfielder
Age: 22
Bye round: 11
2012 Details
Average: 110.68
Games played: 22
High score: 152
Low score: 61
No. Of 100+ scores: 17
No. Of sub 80 scores: 5

Scott Pendlebury
Price: $568,700
Position: Midfielder
Age: 25
Bye round: 13
2012 Details
Average: 110.39
Games played: 18
High score: 142
Low score: 59 (sub-affected)
No. Of 100+ scores: 13
No. Of sub 80 scores: 5
Fixture Analysis
The Tigers are on the rise; and their draw should help them on their quest for finals football in 2013 as they go up against four bottom-10 sides from 2012 twice: Essendon, Carlton, St Kilda and the Bulldogs (plus Freo). Luckily for Cotchin, he has very good records against these teams with St Kilda (90) the lowest of the 5. Cotch should also get a solid chance to break out of the blocks from R1 with games against Carlton, Saints, Dogs, Pies and the Dockers likely to set him up with a solid platform for Season 2013. For Collingwood on the other hand, finishing near the top of the table every year has its downfall – with another tough draw pitting them up against old Foes Carlton, Essendon, Richmond as well as contenders North and Hawthorn inside the first 5 rounds. Tough 'double-up' opponents will also means Pendles will be up against solid midfield mettle twice in 2013 in the vein of the Roos, Blues, Hawks, Swans and Bombers. Aside from the dreaded Carrazzo tag when playing the Bluebaggers, this draw actually plays into his favour as he scored decently against all of these teams last year.
Trent Cotchin 2012 Games v Opponents Richmond play twice in 2013:
Essendon – 143, 145 Carlton – 120, 118 Fremantle – 112, 101 St Kilda – 90 Bulldogs – 152  
Trent Cotchin Starting Draw in 2013 based on 2012 Games:
Carlton – 120, 118 St Kilda – 90 Bulldogs – 152 Collingwood – 88 Fremantle – 112, 101  
Scott Pendlebury 2012 Games v Opponents Richmond play twice in 2013:
North – 97 Carlton – 62 Hawthorn – 132, 109 (QF) Sydney – 105, 125 (PF) Essendon – 113, 106  
Scott Pendlebury Starting Draw in 2013 based on 2012 Games:
North – 97 Carlton – 62 Hawthorn – 132, 109 (QF) Richmond – 122 Essendon – 113, 106
Verdict: Cotchin gets first points here as his projected opening (111.1 over 5 rounds) and double-up opponents' average (122.5) dwarfs the more experienced Pendlebury.  (Cotchin 1, Pendlebury 0).
Scoring Potential & Consistency
Based on 2012 games, Cotchin had a true premium breakout year in every sense of the word as he went on to average an elite 110+ over the course of a full 22 games. He also showed brilliant consistency hitting the hundred mark or higher on 17 occasions (77%). Furthermore, he had some monster scores including a 143, 145 and a 152 – hitting 120+ 6 times (27%). Our mate Pendles however suffered a devastating leg break in the middle of 2012 – severely hampering his (and his DT coaches') seasons. Lucky for us however, he isn't just an ordinary guy – Scotty came back after his injury just 6 weeks later, with a post-injury average of 112.75 over the remaining 8 games – what a legend! Despite his injury layoff, he still managed to stay at the top of his game – hitting the ton 72% of the time, with an outstanding 7 x 120+ scores. Now, just imagine if he has an injury-free 2013…
*Based on 2012 scoring only *Note: S. Pendlebury's figures are based on 18 games, while Cotchin's are from 22.
Verdict: Injury aside, Pendlebury still managed to better his opponent in this battle as he still managed to average 110 with his injury mid year. Whilst very close to Cotchin in his 100+ conversion rate, Pendles' ability to go big more often cannot be overlooked. (Cotchin 1, Pendles 1).
Durability & Current Health/Fitness/Offseason Reports
Trent Cotchin played every game in the 2011 and 2012 seasons since establishing himself as a key member (and now leader) of the emerging Tigers midfield. Ready to take on the extra responsibility as the new Captain of the Richmond Footy Club, Trent Cotchin will play a huge role in any aspirations the Tigers have of making the 8 this year. The Richmond Captain had the week off in NAB Round 2 as Coach Dimma played a few youngsters in the hope of them battling it out for the chance to play second-tier to their leading men in the Tigers' engine room. His only score this preseason came from a 6-point, 3-disposal game in their loss to North in the second week of Round 1. I wouldn't read too much into this however as most teams keep their stars in cotton wool until the real stuff starts in Round 1 of the Home and Away (season, not the show).
In the other corner, Pendlebury has had a positive offseason as he continues to stamp himself as one of the elite athletes in the AFL. With his broken leg of 2012 now a distant memory, the Collingwood stand-in Captain and VC is ripe and ready to rip into Season 2013 with a vengeance. Taking out the four games he missed last year through a freak injury, he has an outstanding durability rating – playing every game in the 2010 and 11' seasons before the six-year low season total of 18 in 2012. ***Score from latest NAB game?
Verdict: Both players have had issue-free off-season's and look primed for massive years for their respective clubs. I can't help but share the points here (Cotchin 2, Pendles 2).
Bye Week Relevance
This year, Virtual Sports and AFL Dream Team have opted for a new eight-deep midfield within our 22 on-field players. This means we can get more of the 'big-guns' to help us towards some huge late-season scores. What this now means is, that we have some tough decisions to make in our starting squads. Do we start with 4 midfield guns? 5? 6? Whatever the number you're rolling with, you need to be careful not to over-commit to one specific 'bye week'. What I mean by this, is that you shouldn't load up with a midfield full of players who will be missing in any particular round. If you did, say start with 5 x Round 13 guns in your midfield – you'll almost certainly be forced to sideways-trade your way to a decent score during the MBR's, when you really should be using your trades at that point to improve your team. So which of our players in question are in the 'toughest group'?
This question will have a different answer depending on which players you are leaning towards, in that if you are leaning towards a Cats, Eagles and Swans-heavy structure, then you might be caught out in Round 12. Same goes if you are stacking the mids with players from Brisbane, Freo, Hawthorn and Western Bulldogs (R11). My personal opinion is that Round 13 has unequivocally the worst (well, best rather) group for 2013. With players like Danger, Thompson, Murphy, Swan, Beams, Watson, Stanton and Ablett sharing the week off with Pendles, it's bloody hard to choose just 3 or 4 from this list. Whereas Cotchin only really has the likes of Redden, Fyfe, Ebert, Deledio and Boy to choose from.
Verdict: Let's just say that I believe it's much easier to find a place for Cotchin in your midfield in 2013 as the Pies have some popular DT options sharing their bye week. Therefore, Cotchin wins this one (Cotchin 3, Pendles 2).
Value
Value is a concept that is derived from perception, which is essentially what we believe something is worth. In the case of a player's Dream Team value, the things we must look at are their 2012 output, potential for improvement and circumstances (fitness, form and draw). When a player has just broken out and had a career-best season, this is a difficult thing to place. For Trent Cotchin, his potential average can be speculated on until the cash cows come home but this is always going to come down to opinion (as most things do). My opinion is that Captain Cotch could go for as high as 118+ in 2013 if all things go well. He has shown the ability to be consistent and cool under pressure, whilst his average of 119.5 from Round 14 to 22 in 2012 displays he has the talent to make it. He can tear games open and take control all by himself, and if he can play to his potential, he could be priced very well at $570k.
Scott Pendlebury on the other hand is a perfect picture of traditional value. After breaking through for an average of 116 in 2011, injury combined to hold him to 6 points below this in 2012. Now 25 and in the window of greatness, he is still on the up in terms of his best footy; and he definitely has more to give to DT Coaches in 2013 and beyond. With many projecting 118-120 for 2012 before the already mentioned event happened in Round 10, I'm going to back this call for this season and say Pendles is good for as high as 118 in 2013.
Verdict: Tough to split in this category, but Pendlebury's history of scoring 116 in 2011 tips the scales in his favour as we can be more assured of his value in 2013. (Cotchin 3, Pendles 3).
Numbers to Consider
Cotchin
Owned by 26.9% of coaches currently, with many backing him to continue his rise up the premium ladder
Averaged a massive 119.5 in the final 9 games of 2012
Increased his average by 17 points last year from 93 to an elite 110 without missing a game in the past 2 years
Averages an appealing 122.5 against his opponents that he will place twice in 2013 (based on 2012 scores)
Has a DT-friendly 1.58 K:H ratio rating him near the top of the list when it comes to this category
Pendlebury
Only owned by 18.2% of coaches at this point in time, over 8.5% less than his Versus opponent
Loves kicking out the big scores against his opponents, with his 7 scores above 120 meaning he is a reliable captains option for you if Swan/Ablett go down. Inside those 7 scores, 5 were 129 or higher – so you can safely hand him the 'VC' tag and sleep easy at night
Back to his huge 2011 season, Pendles reached the ton in all but 4 games (82%) and 120+ x 11 times (50%) including 141, 141, 145 and a 166!
Collingwood play at the MCG 7 x times inside the opening 11 rounds of 2013, only having to leave Melbourne twice in this time (WA in R7 and QLD in R10)
Unanimously ranked #3 in the Footy Prophet/Ultimate Footy Draft Rankings – compared to Cotchin's 5-6
Conclusion
Quite purposely, I've matched these two superstars up against one another for a few reasons: 1 – to give others a clearer, more researched view on how close these two really are; and 2 – to try and help myself decide between the two. I can sadly say, that I still can't decide! They are of almost identical price; share similar value and potential; and are both primed for huge years. Given they share different bye weeks, it's possible to fit both into your starting squad. However, with the massive talent in the midfield this year – it's bloody tough (Final – Cotchin 3, Pendles 3).
Final Verdict: I have Cotchin sitting on my field at the moment and has been that way for a while. But the evidence to find a place for Pendles is becoming very hard to ignore.
Are you rolling with either of these Fantasy Fighter Jets in 2013?
FOLLOW ME ON TWITTER: @McRathDT to share your thoughts on the 2013 Preseason or our Versus Series.