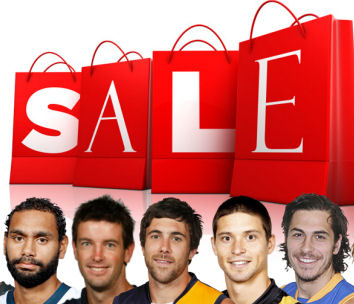 This year has presented us with an interesting problem. We are almost at the end of the NAB cup and we have practically no rookie forward options.
Fortunately what we do have is an abundance of viable low to midprice options available in our forward line. Depending on your structure you may be considering a couple of these players. I sent out a tweet asking which players with in the $200k to $300k price range your looking at and the player below were the top mentioned.
Here's my analysis of them.
Josh Kennedy $272,300
Why is he so cheap?
Sustaining a foot injury that restricted him to 6 games last season and contributed to him under performing in the games he played, he is priced at an average of 54.
Why Should I pick him?
The biggest reason to pick Kennedy is that provided he is fit then he will play 22 games this season. Plays full forward in a team consisting of 7 elite midfielders (according to champion data) so should see a lot of the ball.
Verdict
Kennedy averaged 83 in 2010, but this includes the 177 against the Bulldogs. I believe a truer average would be closer to 75 and hopefully that is what he can average this year. As I said above, guaranteed to be selected if fit and is definitely worth consideration. The most encouraging sign about his 2010 season is that with a 75 average he only went under 70 five times. Making him quite reliable for a score of 70 plus if he can replicate that. The upside to Kennedy is that West Coast in 2010 was a wooden spoon team, he may be seeing a lot more ball this season.
Keep watching him closely in NAB.
Andrew Krakouer $243,200
Why is he so cheap?
Injuring his ACL in the preseason last year, Krakouer managed to recover in time to play round 23 and 3 finals. Luckily for us only his round 23 score of 59 counts so he comes into this season heavily discounted.
Why Should I pick him?
Seems to have recovered well from his ACL injured by slotting straight back into the Collingwood line up last year and playing all their finals, including scoring 94 against Hawthorn in his second game back.
Verdict
My major problem with Krakouer is his consistency. He averaged 73 in 2011 but if you look closely at the scores you'll see 40, 130, 68 ect. He's a rollercoaster who could cost or win you a head to head match depending on the week. I also don't believe he has the best Job Security. He provides an 'X factor' to Collingwoods forward line but I believe competition for his position would be quite high. As a 30 year old it may be time for Collingwood to start grooming one of their many younger forwards to take his position.
Too many things working against him for me.
Billie Smedts $267,900
Why is he so cheap?
Smedts played 14 games last year as a rookie and was a sub 4 times dropping his average 52.
Why Should I pick him?
Geelong have had huge wraps on this kids potential but when he struggled as a defender and didn't really show much he was sent back to the VFL. He worked on his game and impressed, earning a recall in round 14. From there he averaged 72 points per game (minus sub games) in his new role at half forward.
Removing his sub affected games lifts his average to 63. He looks like ditching the vest this year and cementing himself into Geelongs best 22. Scored 87 against Adelaide last week including 2 goals.
Verdict
Another risky option that you would be selecting based on potential. The concerning issue with Smedts is his struggles with injures. Spent the entire 2011 injured and left 2 games last year due to injuries sustained during the game.
This kid could be anything, has the potential to average in the 80's or go bust. As I said, risky pick but Geelong seem to have a lot of faith in him.
I wouldn't risk starting him but if he's averaging in the 80's after his first few rounds you may want to consider jumping on.
Chris Knights $254,500 
Why is he so cheap?
Fell out of favour at Adelaide last year due to injury and form. Only managed 5 games, 3 of which included a vest. Priced at an average of 49.
Why Should I pick him?
Chris Knights has moved to Richmond in search of more game time. Hopefully he finds it because he has proved that when fit he can score, averaging in the 80's in 2007, 2008 and 2009.
Richmond also play a very dream team friendly style of football, so if Knights can lock down a high half forward role then he shouldn't find an 80 average to difficult.
Verdict
Knights has been in and out of my team all preseason. The biggest reason he keeps sliding out is his injury concerns. Dodgy shoulders, hammy's and quad's all causing issues over the past few seasons. The other reason is that I don't believe he's guaranteed a spot in Richmond's best 22. Richmond have built quite a strong side and Knights may have to show a little more before he can lock down a position. The fact that he has only played half a game so far during the NAB cup and isn't named this week again is another red flag. He does keep slipping back into my side though and this is massively due to just how good Knights is for dream team scoring. If he can play consistent games then you can generally bank on a score of 80 from him, which for his price is a bargain!
May be another player too risky to start, but if he can crack into the team during the season and secure a spot then he would could be an excellent downgrade.
Ricky Petterd $243,400
Why is he so cheap?
After starring in Melbournes 2012 NAB competition Petterd was hit by injury. Unable to shake it during the season he could only manage 4 games which he spent starved of opportunities in the Demons forward line. (could this be Shannon Byrnes future?)
Priced at an average of 47
Why Should I pick him?
Petterd falls into two of the categories that make these midprice players tempting. He has changed clubs and roles. Switching from Melbourne to Richmond over the preseason and becoming a floating defender. Reads the play well and may see a lot of intercept marks. So far scoring 75 points per 100 minutes in the NAB cup.
Verdict
Petterd was drafted as a rookie and needs to be elevated to the senior list to play, Richmond do have a spot on their list free. If this happens then strongly consider him for your forward line. He is fit (focusing on football) and looks like relishing his new role in the Tigers defense. As long as he avoids injury and stays out of any off field dramas he could have a great season reinventing himself at the Tigers.
Once again, with 44 trades it may be worth watching Petterd if he gets a few games before bringing him in. 
Will Hoskin-Elliott $267,900
Why is he so cheap?
In and out of the Giants team in his debut year before playing every game from round 17 onward. Saw the vest a couple of times to finish with a 52 point average.
Why Should I pick him?
Obviously rated highly by the Giants to be picked at #4 in the draft, Hoskin-Elliott showed glimpses of potential including 70 in his first game against Sydney and 96 against Gold Coast where he also kicked 5 goals.
Verdict
Honestly Hoskin-Elliott would have to show something special very soon to be considered ahead of any other player in this article. Considering he hasn't played in the NAB yet and isn't named to play this week his odds aren't looking to good. I honestly don't understand how he got enough mentions to be considered here…
Could be an incredibly unique pick but more likely to be a massive risk.
Travis Varcoe $234,400
Why is he so cheap?
During the preseason last year doctors found a stress fracture in his foot. He had a pin inserted to recover so missed most of the season recovering. Due to complications with his recovery he required more time before finally came back for his first game in round 22, where he got his foot trapped under a player and was subbed out of the game on 9 points. An average of 9 for the year has left him severely discounted.
Why Should I pick him?
With Geelong fielding a younger team this year a healthier Varcoe should slip right onto their best 22. Also doesn't appear to be a vest candidate.
It's another role change rumour that has Varcoe on everyones radar. Switching to a rebounding half back may see an increase in Varcoe's scoring potential.
Verdict
Varcoe is an interesting option. Guaranteed Job Security at his price is great. My only concern with Varcoe is he is a seasoned veteran coming into his 7th season. So we've seen what a healthy Varcoe can do. My advice is if you are picking Varcoe is don't expect the world. Through out his career he has been a 60-70 average player. Occasionally he'll net you a 100 points but more often than not it wont be an impressive score. So far over the NAB comp he's scoring 53 points per 100 minutes. He'll do enough to give you a score each week but even if he can average 70 points per game (which will be the highest he's ever averaged) you'll only be looking at a $100k price rise by the bye rounds. Luckily he is a DPP fwd/mid so you may be able to swap him into the mids to downgrade for an emerging mid rook.
For me he's probably the 3rd or 4th best option on this list.
Shannon Byrnes $229,300
Why is he so cheap?
Playing only 4 games in 2011 for an average of 40 and 5 games last year for an average of 44.5 has seen his price drop quite dramatically. Byrnes could not secure a spot in Geelongs side over the last 2 seasons due to soft tissue injuries and younger players nudging him further down the pecking order. The games he did play saw him come in as a late replacement and sometimes wearing a vest.
Why Should I pick him?
A fresh start could be just what the doctor ordered for Byrnes. Moving to Melbourne for more opportunity he has been training hard and selected in leadership group. Looks like he's trying to impress, kicking 5 goals in Melbournes intraclub match. When given opportunity Byrnes can score big. In 2010 he registered 5 scores over 100 including 2 in the 120 range and 1×140!
Verdict
Byrnes seems like a safe option to be guaranteed games and a score for you. So far I haven't seen enough of him as he's only played half a game for 15 points. My issue is that Byrnes plays as a small forward who relies on constant supply from the midfield. Even playing for Geelong in 2010 he had the big scores above but then had just as many games where he would go missing and struggle to make 60. How would you rate Melbournes midfield now compared to 2010 Geelong?
He's definitely worth keeping on your watchlist though and has been named to play his first full game of the preseason this week against the Saints so watch for his role and output.
Patrick Karnezis $238,400 
Why is he so cheap?
Karnezis played last season as a lead up forward in a team who wasnt getting too many forward entries.
He only played 7 games last year for an average of 46.3.
Why Should I pick him?
Karnezis has found a new role to play this year. He's put in the hard yards at preseason training and revealed that he can run.
Playing in the NAB cup so far as a rebounding defender/outside midfielder he has been getting a lot of ball including scoring a 94 in Brisbane's full game.
He may of only averaged 46.3 last year in 4 of his games he was used as a sub, not coming on until the 3rd quarter in those games, severely affecting his average. In one of the few full games he played he scored 90 against Sydney so the guy can definitely score.
Verdict
Johnathon Brown seems completely enamored with him. Every interview so far he is mentioning how impressed everyone is with him and his new running role. Seems that he's locked himself into the Lions 22 so job security and vests may not be an issue.
Also I'm not brave enough to ignore the words of Brownie!
It's dangerous to pick players based on NAB form but Karnezis is certainly ticking all the right boxes.
A few of these player could prove quite handy in your forward line. I've seen forward lines starting between 1 – 3 of these players so far. How many fit your structure? Who are you considering? Join the conversation below and let us know what your thinking?