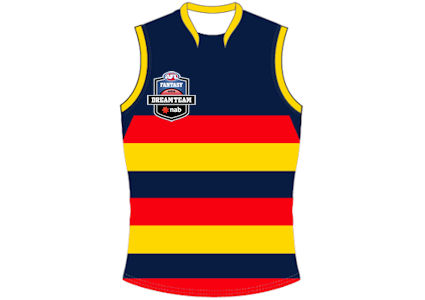 This series of 'club preview' posts are written by DT TALK regular contributors choosing their 5 players they have on their watchlist from the respective club. These aren't who we think will be the top 5 highest scoring players… and are not necessarily in order. They are just our opinions of the 5 players who we have on our watchlist heading into the 2013 season.
WARNIE'S FIVE FROM THE CROWS
1. Brad Crouch (MID), $108,500.
Crouch came to the club via the 2011 mini-draft and was listed but ineligible to play last season due to his age. He played for West Adelaide in the SANFL and averaged 19 disposals (68 DT points) and had his season high possession count in the preliminary final with 29. Crouch is currently the most selected Crow (appearing in 28.5% of teams) and as the ball-magnet that he is, it is completely justifiable. Adelaide have talked him up as to having a regular spot in the team from Round 1, but I have a couple of doubts on him as he could cop the vest. Apart from these worries, he is locked in my team. NAB Cup Round 1 scores of 17 and 25 from a combined total of 14 disposals was a promising start. On the weekend he had 18 touches against Freo in the trial game (14 of which were handballs… kick it brother!). Bring on the next couple of NAB games to cement his spot in our sides.
2. Patrick Dangerfield (MID), $525,000.
For a lot of players, when they lose their DPP eligibility, it makes them less attractive. Danger could scare a few people away now that he is only a mid, but oh boy… there is still some upside in the kid. He improved on his 2011 average by over 30 points for what was a massive breakout season. Dangerfield has played all 44 games of the last two seasons and averaged a cool 121 over the last 7 home and away games last year. What a beast! Pick him now, thank me later! [Click here for Deck of DT]
3. Matthew Wright (MID/FWD), $438,700.
Wright has a lot of AFL Dream Team potential. He had somewhat of a breakout last season where he averaged 85 points from his 19 games. Going into his third season, we might see some more improvement and with it, some consistency. He managed to score 5 tons with a season high of 139 against Fremantle coming from 37 disposals and two goals. Wright's performance in the opening NAB Cup round was impressive and would have made those few people who have him in their teams quite happy. In game one against the Saints he finished with 9 disposals and 5 tackles that totaled 46 DT points. In the second game he also had 9 touches for 34 points. I was pumped to read that he finished with 16 touches against Freo in the trial game on the weekend… oh and that was first half anyway! Wowee! The current DT pre-season hype pick. [Click here for Deck of DT]
4. Scott Thompson (MID), $541,200.
As Adelaide's most prolific Dream Teamer of the last couple of years, Scott Thompson should be a more popular DT selection. He averaged 104 points last season but currently only appears in 6% of teams. The thing I like most about Thompson his is durability. There aren't too many midfielders who have missed just two matches in the last 6 seasons and been able to average 100+ in that time. As a unique selection, you're going to get what you pay for – and last year he was in the top 10 for DT points. I can't really see him turning into an uber premium, but for consistency, you can be doing a lot worse and a 110 average isn't out of the question.
5. Sam Jacobs (RUC), $449,900.
Big Sauce Jacobs rounds out the five after finishing the year as the 7th highest averaging ruck in the competition. He played 21 matches last season (missed one that cost me a donut, dammit) for an average of 87.2 DT points. Can we see a bigger year after averaging practically the same over the last two seasons at the Crows, hmm… maybe? He scored 4 tons, twice topping 122 against lowly sides (Port and GWS). Jacobs' standard deviation is quite low so consistency is a winner with the big red-head. At the moment I don't have him in my team… but he is a bit of a rock, so he doesn't have a line through him yet. [Click here for Deck of DT]
OTHERS ON THE WATCHLIST: The Crows have a few other players to watch over the pre-season. Taylor Walker (FWD, $448,900) is the third most selected Adelaide player. This would probably be due to the fact that Tippett isn't there and he is coming off a great 2012 where he averaged 87 finishing the year with scores of 104 and 148! With Brodie Smith breaking his collarbone, Richard Tambling (DEF, $208,100) could be a bargain pick if his NAB form so far is anything to go by. 17 possessions, 3 marks and 2 tackles across the two mini-NAB games gained him 62 points. Not bad for that price… and a higher draft pick than Buddy apparently! Also keep an eye on Sam Kerridge (MID/FWD, $108,500) who played one quarter of footy (started as sub) last year for 6 points and Luke Brown (DEF, $147,700) who played 3 matches last season for 45, 31 and 10 (sub)… but managed 19 and 16 in his two mini-NAB games last weekend.
FOLLOW ME ON TWITTER: @WarnieDT